A British-built satellite is set to launch on a three-year mission to improve the way we forecast the weather.
Named Aeolus, after the keeper of the winds in Greek mythology, the spacecraft will carry just one large instrument, a Doppler wind lidar called Aladin.
The tool will emit short, powerful light pulses from a laser through the atmosphere and collect light that is "backscattered" from particles of gas, dust and droplets of water moving in the wind.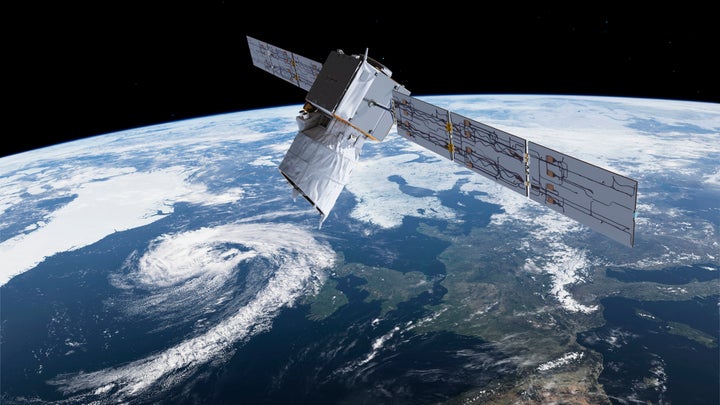 Meteorologists will be able to use this information to help predict the weather.
The European Space Agency mission is expected to provide important data which could significantly improve weather forecasting around the world.
The satellite was built by Airbus Defence and Space in Stevenage and – equipped with a powerful laser – will be the first able to directly measure wind speeds on Earth from space.
Flying 200-miles above Earth, the data it collects may improve the accuracy of weather forecasts and help protect people from disasters such as floods and hurricanes.
James Cotton, a satellite winds scientist at the Met Office, said: "The Aeolus mission aims to improve the global coverage of wind profile observations, including areas where in situ wind measurements are currently lacking, such as over the oceans, in the tropics and the Southern Hemisphere.
"Within numerical weather prediction, we expect the Aeolus winds to be particularly useful for improving our analysis of the atmospheric state in the tropics, a region where we know the model wind errors are large."
Science minister Sam Gyimah said: "The Aeolus mission is a great example of the potential real-world impacts that space can have on Earth.
"Its data will lead to more reliable weather forecasts that can be used by farmers, seafarers, construction workers and others to improve productivity and safety.
"Space is a key part of our modern industrial strategy and it is work like this that shows how vital our role in the European Space Agency is in bringing real benefits to UK companies."