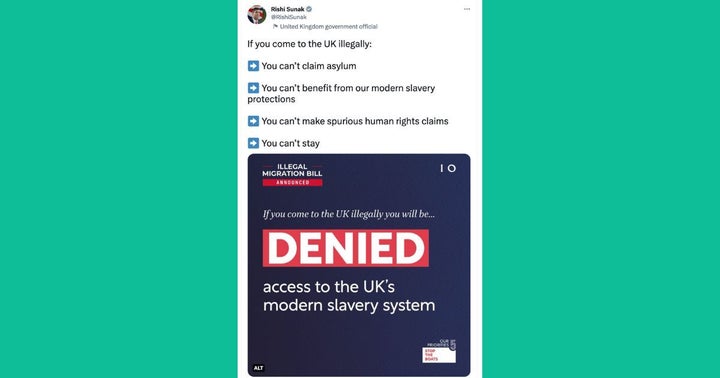 A government graphic meant to warn migrants against coming to the UK has left many people confused.
Rishi Sunak's Twitter account posted an image that appeared to say "if you come to the UK illegally you will be DENIED access to the UK's modern slavery system".
Many were left scratching their heads at the tweet, and wondering whether anyone had read it out aloud before publishing.
Others called out the sentiment behind what it was trying to say ...
The prime minister described his policy as "tough" but "necessary and fair" as the government unveiled plans for fresh laws to curb Channel crossings.
On Tuesday, it was confirmed the laws will stop people claiming asylum in the UK if they arrive through unauthorised means.
Asylum seekers arriving illegally would be detained and face a lifetime ban on returning after they were removed. They would never be allowed to settle in the country or gain citizenship.