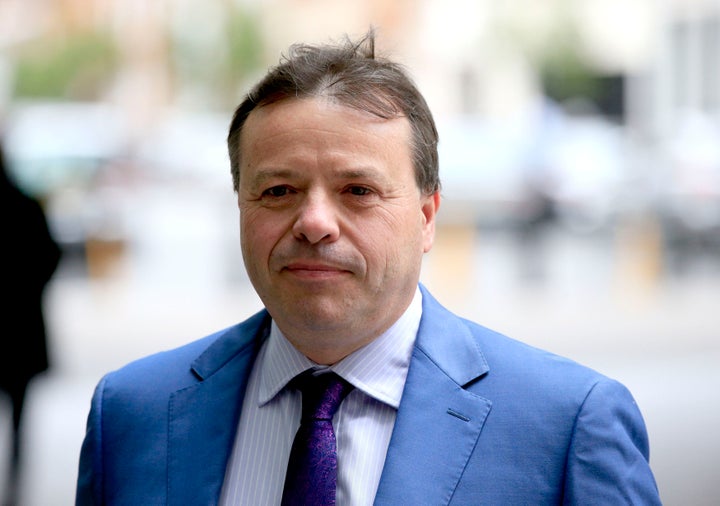 Ukip donor Arron Banks will NOT stand to be an MP in the Essex seaside town of Clacton just days after signalling he would run.
The multi-millionaire diamond mine-owning insurance tycoon who has bankrolled Ukip and played a key role in Brexit - funding the Leave.EU campaign - said he wasn't going to "leap over" the most likely local candidate for the party.
Banks was inspired to stand as part of his ongoing feud with Douglas Carswell, the ex-Tory-turned-Ukip MP for the constituency who he accused of trying to undermine his close ally, Nigel Farage.
Carswell has also announced he wouldn't be standing in the seat, saying it was "job done" after the Brexit vote triumph.
In announcing he was pulling out, Banks could not resist hitting out at Carswell who is the "epitome of a nasty little career politician who didn't give two hoots for the area".
In a statement, Banks said:
"The local branch of Ukip was full of genuinely decent people. One of the councillors, Mr Jeff Bray has put his name forward as a candidate for the seaside constituency at the forthcoming General Election.

"I have consequently made the decision to withdraw my candidacy for the seat of Clacton. I will not be standing either as a Ukip candidate or as an independent. Instead, I am putting my full support behind Jeff Bray.

"I have no intention of standing in the way of hard working activists who are the soul of the party.

"Therefore, after visiting Clacton I believe it would be wrong of me to stand against Jeff in the forthcoming hustings."
He added:
"Douglas Carswell is the epitome of a nasty little career politician who didn't give two hoots for the area.

"He stood originally for Ukip because he knew they would win the seat in a general election. He used Ukip and did nothing for Clacton."
Banks had just paid a visit to the constituency, which was written up by the local paper as the launch of his election campaign and featured the businessman licking an ice-cream.
In response to the news, Conservative MEP Daniel Hannan pointed out the "blustering Banks has chickened out".
And Labour MP David Lammy pointed out how Banks, Farage, Carswell and potentially current Ukip leader Paul Nuttall now look like they won't be running in the 'snap' election.
Carswell replied to the tweet suggesting that Ukip is "over".