Universal Credit claimants languish on hold to a government helpline while racking up bills as high as £16, without the option of an immediate call back, contradicting claims made by Downing Street.
One call placed by HuffPost UK to the dedicated 0345 number on Wednesday afternoon took 12 and a half minutes to be answered in person, at which point an advisor refused to call back straight away due to data protection rules.
The call would have cost some Universal Credit claimants more than 11 percent of their weekly allowance, which is meant to "help with living costs".
It came amid a growing row over the policy, as Theresa May was earlier forced to defend the up to 55p per minute call charges during Prime Minister's Questions.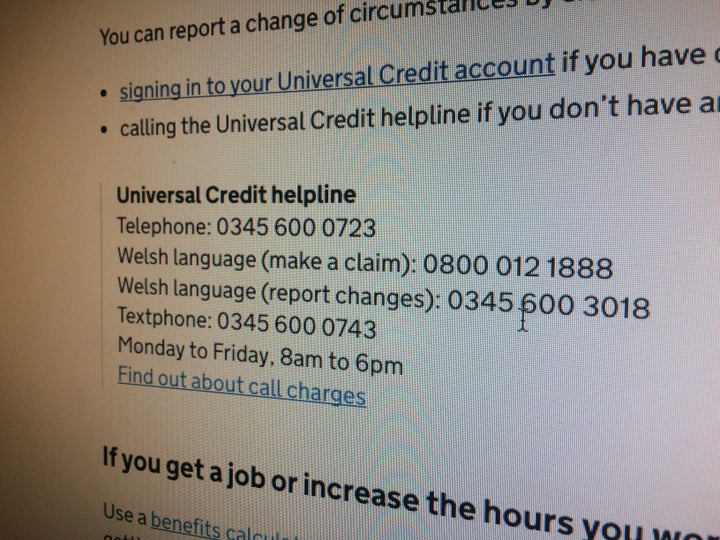 Labour leader Jeremy Corbyn urged the PM to "show some humanity" and scrap the cost altogether.
The PM's official spokesperson later suggested there was an immediate call back option, with advisors able to return calls at no cost to the claimant "straight away".
But Downing Street's claim prompted derision from Labour, with Corbyn's spokesperson saying: "The No.10 line that you can ask for a 'call back' is a joke as they've cut so many staff you can't get through and are held in a queue."
And during HuffPost's call, our reporter was asked to input information via an automated answering service, yet at no time did the service ask for a telephone number for a call back.
After three minutes and 11 seconds, the call was placed in a queue as 'Spring' from Vivaldi's Four Seasons played on loop.
'You can call back later'
Automatic messages heard in the queue also undermined Number 10′s defence.
"All our lines are still busy. Please hold and we will answer your call as soon as we can. Or if you prefer you can call back later," a voice said at regular intervals.
After 12 minutes and 30 seconds, the call was eventually answered by an advisor who said they could not call the reporter back straight away due to data protection rules.
"Firstly, I need to know if you are registered with us and complete necessary security checks," they said.
HuffPost's call ended after 13 minutes and 40 seconds - a total cost to callers on some mobile phone networks of £7.51.
Universal Credit claimants without children and aged under 25 take home just £62.94 a week, according to the government's website.
The helpline assists those who are confused by the new system or who need to register changes in circumstances.
The request revealed callers have experienced a "maximum" wait time of 29 minutes, costing £15.95 to those on mobiles.
'Money I could be using for food'
"The process is complicated if you aren't very good at using computers," she said. "Going to the job centre and using wifi all costs money I could be using for food."
Some 30 percent of respondents to a Citizens Advice survey of claimants reported calling the helpline more than 10 times.
An earlier call made by HuffPost dropped out unexpectedly after two minutes and 11 seconds, at a cost of £1.20 to those on a mobile.
It has also been revealed that calls to the Universal Credit helpline are free for Welsh language speakers.
Criticism has mounted of the new benefit system, which replaces Job Seeker's Allowance and combines all welfare entitlements into one monthly payment.
It has been widely condemned by politicians on both sides of the House of Commons, and the issue dominated Wednesday's PMQs.
Universal Credit is due to be rolled out more widely in the coming months, despite persistent reports of problems.
In an awkward exchange, presenter Andrew Neil pointed out hard-pressed families could not afford the time.
A spokesperson for the Department for Work and Pensions told HuffPost: "Most people claim Universal Credit online, but for those who want to call us, they are charged at local rates which are free for many people as part of their call package. We offer to call people back at no charge."