Picture the scene: you've had a hectic day at home or work, you've done the frantic school run, and the kids are starving. Only... once you open the fridge, you realise there's nothing to eat. What do you do?
Well, worry not, Mother or Father Hubbard, because Mumsnet is here to help (no, really).
Parents have been sharing their tips for what to feed the kids when you're too exhausted, burnt out, or simply can't be bothered to cook.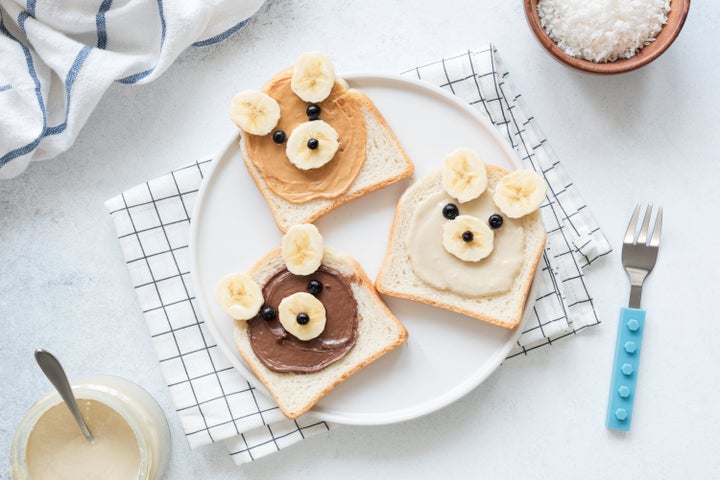 Here are some of our favourites from mums on the thread.
Go Beige
Fish fingers, chips and beans, turkey dinosaurs, chicken nuggets (or goujons if you're feeling fancy) and potato waffles. Cut yourself some slack. "Simple and quick!" says one mum. Hallelujah.
Call It A Picnic
One Mumsnet user has it spot on. "Honestly, if they have had a school dinner, I just plate up random bits like crackers, cheese cubes, ham, cucumbers, tomatoes, sliced apple and yogurt," one mum wrote, adding that she calls it a fairy picnic. Bonus extra from my house: put it all in the different compartments of a muffin tray and tell them they can pick what they want. Trust me: they'll LOVE it.
Oodles Of Noodles
Instant noodles are a firm favourite, it seems, with multiple parents suggesting them for a quick-and-easy tea. One mum writes: "My older kids have been been known to make themselves a pot noodle when I'm busy
'Bung It' Pasta
Another mum swears by 'bung it' pasta, which is basically pasta bake, but you just throw in what needs using up – such as veg, chicken, bacon, hot dogs.
Marmite Macaroni Cheese
It might sound gross to those who hate marmite, but for lovers one mum swears by Marmite macaroni cheese. Plus it takes 10 minutes in the microwave, tops. All you need: mac, cheese, Marmite.
Tortellini Pasta Pesto
Tortellini (those little twisty parcels) can be bought fresh and cooked in just two to three minutes. My kids love the ones filled with cheese and ham, predictably. Mix in on some pesto sauce, says one mum, and if you squint you could almost imagine you're in... Italy. Almost.
Eggsmageddon
Egg tray bake = egg and beans on toast. "I didn't actually realise until now, but basically anything with egg, it seems," says one mum. Preach.
Lasagne A La 'Bing'
The 'bing' in this case, stands for microwave. Because sometimes, a ready meal is a steady meal. Genius.
Cheats' Katsu Curry
"I do a cheats' Katsu curry with ready-made breaded chicken and sauce and a pouch of microwaveable rice," says another mum. Quite rightly, too – because this is an insanely good (and easy) idea. One I'll be stealing... tonight.