Businesses are still unlawfully forcing female employees to abide by dress codes - including the mandatory wearing of high heels - that leave them in pain, a parliamentary report has said,
Gender-specific dress codes, including compulsory wearing of heels, cause women to be suffer long-term health effects and feel degraded, research by the Petitions Committee and Women's and Equalities Committee found.
The committees' joint report found that such codes are still widespread, although these dress codes amount to discrimination under the Equality Act.
The act is "not yet fully effective" and "obviously not working in practice", meaning such codes are still widespread.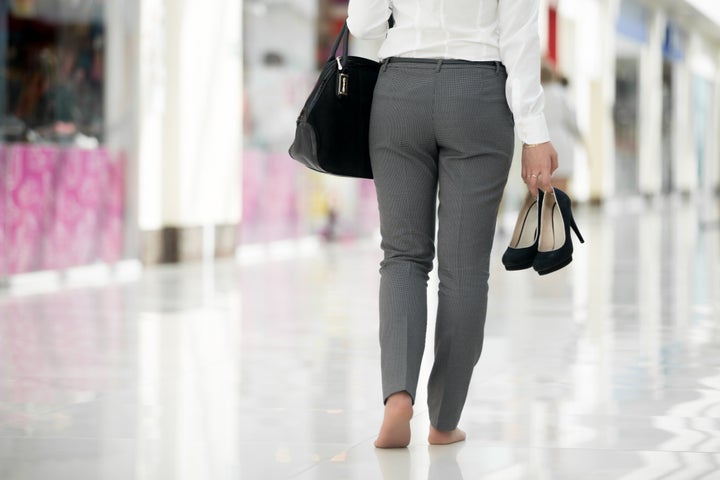 The committees said they were calling on the government to review the law and, if necessary, push parliament to change it.
The government said that the dress code imposed on her was unlawful - but similar requirements are still commonplace for many female employees.
The committees heard evidence from a range of women who had been subject to such rules, who said that being made to wear heels left them feeling "sexualised" and that they found it "humiliating and degrading" and "demeaning".
They also heard from experts on the psychological and physical impacts of being forced to wear high heels in the workplace could have. In their report, the committees noted these included:
Extreme and chronic pain - "Members of the public repeatedly told us that their feet would bleed, that their feet would hurt so much that they were unable to walk or lead a normal life, and that some women required corrective surgery."

Impaired performance - "Firstly, high heels can leave the wearer in significant pain which, as with other conditions causing chronic pain, makes it difficult to focus; secondly, high heels are ill-suited to the duties required to be performed; and thirdly, high heels affect breathing patterns and concentration and may thus reduce executive presence."

Effects on psychological wellbeing - "Workers found dress codes which require them to wear high heels to be 'humiliating and degrading', and 'demeaning'. Some commenters felt 'sexualised' by their employer's insistence on high heels."
The report also raised concerns over the extent to which gender-specific dress codes "reinforce rigid gender stereotypes which might make workers, especially some LGBT+ workers, feel uncomfortable".
Helen Jones MP, Chair of the Petitions Committee, said: "It's not enough for the law to be clear in principle—it must also work in practice.
"The government has said that the way that Nicola Thorp was treated by her employer is against the law, but that didn't stop her being sent home from work without pay.
"It's clear from the stories we've heard from members of the public that Nicola's story is far from unique. The government must now accept that it has a responsibility to ensure that the law works in practice as well as in theory.
"By accepting our recommendations, the Government could help employers and employees alike to avoid unlawful discrimination."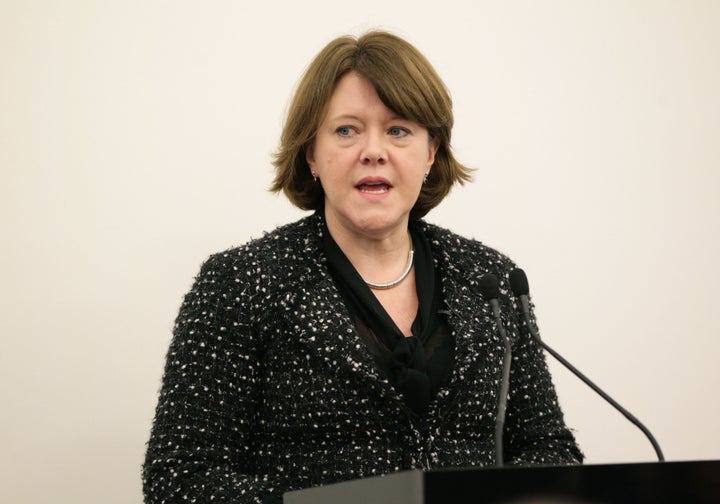 Maria Miller, chair of the Women and Equalities Committee, said: "This inquiry reinforces the point that many employers do not see it as a priority to be aware of their legal obligations in this area and in practice individual employees are not in a position to take action to ensure their employers comply with the law.
"Whilst the level of tribunal fees is one factor, the Equalities and Human Rights Commission also needs to find new ways to make the law bite. Employers appear to risk non-compliance because the likelihood of any serious consequences are minimal.
"The EHRC must find new ways to support anti-discrimination test cases and appeals, so that the burden does not fall too heavily on individual women—especially those who already feel their employment position is precarious."
Nicola Thorp said: "I am in full support of the recommendations within the Committees' report. This may have started over a pair of high heels, but what it has revealed about discrimination in the UK workplace is vital, as demonstrated by the hundreds of women who came forward via the committees' online forum.
"But employees should be able to speak out about workplace discrimination on a platform other than an online message board, without fear of losing their jobs. The current system favours the employer, and is failing employees.
"It is crucial that the law is amended so that gender neutral dress codes become the norm, so that they do not exacerbate discrimination against the LGBTQ communities and those who do not conform to gender stereotypes.
"The law must also work in practice as well as theory; negative publicity and online petitions shouldn't be relied on to prevent discrimination at work."
Sam Smethers, chief executive women's rights group Fawcett Society, called on workplaces to focus less on dress.
She said: "Sexist dress codes which objectify women and make LGBT+ employees feel excluded have no place in modern workplaces.
"Employers need to focus on what drives productivity and enables their staff to feel part of a team. It isn't a pair of high heels."