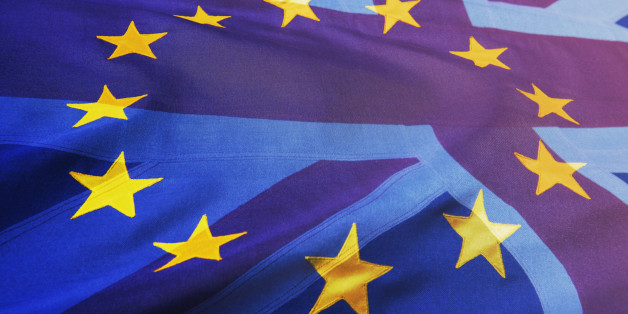 John Lamb via Getty Images
On Monday 20th February, thousands took to Britain's towns and cities to celebrate the positive impact of migrants on society, culture and the economy in the UK. Yet most of the UK media and press were silent, choosing instead to exclusively focus on the anti-Trump element of the marches taking place late afternoon/early evening. Meanwhile, the fears of EU migrants in the UK were reported on in Germany and France by the mainstream media.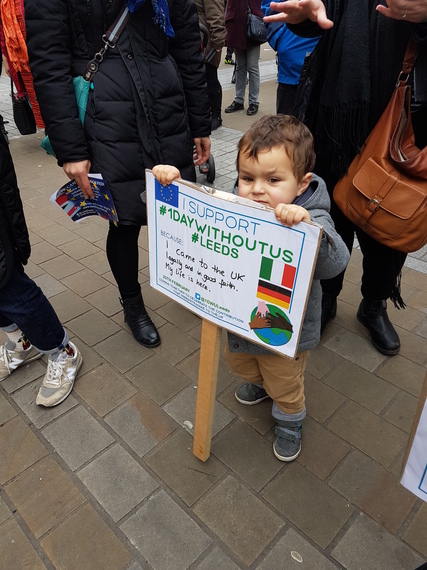 Credit: Frederika Roberts
(I took this photo, with the child's mother's permission - this gorgeous little boy was very taken with my placard and walked around with it for ages, grabbing everyone's attention and imagination.)
Don't get me wrong - I absolutely support marches condemning Trump's invitation to a state visit. I feel that Trump and Brexit are symptoms of the same disease; the rise of the populist far-right, which is taking advantage of shameful inequalities that exist in our so-called civilised society, to put the very richest, the most selfish, the least caring, into power. I am, however, deeply concerned about not only the dilution of the message about the very real, very tangible issues with human rights in the UK, but also the lack of news reporting of these issues. Notable exceptions to the deafening silence in the UK were the Guardian, and the Huffington Post.
Given this lack of reporting, I thought I would report on my experience of events in Leeds yesterday, because as Charlie Roberts (Full disclosure: She's my daughter and I'm more than a little proud of her passion and her contribution to the Leeds event, as one of the organisers and as a speaker) said in her speech:
"It doesn't matter how you voted six months ago. What matters is what you do now. What matters is that you stand up now and say ok, either I made a mistake or I was right back then, what's happening now is not ok."
I attended 'One Day Without Us' in Leeds, where there was a stage set up in the centre of town, on Briggate, with an impressive line-up of speakers and performers from 1pm to 5pm, before the march started. People had travelled to Leeds to attend the event and passers-by stopped and watched/listened. There was free international food available, big boards for children and adults to paint their thoughts onto, and a great atmosphere of solidarity prevailed. It was a day of celebration of the cultural richness and diversity that all migrants, not just those from the EU, bring to the UK.
One of the stage events that stood out for me was the powerful spoken word performance by Polish student Julia Chabasiewicz. A previous recording of one the pieces she performed is available on YouTube:
'One Day Without Us' events happened in towns and cities all over the UK, with the biggest event in Westminster, where numerous individuals had also booked appointments to speak to their MPs as part of a mass lobby. Our message is clear: Migration is good for the UK and the world. Diversity is a positive, not a negative. The contribution of migrants cannot be measured only in economic terms (though EU migrants are net contributors to the UK economy); the social and cultural contribution is invaluable.
The government's refusal to provide unilateral guarantees to EU citizens living in the UK about their post-Brexit future does not protect UK citizens living in other EU countries, who in fact want EU citizens to be given a unilateral guarantee. Failing to provide a guarantee and keeping everyone in limbo is not only an attack on the human rights of EU citizens living in the UK, but also an attack on UK citizens who are married to, in love with, related to, living with, and parents of EU citizens whose futures hang in the balance. It is a direct threat to family life in the UK. The draconian requirements to obtaining confirmation and proof of permanent residence discriminate against students and against those who have dedicated their lives to raising their children - often women - and therefore do not have an employment history to fall back upon and are now finding they don't qualify because of the requirement to have CSI (comprehensive sickness insurance), which nobody told them about and which was ruled to be illegal by the European Commission.
I am Italian and German. I moved to the UK in 1990 to study and met my British husband here. We have two daughters, aged 19 and 17, both in full-time education, both with three nationalities. I have built my entire adult life here. Even assuming I can stay after Brexit under whatever new rules will be in place, the system doesn't seem able to cope with the required paperwork and could grind to a halt with 3+ million people needing to get documents. Without those documents, we could end up in limbo for years, effectively trapped in the UK for fear of being denied re-entry after holidays or business trips. We could end up living here as second class citizens, without access to resources such as the NHS.
I expect better from the UK media than to be silent on this matter. We - EU citizens and all other migrants in the UK, along with UK citizens - deserve better.