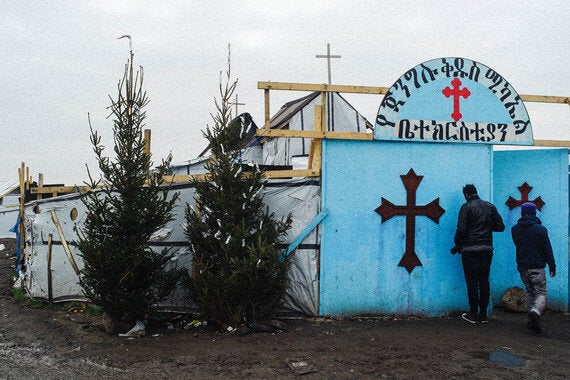 It's been a tricky one for me to think about this year from the depths of Calais's refugee camp known as 'The Jungle'.
However, a couple of Christmas-related things have been happening which I though I would share, as an insight into Christmas as a refugee.
Christmas as a Refugee in England
Over the last six months, I have made many amazing friends in the camp in Calais. In that time, only three of the people I have become close to have made it to the UK.
A couple of months ago I went to visit a good friend, Adam, who had successfully hidden underneath the Eurotunnel to make the dangerous journey into England, the only way to seek asylum here. He had been sent to Bolton, temporarily living in a house share there on £5 a day. The moment he is granted any papers or ability to work, this house, this money, is taken away and he will be on his own... This has since happened to another Eritrean friend living in the same house. The two of them now share a bed and the £5 a day while he searches for a job.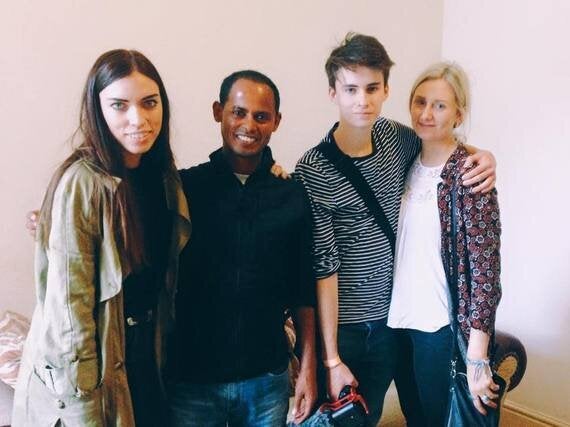 At the time we arrived with a boot full of stuff to get him through the winter. Shoes, warm clothes, a mobile phone. When we arrived he was wearing sparkly jelly shoes he had bought in Bolton market.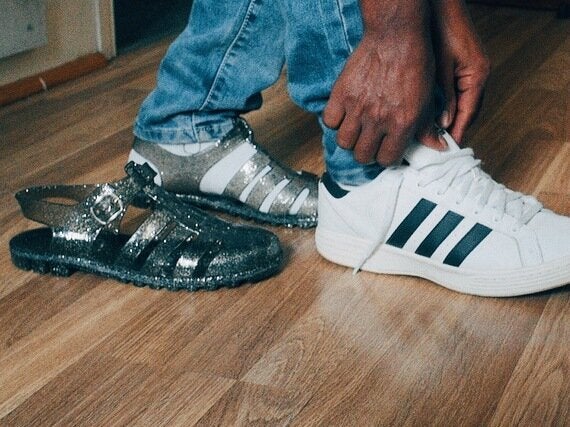 Our plan had been to take him for lunch, but he had (so sweetly) already prepared it for all of us (from his £5 a day and there were four of us). We were so humbled by this.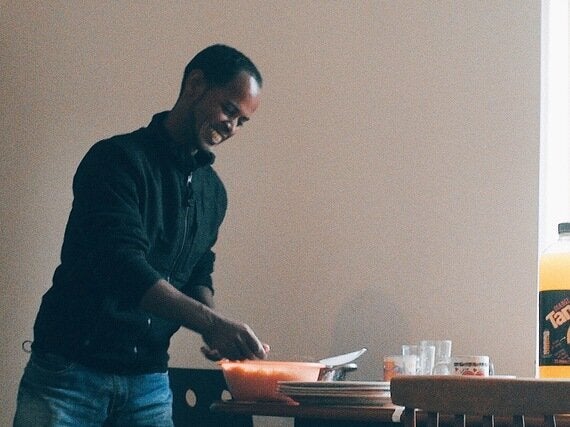 So I'll get to the point.... Me and Adam have kept in regular contact and I often ask him is he is OK and if he needs anything. He always tells me that he is very happy, that he needs nothing, he is just grateful to talk as he struggles with the fact that no one speaks to him here.
With Christmas approaching, I asked him again, 'Is there ANYTHING I can help you with, anything at all?' For the first time he modestly asked me for one little item he was struggling to afford. I promptly ordered it on eBay, directly to his address, as a little Christmas pressie.
Over the next few days I happily ordered the rest of my family some presents (there are a lot of them), until I got a message from Adam:
"Hellllo Jasmeeen!! I want to ask you if you send underwear cotton bralette to me. I receive today, but who is sender I don't know!"
WHOOPS! I went all red just thinking of him confusedly unwrapping my sister's yoga top. Laughing I explained the situation to him and thankfully he saw the funny side. The next day...
"Hellllo Jasmeen!! I have received an interesting and important lovely book. You send or not, I don't know. But it is my guess."
...My mum's How to Take Charge of Your Life guide to NLP book had safely arrived to Adam's house. Anyway, you get the idea.
He kindly offered to post them back but I saw it as another good reason to make the journey across the country to visit him. It just means my family might have to wait a littttle bit longer... SORRY GUYS!
If you have the urge to support a refugee (and when I say support, I don't mean in the yoga bra sense) over Christmas, you know what to do.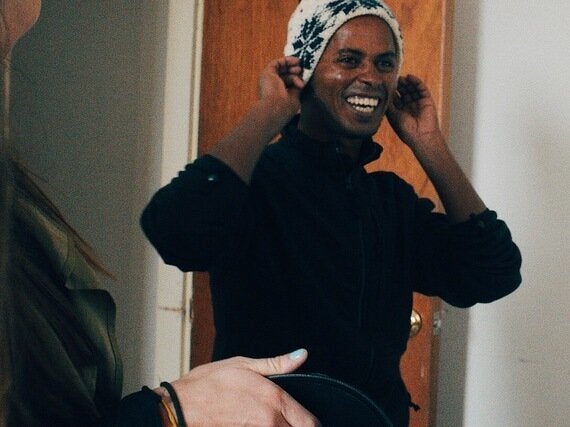 Christmas as a Refugee in Calais
This is what Christmas looks like in the Jungle refugee camp in Calais.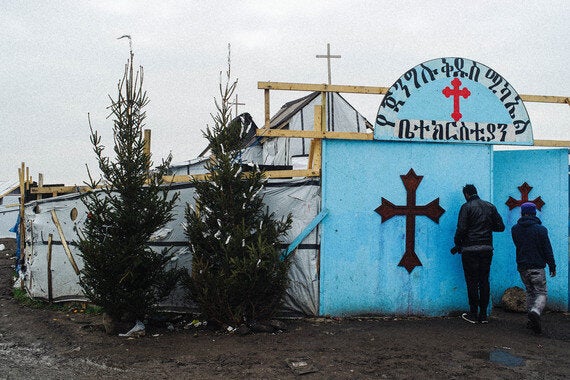 Yes, that is the gate to the homemade church. Yes, there are a lot of Christians in the camp, now home to 7,000 people.
Christmas here is a pretty bleak affair. Freezing cold, wet and windy, thousands of people are stuck here, at the end of the road, with no option, the hope that propelled them this far, slowly slipping away alongside their dignity.
Without these, many are left with nothing, having already lost their families, friends, homes and everything they once knew.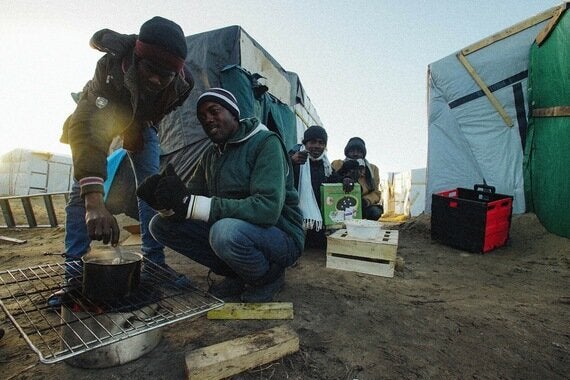 To add insult to injury, life in the jungle is not even safe. Numerous fire have devastated the camp over the winter months, destroying many makeshift homes people have attempted to build in order to regain some sense of normality, some way to survive.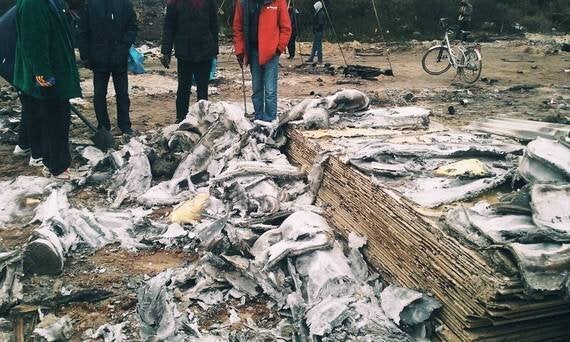 Our little organization, The Worldwide Tribe, recognize the cause of these to be the candles people are using to light their shelters. A huge hazard in this densely populated, highly flammable environment. It is a miracle no sleeping children have yet lost their lives to the smoke or flames.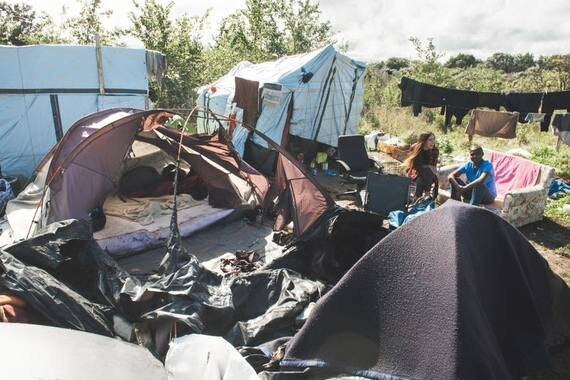 We want to eradicate the use of candles entirely by providing every shelter with a solar-panneled, LED lantern. These super light-weight, inflatable, powerful light sources charge even when it' overcast and are bloody AMAZING.
We gave out 200 in the Sudanese area recently flattened by fire. As it got darker our pals turned them on; a beautiful site evocative of the turning on of Christmas lights, but better, much more moving and uplifting.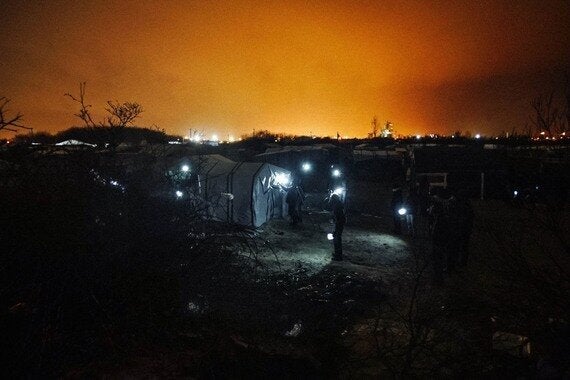 Not only this, we have also worked with amazing Arcadia (think giant spider and fire shows at Glastonbury), to co-fund a custom-built fire truck for the camp. The back of this 4x4 is kitted out with four water tanks and a hose, ready to go in the event of a fire. In the past, it has taken up to 45 minutes for the fire brigade to arrive in the camp, a devastating amount of time, upon which it seems difficult for them to act (various reasons, including the terrain). This amazing solution allows refugees themselves (several inhabitants of the camp have been trained as 'firefighters' in the use of the truck currently stored in a container on site.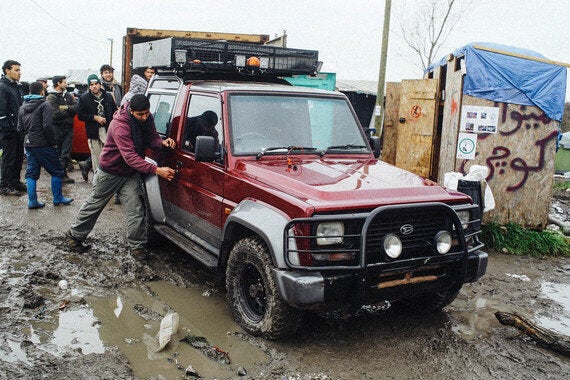 If you would like to support us in continuing to provide reactive, responsive solutions on the ground, you can donate here.
Christmas as a Refugee in Lesvos
Two members of our team will be out in Lesvos over Christmas and New Year, bringing some Christmas love and attention to the families arriving in Europe on boats, to safety, to a new start.
They are working with our sister organization Pikpa Lesvos, a refugee camp for vulnerable people, where we will be completing our women and childrens shelter in January. If you would like real-time updates of what is going on in Lesvos, you can follow us on Facebook here.
Or on Instagram: @theworldwidetribe
Or on Twitter: @worldwide_tribe