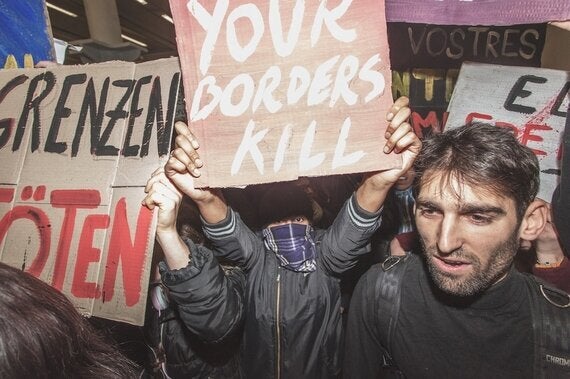 Photo: Chris Bethell | @CBethell_photo
"This is what a border feels like!" was the chant echoing through the halls of the London Eurostar at Kings Cross St Pancras, scores of police were shoving and punching, passengers were frantically seeking a way to get through, begging to reach the other side, symbolic blood was pooled all over, the atmosphere was tense as hundreds of protesters blockaded the Eurostar entrance, and people trying to get out, in solidarity with Migrants dying to get in.
The sanitised brightly lit airport and train station borders do not reflect the reality of migration for most people around the world, they are an imaginary bubble of trans-national safe passage that was appropriately burst by the protesters on Friday. Instead, as the speeches explained, at the majority of land crossings across the world, the reality of movement is violence, rejection and death.
Whose crisis is this? Although it has been billed as the 'European Migrant Crisis', one must ask, does Europe have a crisis on its hands? No, Europe has millions of crises it is jointly responsible for, righteously arriving on its doorstep, not even asking that it make amends for a policy of perpetual imperialism, but that it provide sanctuary in times of desperation, which it has never done, nor will ever do.
The European Migrant Crisis, and the Migrant's Crisis are two different crises, the former speaks of Europe's personal crisis at being unable to keep black and brown people illegal, and the latter is the crisis of being at the sharp end of Colonialism, of Corporotocracy, of being deprived of your humanity.
Political prognosis is central to how the UK anticipates the continuing waves of mass migration to Europe playing out, so we too must do some forecasting. Christian Aid's research suggests that by 2050 a further 1 billion people will be forced from their homes, many of them are, and will continue to be, arriving in Europe.
In light of this, when the establishment chooses to call this a 'crisis', that is, an 'emergency', we should project that in 2050, when there truly is an emergency, they will say that, 'what was once a crisis, is now something we can no longer afford to facilitate', excusing new, most likely military based, measures of control, expanding the immigration-industrial complex further. Organisers of the demonstration have made it clear they are here for the long term, and this protest is just the beginning.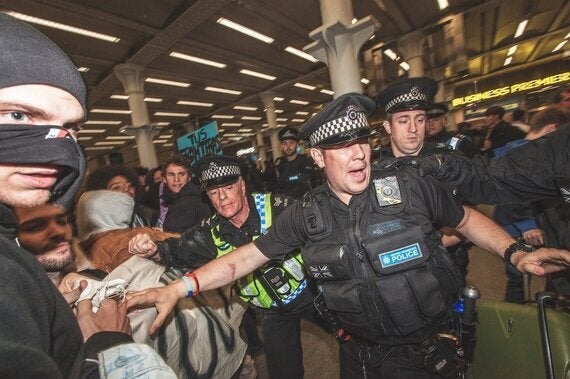 Photo: Chris Bethell | @CBethell_photo
Our political mainstream are already adamant that more border controls are the remedies to this crisis, pledging millions more to reinforcing borders, that disproportionate national refugee quota's will absolve responsibility, that torture filled detention centre's will handle 'bad migrants'. The liberal left are arguing about finding the correct terms, or about how we must search our souls to find empathy for people fleeing the real crisis, their freedom at our mercy, white savior complex on speed.
Europe has no migrant crisis; it's a petulant child refusing to make amends for the crisis it has caused all over the world. Was it not a 28 Nation strong NATO, most of whom are European, who set about turning Libya into the war-torn landscape it is today, just four years ago? Who armed the 'moderates' of Syria? Which corporations are behind the huge development projects in the worlds poorest countries, creating millions of displaced people? Who will facilitate pillaging at any and all costs, except the cost of a comprehensive search and rescue operation? The United Nations Permanent 5, the revolving corporate door, and all other suited cronies, that's who.
"Colonialism still, your racist borders kill" was another chant which rang out as protesters went on to block the Eurostar entrance for hours, drawing attention to the root causes, bringing a sting to their narrative and body to the term solidarity. Colonialism is all that needs to be discussed right now. So long as we are prepared to turn a blind eye whilst our Gulf petro-monarch allies turn the Middle East into a war playground for resources, all to keep the coffers of European Multinationals topped up, we will move nowhere fast. From Africa to Asia we don't meddle, we manufacture the most conducive circumstances to corporate interest; the consequence is more often than not, millions of displaced peoples, and mass migration. Yes, we are responsible.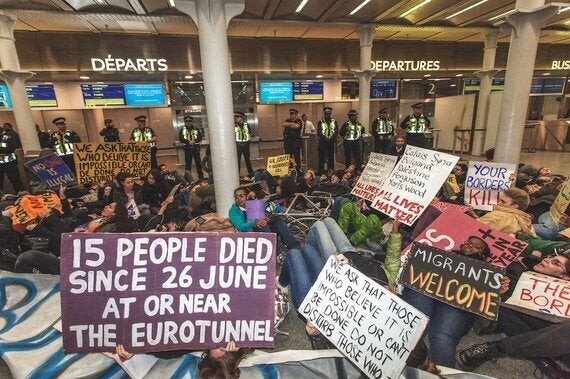 Photo: Chris Bethell | @CBethell_photo
The solution is urgency. We must begin to join the disparate forces of those willing to step up the battle against fortress Europe, we must completely destroy the walls, the detention centres, the razor wires and speak over the politicians and mainstream media; as Walter Rodney once said, "By what standard of morality can the violence used by a slave to break his chains be considered the same as the violence of a slave master?".
Urgency comes from the margins of society, from those directly oppressed, hence why the movement against detention centres in the UK is led by migrants, hence why serious challenges to power are coming from voices of first, second and third generation migrants, from women, such as those in this demonstration's organising groups London Latinx, Black Dissidents and Sisters Uncut. Those of us who recognize aunties in detention centres, and grandparents in drifting boats on the mediterranean, those of us who correlate the rationale of our ancestral journeys to those of our Congolese neighbour, or Somalian bus driver, not for a 'better life' as David Cameron spouts, but simply for a life, oftentimes robbed by the likes of Cameron.
Europe will never have an adequate response, our energy needs to return to a civil-society response. Just as we are robbed of any context when mainstream analyses of the plight of migrants is offered, just as we are force fed racist propaganda, so too are we fleeced of the historic solution to a time of crisis: people power, because governmental power only recognizes and concedes to an equal or greater power, and the starred circle of the European Union and Union Jack of the United Kingdom are untenable powers. Now is the time to organise.
Popular in the Community