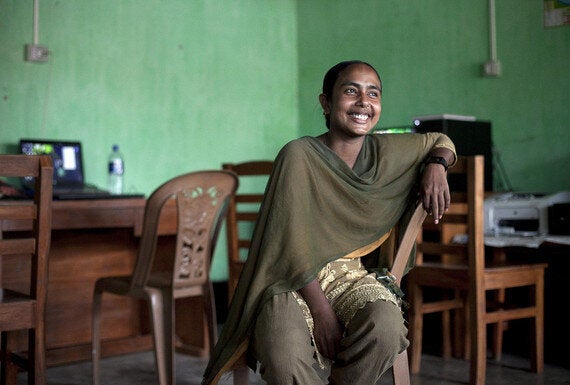 Habiba Akhter at the computer centre. Photo credit: Allison Joyce for VSO
As a Media Officer with the development charity VSO I recently had the opportunity to visit a youth club in Bangladesh. I approved of the youth club's generous definition of youth - it welcomes members from the ages of 18 to 35. I really didn't know what to expect from the club. As a child of the eighties youth clubs make me think of the classic TV show Byker Grove. But members of this youth club raise money for sick people in the community by keeping cows and selling their milk. They also visit bereaved neighbours who have lost a loved one. I don't recall Ant and Dec doing this on Byker Grove, so it was quite different.
At the club I was introduced to Habiba Akhter, a youth club member and entrepreneur. Habiba is an impressive young woman who at the age of eighteen has learnt how to repair mobile phones - a particularly unusual job for a woman in rural Bangladesh. Together with other members of the youth club she rents out a space where they run a computer centre, which is an internet cafe of sorts. Habiba is really passionate about continuing her studies, she explains:
"I'm no longer dependent on my parents. I'm funding my own education and also giving some money to my parents. It's rare for a girl to be independent at my age. I'm so happy and proud. I can make independent decisions. My mother sometimes tells me that I have to get married but I can say no - it's not what I want."
Habiba is outspoken about the issues facing young women in Bangladesh such as early marriage and childbirth. I was shocked when she told me about her pregnant school friend, who died when she was only thirteen years old. Sadly Habiba's friend is not an isolated case. Girls who give birth before the age of fifteen are five times as likely to die in childbirth compared to a woman in their early twenties. Their bodies are just not ready for childbirth: they are still children themselves. Habiba says it's a problem that isn't talked about much and that we need to talk about the impact and real risk of death.
I also met Ershad Hossain, one of the individuals who helped set up the youth club twelve years back. He was only eighteen at the time and had been moved to do something about the poverty in his neighbourhood. For some reason I was surprised that somebody so young had taken the initiative to do something so positive for his community. I then questioned why I was so surprised. I think that it's partly because I wouldn't have thought to do something like this when I was eighteen. But it's also because young people and teenagers in particular are often portrayed in such a negative way in the British media.
I was reminded of when a youth club opened near my parents' house in North Manchester. Some locals were against the youth club, as they didn't want young people gathering near their homes - that's how little we think of our young people. Interestingly British youth clubs were born out of a moral panic around teenagers in the late fifties. I think this view persists to some degree - that youth clubs are a way of 'keeping young people out of trouble'. When we speak about young people in such a way it's very easy to forget that a lot of them are very socially aware and highly capable.
Youth clubs in the UK provide a similar function to the ones in Bangladesh. Young people have the chance to help in the community, play sports, and receive vocational training. In Bangladesh, this is where VSO volunteers came in - training youth club staff and organising vocational courses for youth club members.
12th August is International Youth Day and this year's theme is 'youth civic engagement' which translates as young people getting involved in political and social issues. Young people make up half of the world's population - most issues impact their lives. They need to be involved in the decisions which affect their future. As Ershad and Habiba show there are plenty of young people with a passion for social justice. Youth clubs play an important role in building the skills and confidence of young people and enabling them to stand up for their rights.
Popular in the Community