"All I could bring with me is my tears, nothing else," says Mohamad, a 28-year-old history teacher from Syria. As he wipes his eyes, he tells me that three months ago, as ISIS were preparing to destroy Kobani, he escaped from the battle with his 12-year-old brother.
Now he is on the Greek island of Kos, living with almost 400 other refugees in an abandoned hotel. The rooms are quiet, but filled with people waiting for the next step in the terrifying journey away from the carnage that has engulfed their homes. They carry only the clothes on their backs and the trauma of what they have seen. In the mornings, they pass like sleep-walkers along the harbour wall on their way to collect the papers they need to take the boat to Athens.
The Mediterranean is awash with people paddling away from fear, towards a country on the verge of bankruptcy. The day I was there, the tourist beaches of the Greek islands saw close to 1,000 people washed ashore. For many of them, the choice is clear: stay and likely see your children die under barrel bombs or put children on boats and a potentially deadly journey at sea, and then into the unknown.
"Every day, we didn't know what might fall on us from the sky," says Sawsan, a young Syrian mother with her year old son. "We never wanted to leave. We never wanted to be a burden. But we couldn't stay. We just needed to feel safe." Her story is echoed, thousands of times, across the boats drifting on the Mediterranean - hope for basic safety for their families mixed with the dull longing for home, and an ache of fear for those they've left behind.
Greece could not be less able to deal with this crisis. Already one of the poorest country's in Europe, on the verge of crashing out of the Eurozone, it is having to deal with a the largest refugee crisis since the second world war on top of a crippling financial crisis that's left many trapped in grinding poverty. This year six times as many people seeking refuge have made the crossing than 2014. The sick man of Europe is being asked to carry the heaviest load, and on the frontline islands volunteer citizens are the ones sheltering and feeding the desperate arrivals.
"We can't do this forever," says Georgios, a volunteer from the Kos Solidarity Group. "But we can't do nothing either." Together with other local teachers and friends, all of whom have suffered the effects of Greece's massive crisis, this group has found shelter for the refugees, and set up a daily feeding programme with leftover lunch scrapings from tourist hotels.
On the smaller island of Leros, it's a similar story. A former judge, known locally as Mama Matina, has led an extraordinary campaign of compassion for the refugees. After the Greek coastguard forced refugee boats back towards Turkey and dozens of women and children drowned, she organised her friends and neighbours on the island to help.
Matina uses one hand to help those that arrive each day, and the other to call on the government to do more. "The UN warned this would happen, but the world has done nothing," she says. "We desperately need a solution that solves this -- first we have to stop the wars, but we also have to treat the people humanely." Despite Greece crumbling, its people's solidarity and kindness is shining through.
Last weekend on the aid mission with Avaaz, we were able to give Giorgios and Matina essentials like sleeping bags, toothpaste, soap and sanitary towels to distribute to families coming off the boats. This delivery was part of a massive Citizens for Sanctuary campaign in which people from across the world also donated $500,000 to the Mediterranean's most effective private rescue mission. Thousands of people in France, Germany, Italy, Greece, Malta and the UK are getting involved, signing up to volunteer in refugee integration programmes. From Matina to the Avaaz members -- people across Europe are opening their hearts and wallets to help, and now over 420,000 Europeans are calling on leaders to take urgent action.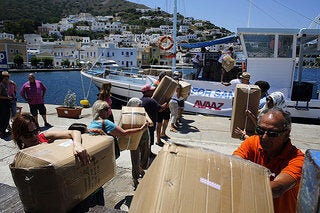 Avaaz members unload aid at the Greek island of Leros.
A comprehensive solution to this emergency can only come from our governments. While Europe is locked in an austerity arm-wrestle with the Greek government over its precarious financial situation, the impact of the refugees on Greece has barely been discussed.
There is a bitter irony at work here. Even as Europe demands Greece does more with less, the deadlock on migrants is piling pressure on the Greek government and people. That the refugees are getting any help at all is a testament to the generosity of the people of Europe's most broken nation. While demanding Greece meets crippling repayments on the emergency loans it took to keep its economy afloat, Britain, Denmark, France, Spain, and countries in Eastern Europe are refusing to take their fair share of the hundreds flooding Greece's beaches every day. Worse still, Hungary is building a giant fence across its border. The combined effect is a gross betrayal of Europe's humanitarian values.
For Greece and Italy, a breakthrough can't come too soon. This year alone, 100,000 refugees have arrived on the southern shores of Europe. With the UN saying there are a record number of people displaced by conflict this year, this crisis isn't going away anytime soon. Thankfully, search and rescue missions, that saved over 160,000 lives last year, are set to be reinstated. But for many European leaders, the focus appears to be on sealing borders and sending gun ships after traffickers, while negotiations over refugee relocation and resettlement is still stuck. Increasing safe and legal routes into the EU is the best way to reduce the numbers risking their lives.
"Europe needs to open its heart and offer a long-term political solution, not pretend we can leave this crisis in the shadows," says Panos, a teacher and local organiser in Leros. Having risked everything on the boats they consider safer than staying on land, tens of thousands of our planet's most vulnerable people will be hoping the same.
Related