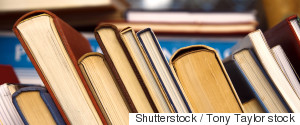 I found it oddly comfortable to return to writing a heroine rather than a hero - my first female lead since I wrote The Chosen One, published under my pseudonym, Sam Bourne, in 2010. I instantly felt at ease, guided by that sense that I knew Madison - how she would think, how she would speak, even how she would try to get to sleep in the long, slow hours of the night.
My debut novel was sold to my UK publisher in October 2014, it will be first published in January 2016. And that's not abnormal, far from it. So, what happens in this year plus change?
When I was growing up there were no characters in books or on television that looked like me. I grew up with Barbie and Disney Princesses. There was no diversity in the characters I saw, just beautiful flawless females who I aspired to look like. But that was never going to happen.
Authors get writers block. They hit a wall, a creative blockage whereby they simply cannot write, no matter how hard they try. Journalists don't get writers block. How can they? Stories move too quickly, new things happen every day. Journalists have it lucky. There is too much to write about. Right?
There are many reasons adults should read children's books: they tend to be more fun, more outlandish and the writing is much bigger so you finish them in a ridiculously short time and feel proud. Baddiel's new book should be read by adults and children alike and the excellent word puns can be enjoyed by both.