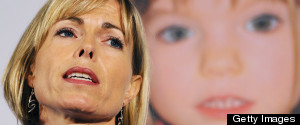 The night that our little girl was taken from her bed, we mistakenly presumed that some kind of alert would have gone out immediately to the public, to get as many eyes and ears involved in the search as possible. That didn't happen.
One reason why the story of Madeleine McCann is so popular is that it is a story that is safely distant from us, and so doesn't demand any real response. The abduction happened in Portugal some years ago and it is unlikely that we personally are going to be involved in solving it. Frankly, following the Maddy story is now a spectator sport.
What we've glimpsed with this issue is the fragility of human life, and the random and meaningless way the most precious thing any of us have can be snatched from us in an instant.
Time delays may mean memory for faces is more of a whole impression than an analysis of individual features. The issuing of a computerised image could be a flawed approach. But another problem is not just the time delay in the Madeleine McCann case but the very way the media has reported the crime could have damaged the possibility of correct identification.
The detrimental effect of age-progressed images is most probably partly a psychological effect: The addition of an age-progressed image somehow changes observers' decision-making strategies, and does so in a profoundly unhelpful way.
I respect a person's right to hold any opinion, even if I don't respect the opinion itself. Which means Frankie Boyle's repertoire of jokes about Madeleine McCann, BabyP, Katie Price's disabled son Harvey and children with Down's Syndrome don't send me into paroxysms of rage.
Matthew Woods is not the only person who's made April Jones jokes, and he's not the only one to have done so from an identifiable social media account. He might just have been the only one unlucky enough to have been spotted and reported.
The distress when a single child goes missing is enormous for the families involved. Imagine the scale of upset, then, given the suggestion by one charity that more than 130,000 children go missing in the UK each year. The figures quoted by Parents and Abducted Children Together (PACT) are staggering, beyond many people's comprehension.
Standing under the pine trees in a busy Spanish campsite yesterday morning it was hard to see how anyone could hide a secret there, let alone a secret as big as Madeleine McCann. It's so close to the fast road that follows the Costa Del Sol you can hear the traffic.
It's not funny, Frankie Boyle, if Rebecca Adlington has a face like a spoon. It's funny because none of us care even slightly if she is hurt by the joke - because she's famous, she can take it.
The British public, as well as tabloid newspapers, must tackle its faults if we are to gain a better standard of journalism in this country.