The UK government will hand over 'hate preacher' Abu Qatada to the glamour model also known as Katie Price, Theresa May confirmed today.
The agreement - also being called a "twin strategy" - will see Qatada move into the £4m Hampshire mansion Jordan is currently considering buying with her third husband. It is thought that he will then live in one of its many stables.
"I believe that the treaty we have agreed with Jordan will finally make possible the deportation of Abu Qatada... to the home counties," May told the House of Commons.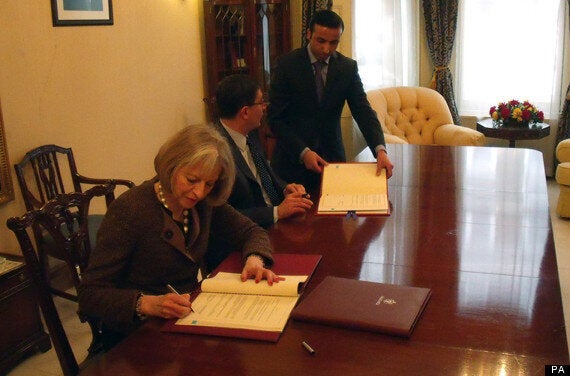 May with Jordan's officials
"But as I have warned the House before, even when the treaty is fully ratified, it will not mean that Qatada will be on a plane to Jordan within days," she added. "Mainly because there are no airports there. He can get to Bishops Waltham by bus."
There had been fears that the agreement would lead to Qatada being tortured - but May assured the Commons that the cleric will not be forced to watch Jordan's Eurovision Song Contest performance, nor listen to her version of 'A Whole New World'.
Labour welcomed the government's efforts to deport the cleric but said it "didn't go far enough. Bishops Waltham is only 80 miles from London."