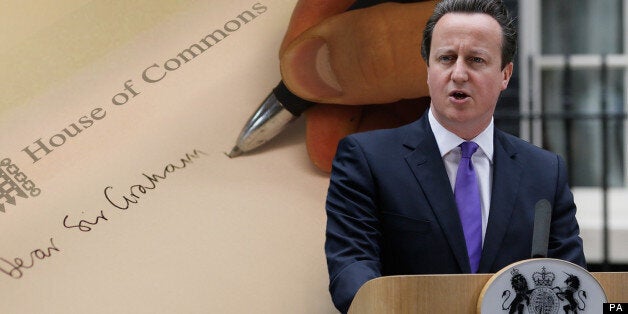 At least 30 Conservative MPs have signed letters calling for a vote of no confidence in David Cameron's leadership, a leading backbench rebel has said.
Speaking on condition of anonymity, the MP - who is believed to have signed one of those letters - told the Huffington Post UK that the number of signers is "into the 30s now".
Some 46 letters would need to be signed for a no confidence vote to be held.
As the HuffPost UK's Ned Simons reported in May: "Under Conservative Party rules a leadership election is triggered if 15% of Conservative MPs call for a no confidence vote in the leader. They do this by sending letters to the chairman of the party's backbench 1922 committee - currently Graham Brady.
"There are currently 304 Tory MPs in the Commons, so 46 of them would need to want to get rid of Cameron for a no confidence vote to be triggered." Brave Sir Graham: Brady, chair of the 1922 Committee, is the keeper of the letters
In September 2012, it was reported that 14 Tory backbenchers had called for Cameron to go, with one of them named as Patrick Mercer (though the latter's decision to resign the Conservative whip on Friday, over an alleged lobbying scandal, now makes his letter to Brady invalid). A senior "Tory plotter" told the Daily Mail in May that "between 18 and 23 letters could go in overnight".
However, the stunning claim that the number of signed letters in Brady's possession has now crossed 30 will put renewed pressure on the prime minister, who has been battling with cabinet colleagues, rebellious backbenchers and disgruntled activists over the twin issues of Europe and same-sex marriage.
So, how long till the 'magic 46' is reached? A recent YouGov poll for the Sun put the Tories on 29%, 13 points behind Labour. The senior Conservative backbencher told HuffPost UK that the number could reach 46 and force a no confidence vote if "post the party conference [in October], we are still [polling] in the 20s." But the Tory rebel also added a disclaimer: "We are talking about MPs here. Labour MPs walked wide-eyed into defeat with Gordon Brown."
Under the Conservative Party's leadership rules, devised by former leader (and current foreign secretary) William Hague, if Cameron were to win the support of a simple majority of MPs in a no confidence vote, he would remain party leader and no further vote could be called for another 12 months. But if the PM were to lose, he would have to resign as Tory leader and would be barred from standing in a future leadership election.
Only Brady knows the number of letters he has received. And not everyone agrees that the Conservative leader needs to start prepping for a no confidence vote. Another MP, who is also believed to have penned an anti-Cameron letter to Brady, told HuffPost UK that the number had not yet crossed 30. "I don't think the number is that high," he said. "I really don't."