Nick Clegg, the politician who drew national opprobrium for reversing his party's position on university tuition fees once in power, has told prospective students not to be put off extending their education by the "myths" about high costs.
In a move likely to anger the student vote – a franchise the Lib Dems benefitted from during the 2010 election – the Deputy Prime Minister dismissed "wild" predictions that costs of £9,000 per year for tuition would lead to degrees becoming bastions of the rich, pointing to an increase in the number of applicants from poorer households.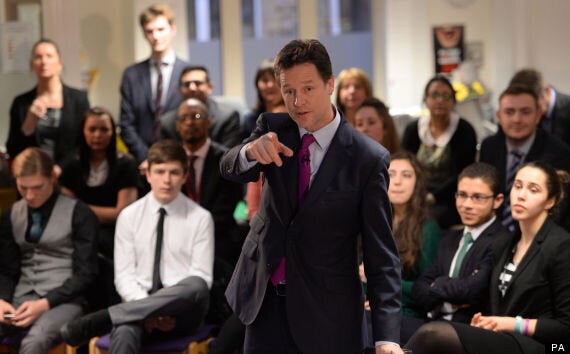 Clegg holds a Q&A session with students at Bishop Challoner Catholic Collegiate School in London
In a speech on Tuesday evening, Clegg also sought to claim credit for measures introduced by the Lib Dems, which he said helped to lessen the impact of the sudden increase in fees, even though one of the help schemes designed to aid working class youngsters is scheduled to be cut in 2015.
Much of the Lid Dem success at the last election stemmed from the party's successful courting of the student vote, the centre piece of which was a promise not to raise tuition fees, however that plank was quickly dropped after the party was offered a position on coalition with the Tories. Clegg was subsequently forced to apologise for the U-turn.
On the broken tuition fee pledge, Clegg said: "I've said I'm sorry for that, and I meant it... but what matters to me now is that you know you can still afford to go to university - and that you don't let the myths that have emerged crowd out the facts.
"This may not have been the policy my party wanted, but I made absolutely sure that it wouldn't turn a degree into a luxury for the very rich."
To mitigate the increase, the Lib Dems increased grants to prospective students from poorer backgrounds and ensuring that debts did not have to paid until after the graduate was making more than £21,000.
"We now have the highest application rates ever. More young men and women are going full-time to university than ever before," he said. "A higher proportion of students from poorer backgrounds are going than ever before...entry rates for students from nearly every ethnic minority are at their highest level ever.
"So to all of you, to each and every one of you: if a degree is what you want, you can still have it - you've just got to work hard. To the mums and dads in the room: if you've always hoped to one day see that framed graduation photo of your son or daughter on your mantelpiece - you can still have it.
"Whatever you heard in the past, don't let it lower your sights for the future. University may not be for everyone, but it is open to everyone."
More from the Press Association:
The National Scholarship Programme, which offers fee waivers and bursaries to the poorest students, will see its funding slashed by two thirds from £150 million to £50 million a year from 2015. Critics said it was a "vital lifeline" for many and cutting it showed "a casual disregard for the realities of students".
"We would not have done it if we thought it was going to have that impact," a senior Lib Dem source said - saying the programme was only one part of the effort to minimise the impact of higher fees. It was always a time-limited policy; it's just been time limited a bit earlier."
A Labour Party spokesman said: "The reason young people have turned away from Nick Clegg and the Lib Dems is because of their broken promises. He said he'd scrap tuition fees but then he trebled them. You can't trust a word that Nick Clegg and the Liberal Democrats say."
After giving his speech, Clegg was questioned by the young people about university costs. Farjana Begum, 18, asked him why the Government makes decisions which affect young people "without asking them how they feel about things" and told him the majority of her friends do not agree with the policy on tuition fees.
Clegg replied: "We took that decision... as a democratic Government trying to do the best thing for society as a whole and part of that decision, as I explained earlier, was controversial. Unpopular though it was - and obviously in your opinion still is - we basically said that how you divvy up who pays what between the graduate and the Government should change."
He added: "We just don't have as much money to go around so you have to make choices. Yes, you have to listen to people, of course you do, but you also need to make choices you think are as fair and balanced as possible. If you don't like the choices we make, not only tell me now but then obviously make your views known in the ballot box in the next election."