Shocking footage has revealed what happens when a blonde woman in a pink top attempts to take a stroll through Cairo University.
Students at the university can be seen swarming around the woman within minutes, ultimately attempting to to rip the clothes off the blonde, according to reports.
The men, some of whom were reportedly law students, surrounded the woman like a moth to flame – wolf-whistling and jeering as she hurried to get away from them.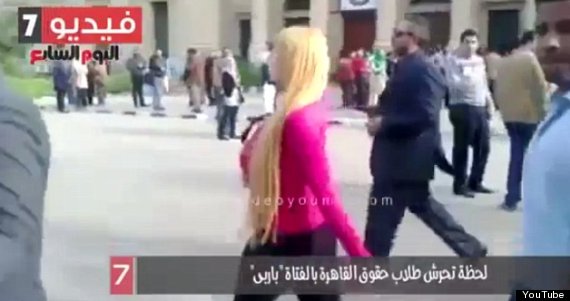 University guards can be seen in the clip escorting the woman off the premises after she hid in a toilet to escape the group.
TOP STORIES TODAY
Fathi Farid, founding member of the anti-sexual harassment group, I Saw Harassment, said male students had verbally attacked the woman and attempted to undress her, AFP reported.
The treatment of the unnamed woman, who was wearing a long-sleeved pink top and fitted black jeans, has sparked international outrage and the video has rapidly gone viral.
The Dean of the Cairo University Law School, Gaber Nasser, has since sparked anger after he appeared to blame the girl by saying her outfit was "a bit unconventional".
"This girl entered the university wearing an abaya [a loose cloak] and then took it off in the faculty, and appeared with those clothes, that caused, in reality - but this doesn't justify at all [the incident]," he told Egyptian channel ONTV.
Activists took to Twitter to voice their outrage:
Mob sexual harassment incidents are happening on university campuses, "academics" blame the victim. There's till a LONG way to go. #Egypt

— MK مريم (@MariamKirollos) March 18, 2014
I also demand a public apology by Gaber Nassar to the female student who was sexually attacked yesterday.

— MK مريم (@MariamKirollos) March 18, 2014
Seriously I can't get over that Gaber Nasser is the head of CU. How devastating that this mentality heads Egypt's prominent institute!

— Omnia Al Desoukie (@Omniaaldesoukie) March 17, 2014
@MariamKirollos @monznomad absolutely disgraceful!! The sexual harassment issue in Egypt needs to be addressed as a matter of urgency.

— Charlotte Booth (@Nefercharlie) March 18, 2014
Egypt does not list sexual assault as an offence and a report carried out by the UN last year found that 99.3% of women and girls in the country had been sexually harassed.