Nicky Jacobs, 45, has been found not guilty at the Old Bailey of murdering Pc Keith Blakelock during the 1985 Broadwater Farm riots in Tottenham.
Pc Blakelock was attacked by an armed mob after his unit was deployed to protect firefighters tackling a blaze on the Broadwater Farm estate on the night of October 6 1985.
Nicky Jacobs, who was 16 at the time, went on trial at the Old Bailey accused of being one of the rioters who together stabbed the officer more than 40 times and tried to decapitate him.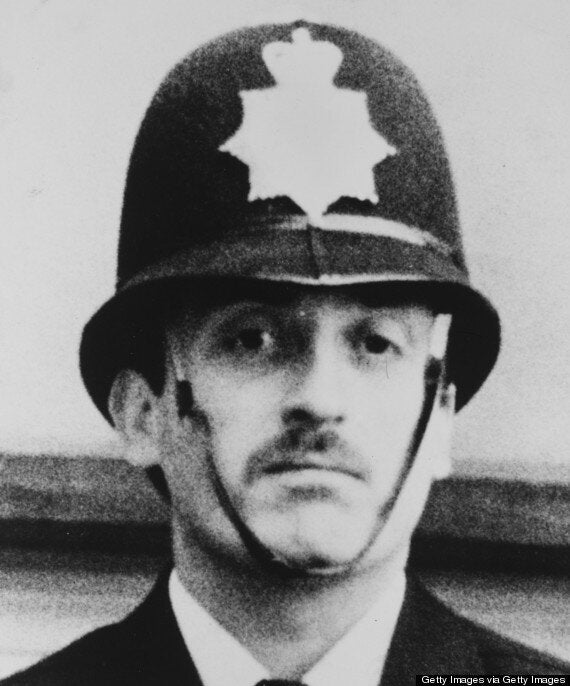 Pc Keith Blakelock who was killed during the riots on the Broadwater Farm Estate, Tottenham
Jacobs had denied murder.
There were cheers from the public gallery as the verdicts were returned by the jury of five women and seven men, who took just six hours to clear the 45-year-old.
Jacobs stood up, held his head in his hands and punched the air as the verdicts were delivered.
Later he sat down and sobbed before being taken from the dock.
His supporters in the public gallery, who included Winston Silcott, whose conviction for the murder of Pc Blakelock was quashed in 1991, shouted "Yeah, yeah" and called out "Brother, brother".
Pc Blakelock's family looked distraught - one of his three sons held his head in his hands, while his widow, Elizabeth, left the court in a hurry soon after the verdicts were delivered.
Courtenay Griffiths QC, for the defence, said outside the courtroom: "I'm delighted, I think the jury reached exactly the right verdicts. Now I have to go and see my client."
Jacobs's prosecution followed an earlier trial in 1987, when three men were convicted of the murder but later freed on appeal.
During the course of three separate investigations, a controversial decision was made to give immunity to so-called "kickers" - those who were involved in the attack but did not use weapons - in exchange for their co-operation.
Among them were the prosecution witnesses given the pseudonyms Rhodes Levin and John Brown who both admitted kicking Pc Blakelock and were given amnesty from prosecution.
Some of the witnesses also received payments from police for their co-operation, the jury was told.
John Brown said he saw Jacobs use a machete in the attack, but in cross examination, he admitted he thought all black people looked alike.
Rhodes Levin, a drug dealer with convictions for selling heroin and crack cocaine, told the investigation in the early 1990s that he had seen Jacobs with a ''fairly small knife''.
The final anonymous witness, Q, said he was not involved in the riots, but told the court he saw Jacobs attack Pc Blakelock with a "tool" in a "stabbing motion".
The court heard he was a cousin of John Brown with a long history of drink and drug problems. A court artist sketch by Elizabeth Cook of Nicholas Jacobs (left) at the Old Bailey in London as Jacobs, 45, was found not guilty
He was accused by Griffiths of being a "fantasist" and of being put up by his cousin to tell lies - which he denied.
Griffiths dismissed all three witnesses' evidence as "bereft of coherence, riddled with lies, incoherent and contradictory".
Other evidence presented to the court included a rap poem Jacobs wrote in custody about the murder.
The poem read: ''Me have de chopper we have intention to kill an police officer Pc Blakelock de unlucky f***er him dis an help de fireman."
On this evidence, Griffiths said: "Bob Marley wrote I Shot The Sheriff but I have not heard of him being put on trial for murder."
The Old Bailey trial also heard that in May 2000 Jacobs was arrested and told a police officer: "F*** off, I was one of them who killed Keith Blakelock."
The court heard how the riots erupted the day after a suspect's mother, Cynthia Jarrett, had a heart attack and died during a police search of her Tottenham home.
It followed weeks of tension and concerns that ''individuals were planning public disturbances'' in the borough of Haringey.
Prosecutor Richard Whittam QC said the riots were more ''sinister'' than the later ones in 2011, and at least some rioters were intent on killing a police officer.
Pc Blakelock was among a group of uniformed officers who came across a ''very large group'' of rioters, many armed with an assortment of weapons, the court heard.
He and Pc Richard Coombes were set upon by a crowd of rioters shouting "kill the pig", the court heard.
The attack on Pc Blakelock was "without mercy", his helmet came off and there was an attempt made to decapitate him, jurors were told. Pc Coombes survived.
Pc Blakelock's widow Elizabeth Johnson attended the trial with her sons as the harrowing details of her husband's death were retold.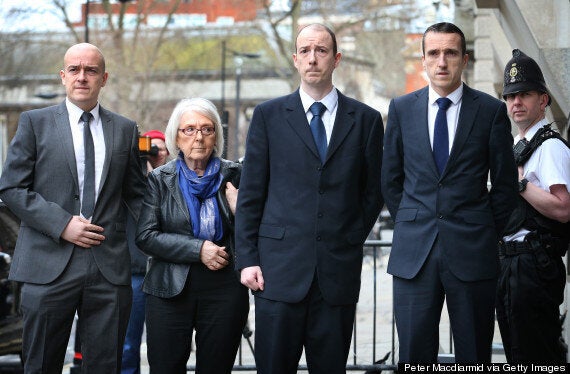 The family of PC (Police Constable) Keith Blakelock, his sons (L-R) Lee, Kevin and Mark Blakelock stand with their mother Elizabeth Johnson at the Old Bailey
Supporters of Jacobs also listened from the public gallery and regularly protested with banners outside the court.
Following the verdict, Assistant Commissioner Mark Rowley said: "Pc Keith Blakelock joined the Met Police to serve and protect the community of London. That desire ended in his murder, following an attack that was without mercy - his murder was barbaric.
"That terrible night in October 1985, Keith and his colleagues of Serial 502 were sent to the Broadwater Farm estate to protect fire crews battling to control a blaze that was threatening to take hold of a block of flats.
"Keith was only present that night to do what he joined to do - protect and serve the community of Tottenham.
"Today, having considered all the evidence they were asked to, the jury have concluded that Nicholas Jacobs is not guilty.
"We have worked closely with the Crown Prosecution Service over many years to be in a position to put our evidence before a court.
"The investigation team pursued all the material, evidence and witnesses they could. No matter how difficult an investigation it has been to carry out - given the many years that have passed, the lack of forensic evidence and CCTV plus the main witnesses to Keith murder's being those taking part in the riot - it was important we exhausted every possible lead we could.
"Sadly, Keith's widow, family and friends still have not seen anyone brought to justice for his murder. The dignity, extraordinary patience and courage they have shown in their nearly 30-year quest for justice is humbling.
"We will not give up on bringing Keith's killers to justice. There are people who know exactly who took part in the attack on Keith and people who took part themselves.
"It is not too late for you to come forward. Almost 30 years on, people's' lives are very different, their allegiances broken or shifted. Help us now.
"The 6 October 1985 was an extremely sad day in the history of policing, and no police officer serving at that time will ever forget it.
"Today, everyone in the police family should reflect on the barbaric and tragic events Keith, and Serial 502, experienced that night."