North Korea's main nuclear site could be facing a radiation leak following water supply woes, experts have warned.
A constant water supply from a nearby river is essential to cool the secret state's old reactor – which can rather worryingly produce fissile material for nuclear bombs – and would be needed for the safe operation of another reactor under construction at the same complex.
But recent commercial satellite imagery showed the recently restarted reactor may have been temporarily shut down or operated at a lower power level for repairs after flooding caused the river to change course.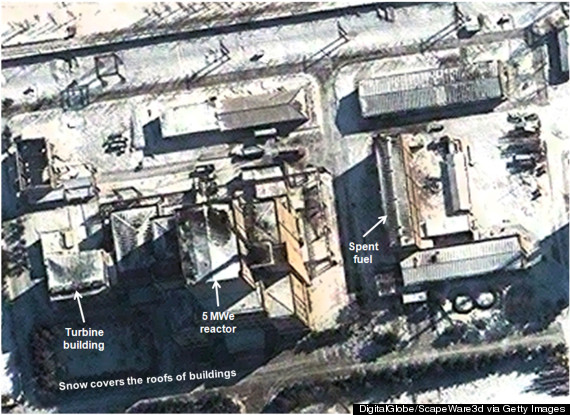 The roofs of buildings associated with the 5 MWe reactor at the Yongbyon complex
TOP STORIES TODAY
"The 5 MW plutonium production reactor may have been temporarily shut down or operated at a lower power level in early 2014 in order to repair problems with the secondary cooling system's water supply," North Korea expert Nick Hansen said in a report for the specialist website 38 North at Johns Hopkins University on Monday.
In late March, South Korean President Park Geun-hye said that because of the concentration of nuclear facilities, a fire there could cause a disaster potentially worse than the nuclear meltdown at Chernobyl in 1986.
Much to international condemnation, The North restarted the reactor at the complex only last year, backtracking on a commitment of previous aid-for-disarmament negotiations and raising fresh alarm over its nuclear weapons program.
The safety of the North's nuclear facilities adds to international worries over Pyongyang's nuclear ambitions.
North Korea has conducted a total of three nuclear test explosions, the latest in February 2013, and recently warned, without elaborating, it may carry out a "new form of nuclear test."