The projected national vote share now puts Labour on 31%, the Conservatives on 29%, Ukip on 17%, and the Lib Dems on 13%.
With election results now in from 150 of 161 councils, Labour had gained six councils and 292 seats. Ukip had gained 155 council seats, but do not control any councils.
It has been a dismal day for the Tories, but even more for the Lib Dems. The Tories have lost control of 11 councils and lost 201 seats. The Lib Dems now control just six councils, losing 284 councillors across the country.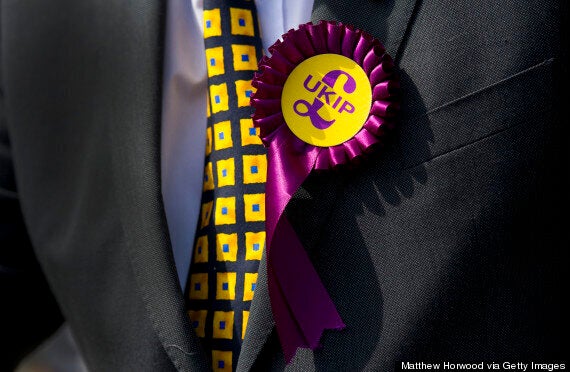 Ukip are the party of the hour, winning 155 council seats
The Greens are predicted to gain 17 new councillors but hope to do even better in the European elections, after a moderate swell in support. The party has become the official opposition to Labour in Liverpool for the first time after gaining two seats, taking their total strength to four, with the Lib Dems reduced to three.
The British National Party has held on to just one council seat, with leader Nick Griffin also expected to lose his seat in the European Parliament on Sunday night.
In former Tory stronghold Hammersmith and Fulham, Labour took 11 Conservative seats. The borough, sometimes described as Cameron's favourite, had been under Conservative control since 2002.
Elsewhere, the Conservatives lost control of West Lancashire after Labour gained a seat there. With 27 seats each between the Tories and Labour, the council is now under no overall control.
And the Ukip surge cost Labour has control of Great Yarmouth Council after Farage's party gained 10 seats. With the Conservatives and Liberal Democrats each losing five seats, the council is also left under no overall control.
The Prime Minister admitted his party needed to show it had the "answers" on issues such as immigration and vowed to work "flat out" to prove this to hard working people.
He added: "The economy is growing, we are creating jobs, but we have got to work harder and we have got to really deliver on issues that are frustrating people and frustrating me, like welfare reform and immigration and making sure people really benefit from this recovery."
Many of his eurosceptic colleagues will be unconvinced however and he faces growing pressure ahead of the announcement of the European election results on Sunday.
Education Secretary Michael Gove said the Ukip surge represented a "very clear message" from the public and stressed the Government would respond to the concerns.
Popular in the Community