Richard Branson and Virgin Airlines have been accused of hypocrisy after refusing to block the extradition of an asylum seeker and her two children, who allegedly face FGM (forced genital mutilation) in Nigeria.
The airline and its founder have been bombarded with pleas to stop Afusat Saliu and her daughters Bassy and Rasidat being deported, because of claims her abusive husband will taking the girls to have their genitals mutilated.
The family is due to be flown back to Lagos tonight on a Virgin Atlantic plane. The airline's founder has been deluged with thousands of tweets on the issue but Virgin has told HuffPost UK it will not interfere in the deportation.
More needs to be done, she said, to give "shelter and protection to victims and those at risk".
"Every female who suffers female genital mutilation, is one female too many and it's about time we did something about it," she continued. "I want to live in a world where FGM is a thing of the past, and I know that if we stand together, we can end the practice once and for all in our lifetimes."
The campaign on the Virgin website plugs the Meryl Streep film 'The Cutting Tradition' and backs the movement Forward UK against FGM.
"Every time FGM is covered in the media, more people are gaining an understanding of this awful practice and hopefully more victims will speak out," Holly Branson wrote.
More than 60 people have now commented under the blog, many crying hypocrisy.
"You can't run this kind of campaign on your website and then fly Afusat Saliu and her two tiny daughters home to face the risk of FGM. You just can't," one commenter wrote.
"If Virgin really cares they would not allow Afusat and her daughters to board their aircraft tonight as part of their deportation and likely forced FGM," another said.
More than 120,000 people have backed a petition on Change.org to keep Saliu in the UK, where she fled from Nigeria after her family told her of imminent plans to take her toddler and then-unborn daughter to have their genitals cut.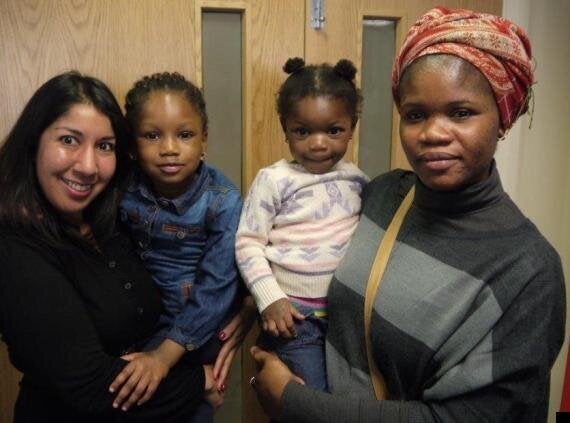 Anj Handa, with Afusat Saliu and her two daughters Bassy and Rasidat
A Virgin spokeswoman told HuffPost UK that the airline would not refuse to take Saliu and her daughters. "The Home Office makes the flight arrangements for all deportee passengers," she said.
"It is not for the airline to refuse to carry a deportee passenger on the grounds of their immigration case as the airline has no knowledge of individual cases.
"It is for the Home Office to make immigration policy and take decisions of this nature."
As the hours tick away, it seems likely the pleas will fall on deaf ears. Anj Handa, the director of social welfare organisation People Help People, who has been helping the family, said that Saliu and her daughters were detained yesterday afternoon, taken to Sheffield Immigration Centre and then onto Cedars detention centre, prior to being put on a flight to Lagos at around 10pm tonight
Bhumika Parmar of BP Legal, Sali's solicitor, had previously notified the Home Office that Judicial Review proceedings were underway to stop the deportation.
"Normal practise is that once Judicial Review is issued, the Home Office rarely removes [the person]," Parmar said. "In fact, their own guidelines state that detention should be a last resort. The process also requires 72 hours' notice prior to removal and this was not given."
"My family told me I should not try to change things, just like that. Nobody protected me from FGM, I must protect my daughters."
Saliu's case has "no merit" according to the Home Office, and she has been denied an appeal in the UK.
Saliu, who fled while pregnant with now two-year-old daughter Rasidat, along with her toddler daughter Bassy, now four, underwent a traumatic mutilation herself, and was married by her family to a man 40 years her senior. The birth of Rasidat, after she was taken in by a women's shelter in London, was particularly traumatic because she had been cut, she said.
She made a home for herself in Leeds, and although barred from working in the UK, or even doing unpaid work, she has volunteered with student midwives to teach them to recognise the signs of FGM.
"Leeds is my home now and my children have grown up here. It is very difficult for me knowing I may have to leave," Saliu told HuffPost UK.
Leeds MP Greg Mulholland has backed an investigation into Saliu's case and written to the Home Office to ask them to investigate.
"I was very concerned to hear about the treatment that Ms Saliu has received from the Home Office," Mullholland said in a statement to HuffPost UK. "It is extremely worrying that the Home Office are trying to deport her to Nigeria, despite the threat of violence she faces, and the threat of FGM to her two young daughters, which sadly Afusat has already been a victim of," he said.
A Home Office spokesperson said it could not comment on individual cases but said: "The UK has a proud history of granting asylum to those who need our protection and we consider every claim for asylum on its individual merits.
"We believe that those who fail to establish a genuine fear of persecution should return home voluntarily. If they do not, we will enforce their removal."
Popular in the Community