This is the dramatic moment a topless protester decapitated Russian President Vladimir Putin – while a handful of world leaders simply stood by.
Neither Barack Obama, Spanish King Juan Carlos, Francois Hollande nor Angela Merkel batted an eyelid as the terrifically violent assault took place – carried out by a Femen assassin with the words "Kill Putin" scrawled across her breasts.
Thankfully this Putin is made of wax – otherwise that might of stung a little.
Scroll down for more pictures of the 'attack'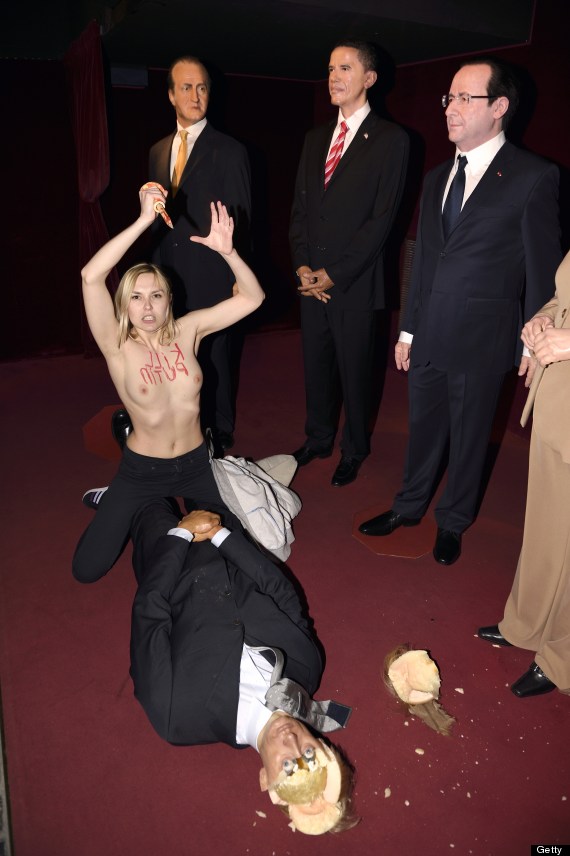 World leaders idly stand by as Vladimir Putin is violently attacked by a member of Femen
The spectacle occurred at the Grevin museum in Paris on Thursday on the day Putin arrived in France for D-Day anniversary events.
According to French Daily Le Parisien, the protester screamed "Putin is a dictator" shortly before she was arrested.
It's not the first time Putin has been confronted by the feminist organisation.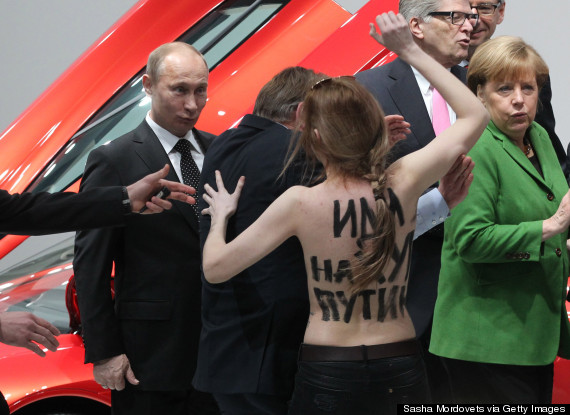 Putin getting and eyeful last year in Germany
Last year he was ambushed by a topless activist as he accompanied German Chancellor Merkel during a visit to an industrial exhibition in Hanover, Germany.
And judging by his expression he was pretty happy about it.
SEE ALSO:
Of Thursday's protest, Femen leader Inna Shevchenko told Huffington Post UK: "That was a protest initiated by one of our Ukrainian members.
"It was a symbolic act - an attack on Putin to urge the world to crash Putinism, not to follow it and support his military interventions and more deaths - by ignoring him and not inviting him to international events like today's D-Day in France."