As the blame game continues over who launched the ground-to-air missile that took down Malaysia Airlines Flight MH17, videos have emerged purportedly showing a missile launcher being manoeuvred near the crash site on the Russian-Ukrainian border.
The passenger jet was travelling from Amsterdam to Kuala Lumpur at an altitude of 33,000ft (10,000m) yesterday afternoon when radar contact was lost - way above the range of the shoulder-launched Manpads missile systems which have typically been used by the rebels in a series of attacks on Ukrainian military aircraft.
On Friday morning, it emerged that among the 283 passengers and 15 crew on board were ten Britons, 173 Dutch, 44 Malaysians, 27 Australians, 12 Indonesians, four Germans, four Belgians, three Filipinos, one Canadian, one American and one New Zealander.
Although officials in London remain wary of seeking to attribute blame ahead of any formal investigation, US President Barack Obama said Friday that evidence so far indicates that MH17 was shot down by a surface-to-air missile from an area controlled by Russian-backed separatists. He noted it wasn't the first time the separatists had shot down planes in the region, adding that a "steady flow of support from Russia" had included heavy weapons and anti-aircraft weapons.
Experts believe the Boeing 777-200 airliner is most likely to have been hit by a Russian-built Buk radar-controlled surface-to-air missile (SAM) system - known in the West as the SA-11 "Gadfly" - which can reach targets up to 72,000ft, according to the IHS Jane's global information group. The type of missile is owned by both Russia and Ukraine.
Ukraine has accused separatists using Russian supplied missiles of coordinating the attack, but the rebels have denied downing the aircraft, while the Kremlin has accused Kiev of failing to agree a ceasefire.
In the unverified video above, a military vehicle, said to be equipped with Buk missiles, is seen rolling down a road in Torez, Ukraine, just two hours before the crash.
The video is believed to have been filmed at around 2pm local time yesterday, just two hours later the ill-fated flight was shot down as it travelled over the same area.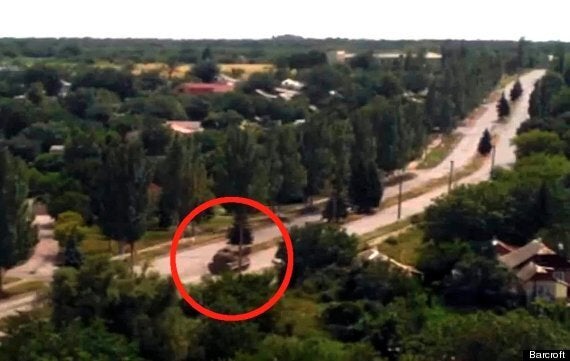 After the attack, Ukrainian officials posted a separate video of a launcher, now with two rockets believed to be missing, being smuggled on the back of a truck to Russia at 4.50 am on July 18th.
Though there is not enough information in the video to identify a location, Ukraine's Interior Minister Arsen Avakov claims that the transportation of a missile launcher was filmed in Krasnodon, a Ukrainian village close to Russia's border.
The Ukrainian minister also noted that at least one of the four Buk missiles seem to be missing from the launcher.
"Criminals are trying to hide the traces of this heinous crime," he wrote in a post on Facebook.
The Buk is designed to destroy tactical and strategic aircraft, helicopters, cruise missiles, and other aircraft.
Last month, the rebels claimed to have captured a number of Buk units when they overran a Ukrainian military base - posting pictures of their trophies on the internet.
Concerns that they had acquired a longer range SAM capability were heightened when they then claimed to have brought down a Ukrainian air force Antonov An-26 transport plane flying at an altitude of 21,000ft.
Suspiciously in the eyes of some, the claims of both the Buk capture and and the An-26 shoot-down quickly disappeared from the insurgents' websites after the news broke of the crash of MH17.
Alternatively, if the separatists were not using captured Buk units, they could have been supplied directly by the Russians. Arms are thought to have been flowing freely across the border - including heavy equipment such as tanks.
Audio has also emerged which is said to be from intercepted phone calls between rebel fighters apparently admitting to downing Malaysia Airlines flight MH17 has emerged.
Though the calls have not been independently verified, Ukraine's intelligence agency released audio and transcripts of the calls in which pro-Russian separatists appear to confess to shooting the jet out of the sky. Translations have been provided by the Kyiv Post.
Responding to the news, one alleged commander replies: "They shouldn't be fucking flying. There is a war going on."
The calls, which could prove damning to Vladimir Putin, were reportedly made near the village of Chornukhine, 50 miles north west of Donetsk, close to where the Boeing came down.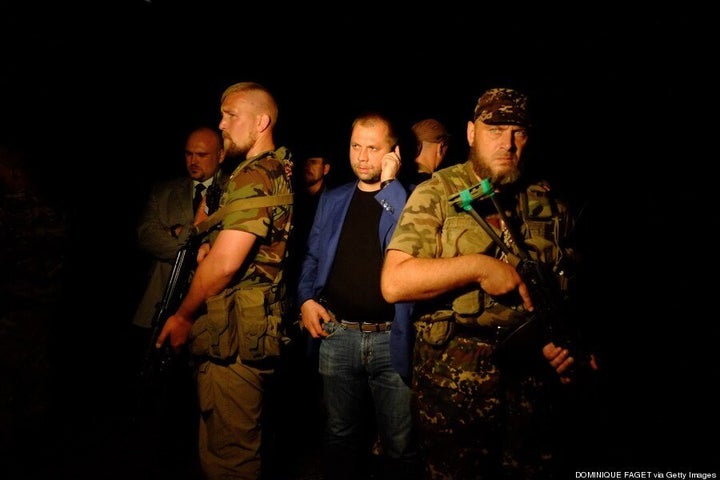 Self-proclaimed Prime Minister of the pro-Russian separatist 'Donetsk People's Republic' Alexander Borodai (C) stands as he arrives on the site of the crash
One part of the call is between two militants nicknamed "Major" and "Grek", who suggests that the Malaysia Airlines plane must have been carrying spies.
They exclaim, "holy s***" when they realise their error in shooting down a passenger jet.
Yesterday it was reported that Donetsk People's Republic leader Igor Girkin had claimed credit for shooting down MH17, posting a boast on the VK social media site, which was later removed. It appears to have mistaken the plane for a Ukrainian army plane.
"The plane has just been taken down somewhere around Torez. It lays there behind the Progress mine. We did warn you – do not fly in 'our sky'."
"And here is the video proving another 'bird' falling down. The bird went down behind the slagheap, not in the residential district. So no peaceful people injured. There is also information about another plane shot," he added.
Ukrainian Prime Minister Arseniy Yatsenyuk called on world powers at a press conference on Friday morning to bring to justice "those bastards who committed this international crime".
Russian media is also reporting the plane crash could be a false flag attack by the Ukrainian army, and even that it was an intended assassination of President Vladimir Putin, who Ukrainians allegedly believed was travelling through the area on his presidential plane, according to an Interfax report.
"A few years ago, Ukrainians shot down a Russian passenger plane of Sibir airline—they denied it was their fault for a long time. It is all their fault again," Russian Duma deputy Andrei Artemyev said on Thursday night.
Ukraine said a military transport plane was shot down on Monday by a missile fired from Russian territory. Security Service chief Valentyn Nalyvaichenko said he had "unconditional evidence" that Russia was involved in downing that aircraft.
Putin said on Friday said Ukraine bore responsibility, saying it would not have happened if Kiev had not resumed a military campaign against separatists.
"This tragedy would not have happened, if there had been peace on that land, or in any case if military operations in southeastern Ukraine had not been renewed," he said.
"And without doubt the government of the territory on which it happened bears responsibility for this frightening tragedy," he said.
"We will do everything that we can so that an objective pictured of what happened can be achieved," Putin added. "This is a completely unacceptable thing."
If, as some suspect, a missile system supplied - and possibly even operated - by Russia is found to have been involved the clamour for punitive economic sanctions against Moscow is likely to become irresistible.
Keir Giles, an associate fellow at the Chatham House foreign affairs think tank, said that if Buk missiles were moved across the border, they could well have been spotted by Western intelligence agencies.
"Western countries will be reviewing very urgently their intelligence tracking the movement of heavy weapons in the area of the Russian border and into Ukraine," he said.
"We may in the next few days see some Western governments or Nato releasing classified information or imagery to show what systems may indeed have come across the border.
"If the air defence system involved is indeed a SA-11 (Buk) variant as had been alleged, then we are taking about big tracked vehicles, not easily concealed."
Operating the Soviet-era Buk system - which comprises a command post vehicle, a vehicle-mounted target-acquisition radar, and one or more launchers armed with four radar-guide missiles - requires highly trained crews.
Mr Giles said that if the separatists had tried to use them without the proper training, it could have accounted for the catastrophic error which led to the shooting down of a civilian airliner.
"If they were being supplied (by Russia) you would assume they would come with trained crews but it is not impossible they might have found individuals from outside the Russian military, possibly even in the local area, who were capable - if not competent - in operating them," he said.
"If that level of capability did not extend to distinguishing a civil airliner from a Ukrainian military transport, this would be a highly irresponsible thing to do."
Sir Malcolm Rifkind, the former foreign secretary who chairs the parliamentary Intelligence and Security Committee, said sanctions against Moscow should be dramatically toughened if it was found Russian-supplied weaponry brought down the plane.
"If it is established, which I think must be seen as very likely, that this missile attack came from the insurgents using equipment most likely obtained from Russia then that must be a very powerful argument for very wide ranging economic and financial sanctions that would do serious damage if Mr Putin does not change his policy as an immediate response," he told BBC Radio 4's The World At One.
Sir Malcolm said it could not be ruled out that those firing the weapon had been Russian special forces operating with the rebels.
"It is not impossible that the missile system that brought down this aircraft was actually being operated by the Russian special forces or other people not wearing Russian military uniforms but in fact coming from across the border."
"Was it insurgents, poorly trained? Or was it Russian people who just made a mistake, as sometimes happens."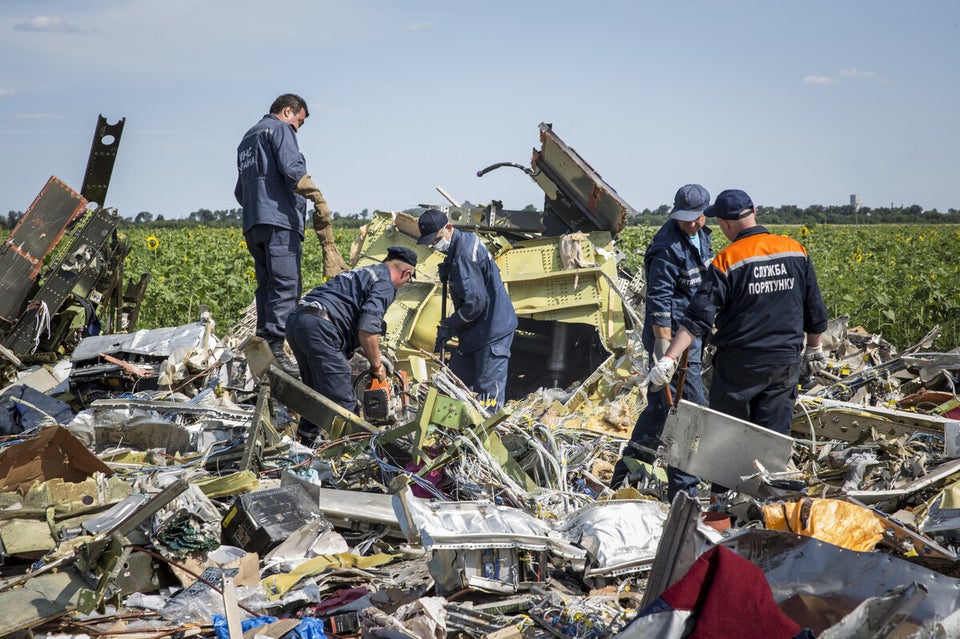 MH17 Malaysia Airline Plane