Russian government agencies have edited a Wikipedia article so that it suggests the Ukrainian military were to blame for the shooting down of Malaysia Airlines flight MH17, according to a Twitter account that monitors state IP addresses. The original post, relating to civil aviation accidents, said that the plane, which was carrying 298 people, including 10 Britons, was shot down using rockets which were "obtained from the Russian Federation".
This was later edited to say the plane was shot down by the "Ukrainian military." The edit was flagged up by the Twitter account @RuGovEdits, which has been programmed to post a tweet every time a Wikipedia edit is made from an IP address known to be linked to government agencies, found using public sources.
A similar account was set-up in the UK in the wake of anti-Liverpool changes being made to articles relating to the Hillsborough disaster, which were traced to Whitehall computers. Since the UK account, @parliamentedits was set-up, a similar version has also been created in the US that monitors Congress.
The software behind the accounts is called "If This Then That" (IFTTT) and allows users to create a chain so that there is a reaction each time a trigger action occurs. In this instance, the software has been programmed to tweet whenever an IP address linked to a Russian state agency makes an edit on Wikipedia.
All IP addresses are visible in Wikipedia editing as part of site's transparency rules. These are a series of characters that identify a computer and tether it to a location. Prime Minister David Cameron insisted that those responsible for bringing down Malaysia Airlines Flight MH17 over Ukraine must be "brought to account" amid deepening tensions with Moscow.
The Ukrainian government has blamed rebels using Russian-supplied surface-to-air missiles for the tragedy, while the Kremlin has accused Kiev of failing to agree a ceasefire.
Below are the front pages of Britain's nation newspapers reacting to the downed flight: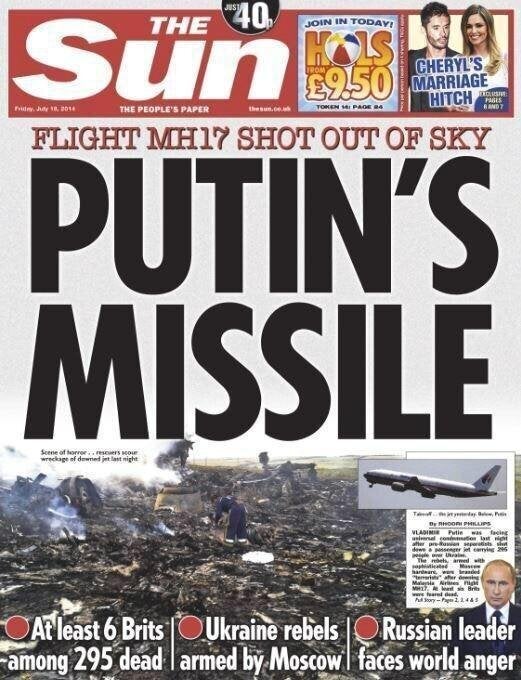 Malaysia Airlines MH17: The World Reacts
Related