Foreign Secretary Philip Hammond said the UK would "consider favourably" any request for the supply of arms to help Kurdish forces combat Islamic State (IS) militants in Iraq. The French have already announced their intention to provide weapons and the British Government has said it would provide arms and equipment should the Kurdish leadership make a request.
Following the announcement that Iraq's prime minister Nouri Maliki was relinquishing his post, Mr Hammond called on his nominated replacement Haider Abadi to form an inclusive government. Speaking as European foreign ministers gathered to discuss the crisis in Brussels, Mr Hammond said they would get behind a new administration in Baghdad to "push back this terrible threat" from IS.
Kurdish Peshmerga fighters have been at the forefront of efforts to halt the IS advance, and their efforts have been praised for helping thousands of Yazidis flee from Mount Sinjar, where they had been trapped by the jihadists. But they have complained about being outgunned by IS, leading to the offers of support from Western governments.
As he arrived in Brussels for the meeting with European counterparts, Mr Hammond said: "France has made an announcement that it is willing to supply arms. The UK has said we will also consider favourably any requests for supplies of arms. We are already shipping ammunition and supplies from other East European countries into Irbil."
Mr Maliki's decision ends the political deadlock in Baghdad, and follows criticism that his administration had marginalised Sunnis and fuelled the rise of IS, formerly known as the Islamic State in Iraq and the Levant (Isis). Mr Hammond said the European Union would send a "clear signal" that it would support Mr Abadi if he formed an administration representing all the communities in Iraq.
He said: "This is an opportunity for member states to get together to compare notes to coordinate our activity and send a very clear signal about support to the new prime minister-designate and a very clear signal that Iraq now needs to have an inclusive government representing all the people of Iraq so that we can get behind it and push back this terrible threat from IS."
The Foreign Secretary added that Mr Maliki's decision was "an important step at a crucial moment for Iraq" and called for a smooth transition of power. He said: "We congratulate him on acting so clearly in the national interest of Iraq. "Iraq must see a smooth transition of power, and I hope this decision will contribute to the quick formation of a unified and inclusive government that can address the serious security, humanitarian and political challenges that Iraq faces."
He said Mr Abadi "can be assured he has full commitment to working with an inclusive Iraqi government formed with the main Shia, Sunni and Kurdish blocks as they agree on immediate actions against IS and measures to protect all Iraqi citizens and command the lasting support of the international community".
Defence Secretary Michael Fallon chaired the latest meeting of the Cobra emergency committee to discuss the response to the crisis. Former Liberal Democrat leader Lord Ashdown welcomed the Government's movement on the issue of arming Kurdish fighters as he warned that the conflicts in Iraq and Syria would result in the redrawing of the Middle East's borders. He said the Kurds could act as a "northern bulwark" against IS, but added: "We are acting as handmaidens to Kurdish independence, with implications for Turkey, which is why you have to have a wider strategy." Hammond: 'Baghdad needs to push back this terrible threat from IS'
Lord Ashdown told BBC Radio 4's Today programme: "It really is time that we joined the dots. Instead of having a series of plans for a series of humanitarian catastrophes, we need to have an integrated strategy for containing a widening war." He said it would result in a "shape of the Middle East which is much more arbitrated by religious belief than by old imperial preferences".
Shadow foreign secretary Douglas Alexander said the acceptance of the new Iraqi prime minister-designate offered a potential new direction. But he insisted the continuing humanitarian crisis required an ongoing and urgent response from the international community. According to the UN, more than one million Iraqis are now displaced from their homes. To that end, Mr Alexander said, Labour supported the Government's decision to make UK military assets available as part of the wider international humanitarian effort.
He went on: "The UK must continue to play its part, alongside other EU and international partners, in contributing to the efforts already under way to bring safety and help to those civilians fleeing from Isil's murderous advance. Since this crisis began, the UK has already assisted these Kurdish forces with technical and logistical military support. So, as the Foreign Secretary meets with his EU counterparts in Brussels today, Labour believes the UK Government should work with European and other allies to ensure the Kurds have the military equipment they require in the days ahead.
"This equipment is needed not simply to allow the Peshmerga to protect the Kurdish community in Iraq, but also needs to be part of a wider strategy for tackling Isil." For that reason, he said, the EU should consider further steps to support Jordan, which shares a border with the Isil-held areas in its south, and to work with Turkey's newly-elected president to provide support to the hundreds of thousands of displaced people now seeking refuge inside Iraqi Kurdistan.
But he added that these steps would have to be matched with a "determined will on the part of Iraq's leaders to bring all the peoples of their country together, not drive them further apart".
The arming of the Kurds was given a formal welcome by the EU, which said Iraq was an "important partner in need of strong support" and called for urgent investigations into "atrocities and abuses of basic human rights" which could be considered crimes against humanity. In a statement issued after the meeting, the EU said it "welcomes the decision by individual member states to respond positively to the call by the Kurdish regional authorities to provide urgently military material", but that it was up to individual member states how to act.
"Such responses will be done according to the capabilities and national laws of the member states, and with the consent of the Iraqi national authorities," it said. It is also to examine ways to prevent the extremists benefiting from oil revenues. There was an "international and European responsibility to co-operate with Iraq in our common fight against terrorism", the statement said.
Downing Street said two planeloads of UK aid were en route to the Kurdish capital, Erbil, from where they will be sent to the Dahuk region which has seen its population swell by 50% with the arrival of 450,000 refugees. The supplies include cooking equipment to be distributed by the World Food Programme, and the UK is also working with UN agencies to accelerate the distribution of financial aid to the non-governmental organisations (NGOs) working on the ground.
A UK-drafted United Nations Security Council resolution seeking to stem the flow of finance to IS and sanction those who are seeking to recruit jihadists is due to be voted on in New York this evening.
On Friday, Iraq-born Tory MP Nadhim Zahawi, who is on a visit to Kurdistan, said local leaders believed up to 700 Britons had joined the IS forces - and that some may have been captured or killed in clashes with Kurdish forces.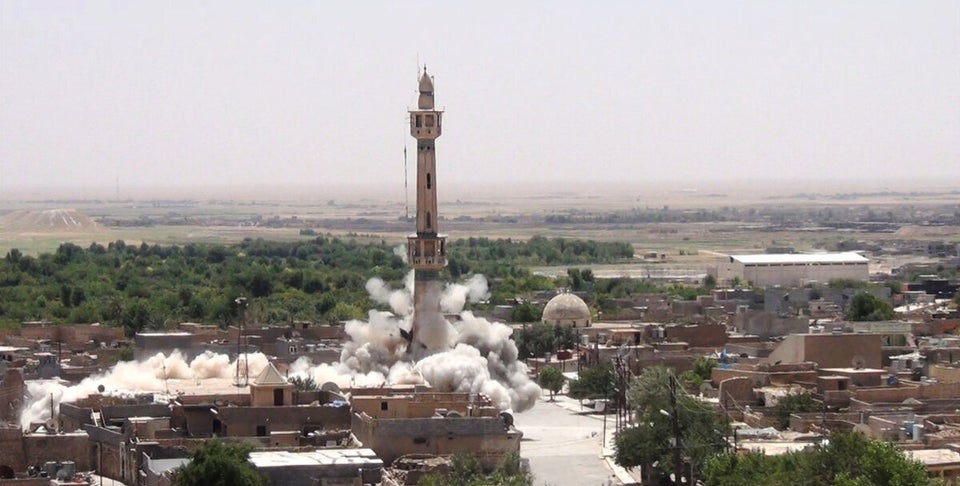 ISIS Destroys Shia Mosques And Shrines