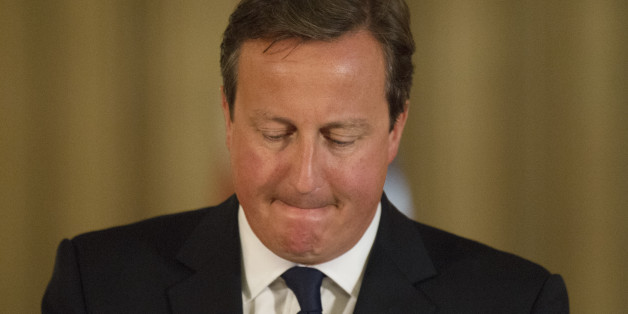 Facundo Arrizabalaga/WPA-Rota
David Cameron "could not possibly survive" as leader if Scots vote for independence, as Tory rebels plot to depose him in a furious revolt.
The prime minister has insisted that he would "definitely not" resign if Scotland gained independence, however some Tory rebels argue that presiding over the break-up of the United Kingdom would render Cameron's position "terminal".
"Losing Scotland would be a traumatic event, a horror show that David Cameron could not possibly survive," a former government minister told the Independent.
"The move will take place immediately," said one senior Tory MP. "David Cameron will be unable to contain the anger at the humiliation. His position will be terminal."
TOP STORIES:
Another MP said the backlash from Tory backbenchers would be a "the consequences of a catastrophe", warning: " There would be a flood of anger."
Concern has been mounting among Tory MPs about the danger of Scotland breaking away from the United Kingdom, as polls show the "Yes" campaign is closing the gap.
First minister Alex Salmond has ruled out resigning if Scots vote to stay in the United Kingdom, however there is mounting speculation that his deputy Nicola Sturgeon could be angling to take over.
Business leaders warned against the chance of Scotland gaining independence, with one business leader evoking fears of a "full circle" return to the time of the Jacobite uprisings.
BT chairman Sir Michael Rake, who is president of Confederation of British Industry, said on Wednesday night: "Around the time Lloyd's was being founded in 1688, The Revolution was underway which led to the Jacobite wars in Scotland and, in time and in part, to the Act of Union in 1707."
"Two weeks' away from the Scottish referendum, let's hope we're not actually going full circle, that common sense prevails and that we're going to continue to draw strength from our long-standing Union."
#INDYREF:
A spokesperson for the Business for Scotland pro-independence group hit out at Sir Michael's "daft" and "out of touch" comments, adding: "While the CBI is talking about a war that happened three and a half centuries ago Scotland's businesses are looking forward to a brighter future and a time of opportunity."
"While Sir Michael Rake is worried about claymores being pulled from their hiding places we're looking at helping to build a fairer and more prosperous society. Where he sees threats we see opportunities."