Joan Rivers joked that it would be 'fabulous' to die during surgery in a previously unpublished chat with the star, who has died at the of 81.
READ MORE:
The US comic stopped breathing and suffered a heart attack during an op on her vocal chords in New York a week ago.
After spending the last week in a medically-induced coma, it was announced the legendary comedian had died on Thursday.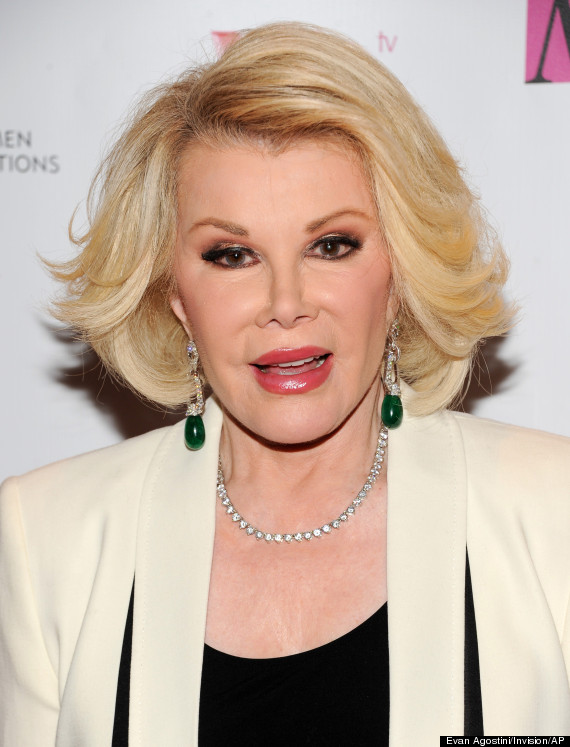 Joan Rivers (1933-2014)
Now a new interview has come to light, in which the star speaks of her fears of having more plastic surgery at her age because of the risks involved.
In the 2012 interview, which the Sun have published, she said: "I want more surgery immediately but I think I will probably wait a year because often at this age they put you down and you don't come back — they make you cross your arms just in case.
"It's always a concern that I'm not going to come out of it but it's more important to me to get the work done than my own mortality because I've had a terrific life.
"I think it will be fabulous to die on the operation table because the publicity would keep the Fashion Police re-runs going for year. Plus no-one will say how old?
"Nobody wants to see an old face because it reminds you of your own mortality."
Joan's daughter, Melissa, confirmed her mother had died in a statement issued on Thursday.
"It is with great sadness that I announce the death of my mother, Joan Rivers," it read. "She passed peacefully at 1:17pm surrounded by family and close friends.
"My mother's greatest joy in life was to make people laugh. Although that is difficult to do right now, I know her final wish would be that we return to laughing soon."
Stars of stage and screen have taken to Twitter to pay tribute to the star since the news of her death was announced.
LIKE US ON FACEBOOK | FOLLOW US ON TWITTER