Sometimes, kick-starting weight loss can be a real challenge, but Tracy Henderson was determined not to let the difficult times phase her - she's gone from being overweight to being a fitness instructor.
Two years ago, Tracy weighed nearly 28 stone and often woke in the night struggling to breathe.
After changing her diet and taking up exercise, the 30-year-old has dropped 18 stone - going from a size 34 to an 8.
"I felt like life was passing me by but I managed to convince myself I wasn't as big as I actually was. Now when I look back at photos I can't believe it's me," she says.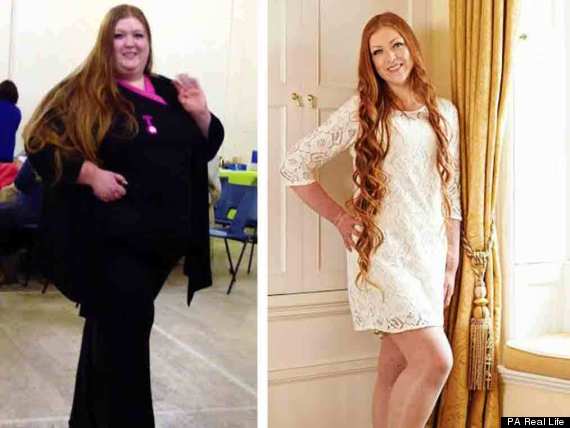 At 5ft 6 and a size 34, Tracy was could no longer fit in her bath or get a seatbelt around her stomach.
She was repeatedly rushed to hospital due to agonising chest pains where doctors told her to lose weight.
But despite their stark warnings, it was actually a shopping trip with her mum which spurred Tracy on to change.
"I realised there were so many clothes I could never wear," she recalls. "Suddenly, I saw the entrance to a women-only gym. Just getting up the stairs to get in there was a huge effort. I was exhausted."
Tracy signed up there and then to Curves Shawlands in March 2012.
"Encouraged by the fantastic instructors, I was undeterred," Tracy says. "Though I did refuse to be seen walking through the front door of the gym. Instead, I'd go through the back door."
The programme meant Tracy would complete a 30-minute circuit five mornings a week.
"It was painful at first," she says. "I was dripping with sweat, counting down the minutes until I could go home.
"But it got easier. Soon I was really looking forward to my mornings at the gym. I also decided to start eating more healthily as I didn't want my effort going to waste."
Following a low-fat diet of lean meat, vegetables and fruit, Tracy quickly noticed her weight falling at between five and nine pounds a week.
In just a year Tracy shed 15 stone. She now weighs 10 stone, is a size 8 and has just qualified as a fitness instructor in order to help others.
SEE ALSO:

Stephanie Hammel Lost 10 Stone After Ditching Her 'Secret Eating' Habits

Getting The Bus To Work Could Help You Lose Weight And Maintain A Healthy BMI, Says Study
Growing up, Tracy was targeted by bullies, leaving her with no self-esteem. By her late teens, her confidence issues had become so overwhelming that she turned to food as a comfort and became agoraphobic and suffered from depression.
Now, her agoraphobia and depression are a thing of the past.
"When you have huge amounts of weight to lose it can feel like it will never happen. I'm proof that you can do it naturally and change your life," she says.