After Ed Milliband told Scottish First Minster Alex Salmond that border guards and passport checks may be needed if Scotland decides to go it alone, a group of pranksters decided to make it a reality.
As the independence debate reaches fever pitch, a group of Scots and Englishmen decided to lighten the mood - erecting a checkpoint on the border between England and Scotland with a sign suggesting it would be opened on September 19, 2014 - the day after the referendum.
However, hoax organiser, Jon Parker Lee, a photographer from Manchester, said motorists need not be alarmed.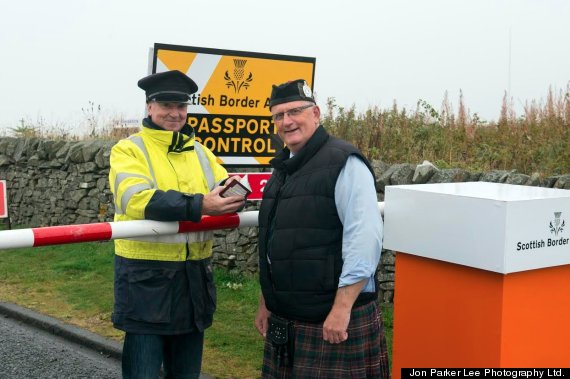 The checkpoint, at Carter Bar, near Jedburgh
READ MORE: Journalists Covering Scotland Face 'Range Of Abuse' Including Threats Of Violence

PM Warns Of 'Painful Divorce' If Scotland Votes For Independence
He said the elaborate prank was to show that, regardless of how people vote on Thursday, Scotland and England should be "united in having a laugh."
"The debate needed a bit of a joke," Lee said.
"Come what may, we all love a wind-up, and maybe this will give everyone a laugh and a break from the ever-increasing heat of the debate," he added.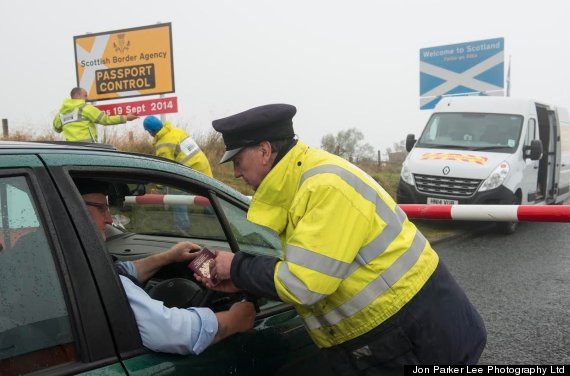 'United in having a laugh'
The prank follows Alistair Darling, the leader of the pro-Union Better Together campaign, saying that the atmosphere over the debate had "soured" over the last few days.
He told Sky News that the animosity between some Yes and No voters had become "deeply depressing".
The former Labour chancellor pointed the finger of blame at the nationalists. "We don't have CyberNats," he said, referring to aggressive online Yes supporters.
Londoners attempted to love-bomb Scotland in an effort to prevent independence yesterday - but were met with a fierce backlash on social media.
Celebrities (not from Scotland) including Bob Geldof left Scots unimpressed after urging them not to break up the UK "family" at a London rally, that spectators said would leave First Minister Alex Salmond "rubbing his hands with glee."
Amid the accusations of bullying and manipulation from both sides, Salmond, meanwhile, has said he felt the debate had been "peaceful and joyous".