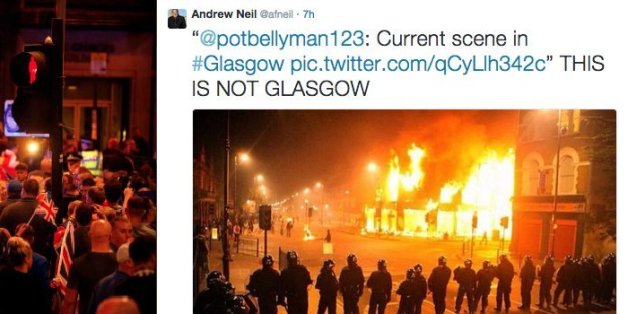 PA/Twitter
Nationalists and Unionists have faced calls to unite to condemn "dishonest numpties" manipulating social media to suggest that tensions in Glasgow were worse than they seemed in the wake of Friday's historic referendum result.
While social media reports indicated that violent troubles continued into the early hours of the morning, a Police Scotland spokesman said groups had dwindled to sets of two and three people by around 1am, with six arrests made by the end of the tense stand off.
But amid reports of flag burning and mounting tensions in the city, BBC journalist Andrew Neil used Twitter to criticise people he said were posting images from the London riots in a bid to pass them off as Glasgow.
Some dishonest numpties using pics from Tottenham riots to claim this is Glasgow tonight. Yes and No should unite to condemn.

— Andrew Neil (@afneil) September 20, 2014
"@potbellyman123: Current scene in #Glasgow pic.twitter.com/qCyLlh342c" THIS IS NOT GLASGOW

— Andrew Neil (@afneil) September 20, 2014
Glasgow was one of just four local authorities which voted for independence from the UK, while the majority of Scotland - 55% of the population - voted for it to remain in the union.
Channel Four reporter Alex Thomson described the scene as pro-Union supporters made their voices heard.
"Chants of 'Ten German Bombers', 'Rule Britannia' and 'God Save The Queen' (the latter with what many would interpret as a Nazi-style salute) rang out to the utter bemusement of onlookers."
Police saying "there was a spot of bother earlier but very little fighting or damage and no use of ambulances..."

— alex thomson (@alextomo) September 19, 2014
Police surrounding group of Indies St Vincent St/g Square chanting abuse at Unionists pic.twitter.com/0ltqRdc0WB

— alex thomson (@alextomo) September 19, 2014
None of our team has seen a single ambulance in c Glasgow despite hours of loud protest from both sides

— alex thomson (@alextomo) September 19, 2014
Earlier police officers, some mounted on horses, lined up to divide the groups.
A number of people draped in union flags left the area and began spreading on to the nearby streets, with many marching down St Vincent Place as police followed.
They later gathered in George Square again, this time at the top of the square next to Queen Street Station singing Rule Britannia and a flare was let off.
Police formed a human barrier to block off the route to Buchanan Street and contain people in the square.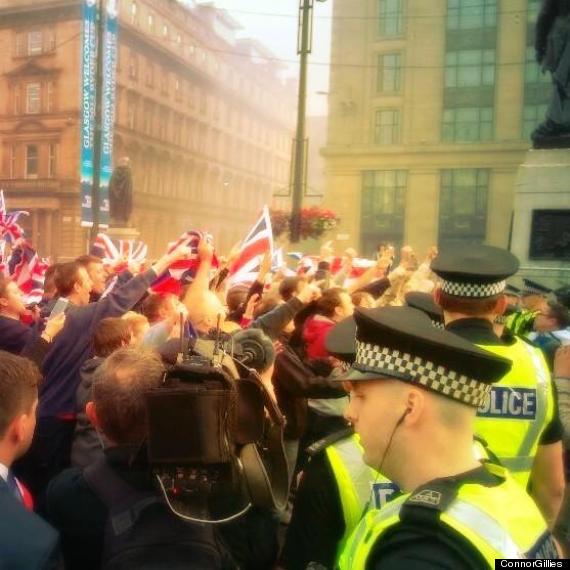 Chanting in George Square in Glasgow
Roads around the square, which had had hosted pro-independence parties in the days before the referendum, were closed as police dealt with the incident.
Some Yes and No supporters online reacted with horror, saying that the demonstrations did not represent the official Yes Scotland or Better Together campaigns.
#skynewstonight Those causing trouble are a minority & not representative of Yes/No Every country is burdened with a faction of narrow minds

— Jenny H (@relativism) September 19, 2014
Elsewhere police said they were investigating a fire at an electrical substation in the city. A Police Scotland spokesman said: "Officers are still investigating the cause."
Jonathan Coates, assistant sports editor at the Herald newspaper, posted a picture of the blaze on Twitter but warned people speculating on the cause of the fire not to assume it was started by vandals targeting the paper for coming out in favour of Scottish independence.
"Don't jump to conclusions based on the picture I tweeted: no reason to suspect The Herald Group targeted by these vandals," he tweeted.
READ MORE: