A Muslim member of Ed Miliband's frontbench team has resigned as a shadow minister because she was unwilling to vote for British involvement in air strikes against Islamic State in Iraq. Rushanara Ali said that she shared other MPs' revulsion at the "horrific and barbaric" actions of IS - also known as Isil or Isis - but was concerned that military action would create further bloodshed for the people of Iraq.
The Bethnal Green and Bow MP was appointed a frontbench spokeswoman on education last year, having previously served as shadow minister for international development.
In a letter to Mr Miliband ahead of the vote on Iraq, Ms Ali said: "I understand the case that has been made and will not be voting against the motion. But I am unable in conscience to support the motion and I will make a deliberate abstention."
Ms Ali said she was not convinced that a "credible long-term strategy" was in place to ensure the Iraqi army was able to restore security in the country, and warned the potential that air strikes might radicalise British Muslims had not been "thought through". She said in her letter: "There can be no doubt that the actions of Isil are horrific and barbaric and I share the revulsion that everyone in our country feels towards them.
"However, I am not confident that this military action will be effective in the short-term in just targeting the terrorists and not harming innocent civilians. Nor can I pretend to have any confidence that there is a credible long-term strategy to build up the capacity of the Iraqi army or that the potential impact on radicalisation in the UK has been properly thought through.
"Despite good intentions, too many mistakes have been made over the last decade and far too many people in conflict zones have had to pay a high price for misconceived actions by the UK and other countries.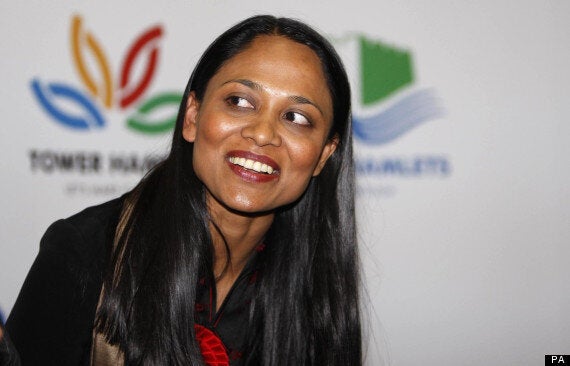 Labour's Rushanara Ali who resigned in order to abstain in the vote
"I appreciate the sincerity of Members of Parliament from all sides of the House who today support military action against Isil. I know that British Muslims stand united in the total condemnation of the murders that Isil have committed.
"However, there is a genuine belief in Muslim and non-Muslim communities that military action will only create further bloodshed and further pain for the people of Iraq."
Ms Ali, who was elected to Parliament in 2010 for a constituency with a large Muslim population, said she was standing down "with great regret" and assured Mr Miliband she remained "totally committed to your leadership".
In a letter of reply, Mr Miliband praised Ms Ali as "someone with great ability and talent" and said he regretted her departure from his frontbench team, but added: "I respect your decision and accept your resignation."
Popular in the Community