The family of Oscar Pistorius has said he will "start his healing process" after he was sent down for killing his girlfriend, following a "harrowing" murder trial televised to people across the world.
Pistorius was jeered by a crowd later after he was led out of court and put in a police van, to be transported to prison.
Steenkamp, a 29-year-old model and aspiring lawyer, died in a hail of bullets.
Prosecutors said Pistorius had opened fire in anger after the couple argued.
The runner testified that he mistook Steenkamp for an intruder who was about to come out of the toilet and attack him.
Pistorius, 27, was sentenced to five years in jail for culpable homicide and also received a three year suspended sentence for a firearms charge. He was taken to the cells immediately from the courtroom.
Barry and June Steenkamp, the parents of his victim, said they were happy with the verdict and relieved the proceedings were over.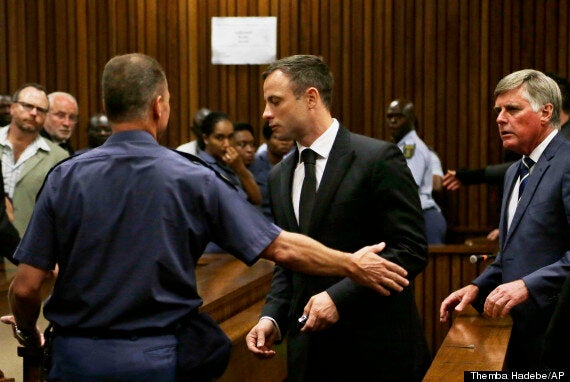 Oscar Pistorius is led away after being sentenced
After the sentence, his uncle Arnold Pistorius said the family accepted the sentence and that they hoped Oscar would "start his own healing process as we walk down the path of restoration".
He said: "Today a new season starts for us as a family. Not just the Pistorius family alone but the Steenkamp family.
"It has been a harrowing 20 months. We are all emotionally drained and exhausted.
"The case that was set down for three weeks originally has been dragged out for seven months – in fact, for 20 months."
He attacked the prosecution for pushing for Pistorius to be convicted of premeditated murder - which he was cleared of and for which he could have been sentenced to 25 years in prison.
He added: "(They) decided to inflict as much collateral damage as they could, by keeping the cloud of premeditated murder as long as possible. The truth became totally irrelevant to the state's case to make premeditated murder stick.
"We accept the judgment. Oscar will embrace this opportunity to pay back to society.
"I appeal to all of you as the media to accept the ruling of the court. After 20 months of relentless public trial, I would ask you to let us move forward and give us some degree of dignity and privacy as we do so."
"I want to say something as an uncle. I hope Oscar will start his own healing process as we walk down the path of restoration. As a family we are ready to support and guide Oscar as he serves his sentence."
Carl Pistorius, Oscar's brother, tweeted a picture of them as children and said: "Together in Christ we are STRONG, in Christ there can never be defeat."
He added: "May God gives you grace so that your salvation might be built up and not broken - regardless of the circumstance."
The judge delivered her ruling after considering prosecution arguments for a tougher sentence of at least 10 years.
Pistorius's lawyers say there are no plans to launch an appeal and claim the section of South African law quoted by the judge means the athlete is likely to only serve 10 months in prison, before being considered for release to serve the rest under house arrest.
The International Paralympic Committee will ban Pistorius from competing in any events for the full five years, meaning he could not compete in the 2016 Paralympics even if he is freed and able to travel.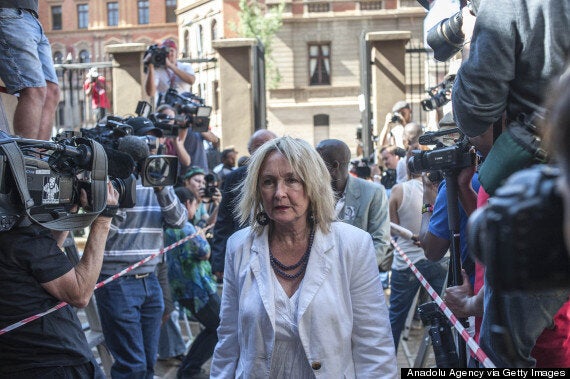 June Steenkamp, Reeva's mother, said she was happy with the verdict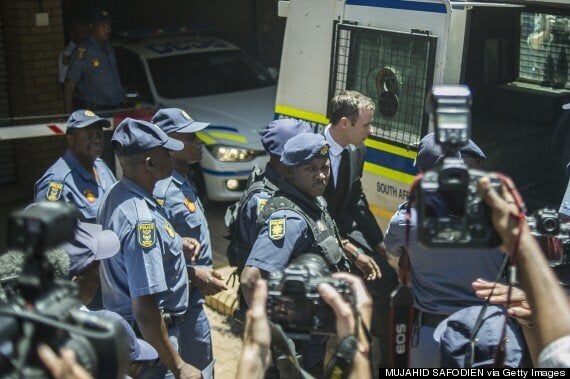 Pistorius was jeered as police led him out of the court
Judge Thokozile Masipa delivered her sentence in Pretoria's North Gauteng high court following a lengthy pre-sentencing hearing which began last Monday.
She said an immediate prison term was necessary because anything else would "send the wrong message to the community" but said a longer sentence was not appropriate.
Pistorius stood as the judge announced the sentence, and then left the courtroom and walked down a flight of stairs that lead to holding cells. His sentence starts immediately.
The courtroom did not react when sentence was passed - though a huge media scrum formed outside as journalists scrambled to interview people.
Story continues beneath slideshow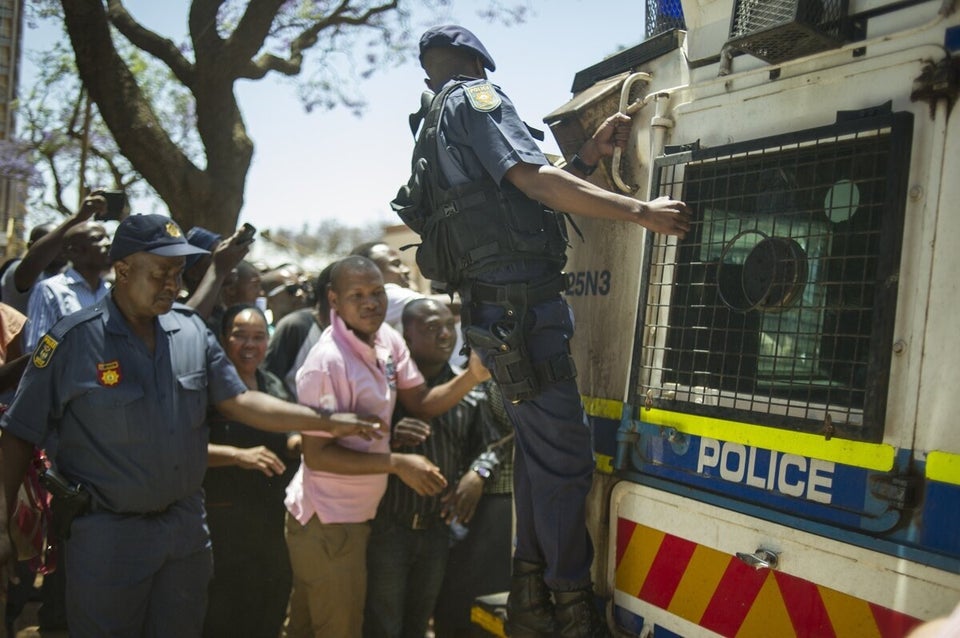 Oscar Pistorius Sentencing
He showed "no reaction" as he was led away, pausing only to shake hands with his uncle Arnold.
Prosecutor Gerrie Nel and Pistorius' lawyer Barry Roux - whose clashes provided the trial with some of its most dramatic moments - both simply said "as the court pleases" after sentence was passed.
Barry and June Steenkamp, Steenkamp's parents, told BBC reporter Andrew Harding they were "happy" with the sentence and "relieved" the court case, which began in March, is over.
June Steenkamp was described as smiling as she spoke to journalists after the verdict.
Despite her and Reeva's father's reaction, people reacted angrily to the verdict on social media and the hashtag #nojustice began trending on Twitter.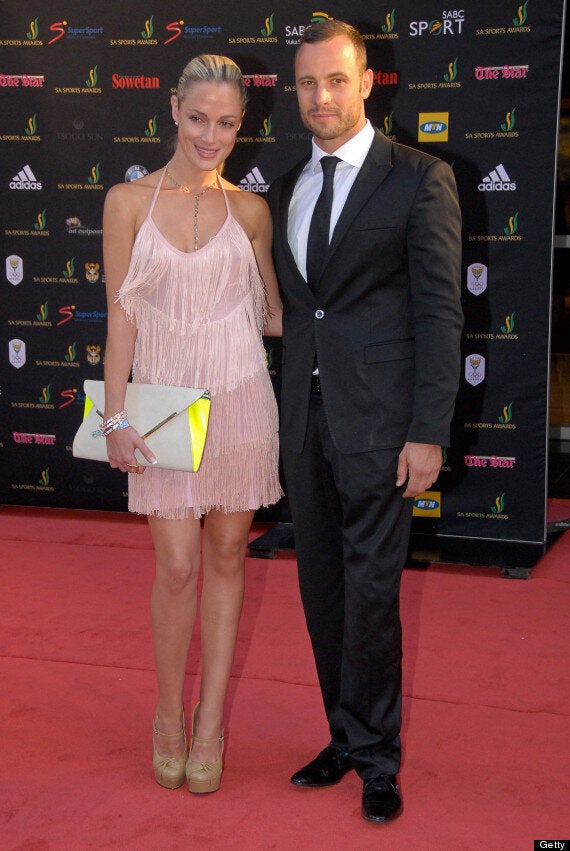 Pistorius and Steenkamp in November 2012, three months before her death
When Pistorius arrived for the sentencing this morning, he hugged his previously-estranged father Henke Pistorius.
Pistorius hugging his father
While other Pistorius relatives have been staples of the trial, his father has been noticeably absent from proceedings - choosing to watch the televised proceedings at a distance rather than be in the courtroom to avoid media attention, though he has been attending the sentencing hearing.
In September, Mr Pistorius, 61, told a South African tabloid he had been "too strict" on his son and revealed he had not had a "decent" conversation with his son since the shooting of Steenkamp in February last year.
"Perhaps I was sometimes too hard on Oscar. I was strict," he said.
"I think I could have spent more time with my children when they were small. But I had to work. I had to earn money."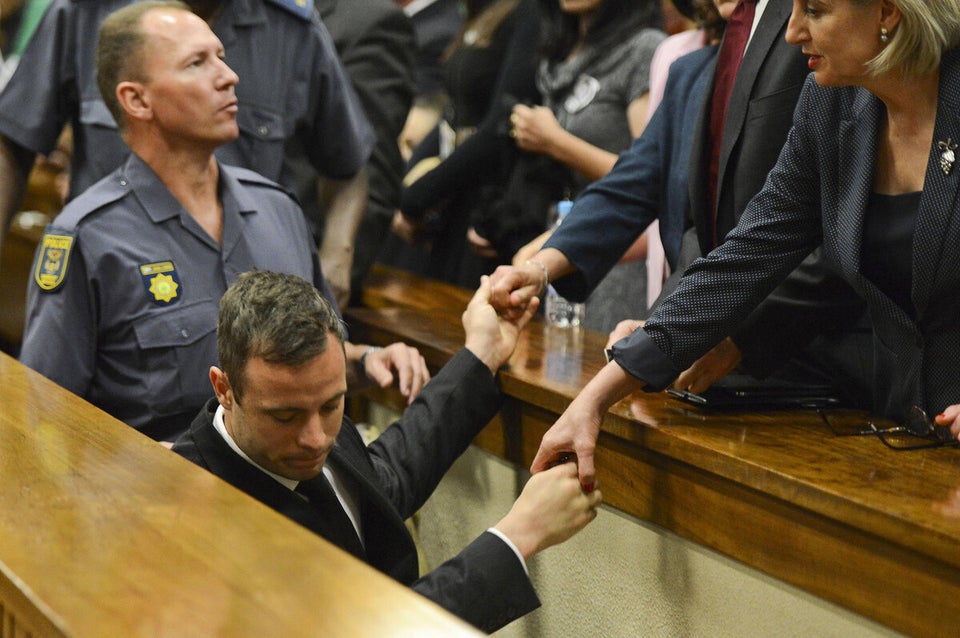 Oscar Pistorius' Trial