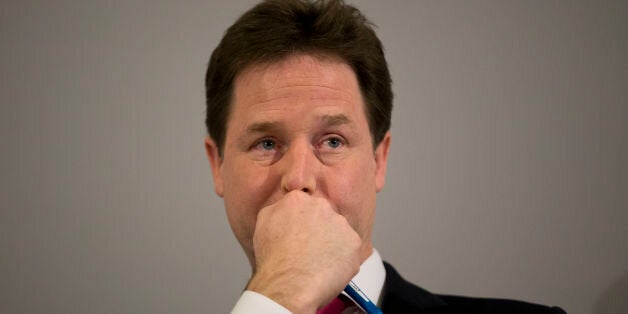 Nick Clegg is planning to promise tax cuts, free childcare and benefit curbs for foreign workers who cannot speak English at the general election, according to leaked documents. Details of the Liberal Democrats' manifesto proposals were embarrassingly spotted by a photographer as a key aide left the Deputy Prime Minister's office.
The papers being carried by strategy adviser Ryan Coetzee set out four apparent "red lines" for any coalition negotiations. There is a pledge to "balance the Budget by 2018" - two years earlier than the deadline Labour has set for eradicating the deficit.
On education, the party wants every child to have a qualified teacher, putting it at odds with the Tories. Commitments to protect spending for nurseries, schools and colleges also go further than their current partners in government. On mental health, there will be waiting time targets similar to those for physical health conditions.
And there is a pledge to raise the income tax threshold to £12,500 by 2020 by increasing taxes on the rich. "Only the Liberal Democrats will create the opportunity for everyone by building a stronger economy and a fairer society," the draft states. The document, snapped outside the Scotland Office, also indicates that the Lib Dems will take a tougher line on immigration.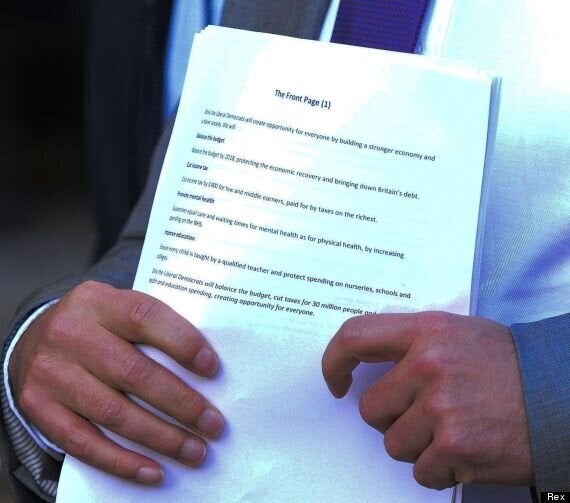 The papers were being carried by strategy adviser Ryan Coetzee
All new claimants for Jobseeker's Allowance would undergo English tests, and those assessed as "poor" will face benefit cuts unless they agree to take lessons. The party wants to "bring back proper border checks so we know who's coming in and leaving the UK, allowing the Government to identify and deport people who over-stay their visa".
Under-21s are promised to pay just a third of their bus fares so they can get to college or work. Other promises include a mansion tax on properties worth more than £2 million, having at least one GP in every area open from 7am to 7pm, seven days a week, under-21s receiving a two-thirds discount on bus fares, and a £250 "carer's bonus".
The leak comes as the Lib Dems struggle to revive their flagging poll ratings, which have been hovering around 6% or 7%. Some experts believe they are on track to lose more than half their MPs next May - but could still end up holding the balance of power.
A Lib Dem spokesman said: "The fact that the key sentence on this document is 'only the Liberal Democrats will create opportunity for everyone by building a stronger economy and a fairer society' shouldn't surprise anyone. The public will have already heard it many times from us and everyone will be hearing a lot more about it between now and May.
"The subjects mentioned - tax, mental health and education - were the key themes of Nick Clegg's conference speech. And unlike Ed Miliband, we think tackling the deficit should be a top priority for the next Government. Like all political parties, we're currently discussing our priorities for the next Parliament and we'll provide more details in due course."
Popular in the Community