Pistorius received a five-year sentence but could be released within 10 months to spend the remainder in house arrest. He was given a suspended three-year prison sentence for a separate firearms charge.
Simon Jenkins, a columnist and former editor of The Times, wrote that Pistorius - who shot Steenkamp to death, claiming he mistook her for an intruder - should not have gone to prison because it would serve no purpose and his life was already "ruined" by what happened.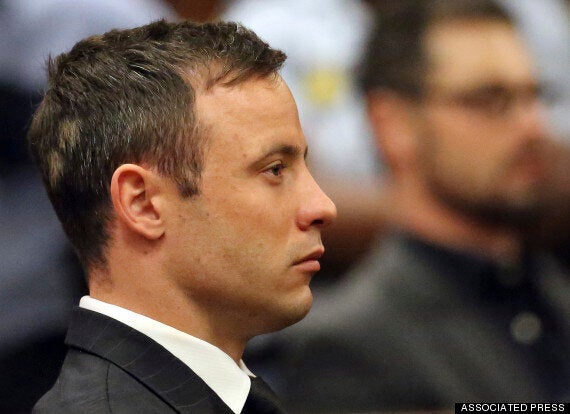 Pistorius at his sentencing on Tuesday
"The judge said she did not want to 'send the wrong message', a phrase repeated by a thousand judges, but what did she mean?
"The purpose of depriving wrongdoers of their liberty, now that we no longer hang or flog, should be to rehabilitate them and, if not, keep them from further crime.
"That it should be 'retributive', a mere expression of society's rage, is primitive theology. It is trotted out when no other reason for imprisonment can be imagined."
He said: "Men such as Pistorius have had their lives ruined, their failings exposed and chance enough to reflect on their crimes and what they can do to atone for them.
"No one will be more or less 'deterred' by the length of his jail sentence. Finding why he behaved as he did, and working to prevent others doing likewise, would be the most useful outcome of his crime. That is unlikely to happen in a prison."
Almost immediately, tweeters began attacking the article for focusing on Pistorius' plight rather than that of the woman he killed.
But some were more defensive of Jenkins himself, while still being critical of the article.
Journalist and lawyer David Allen Green wrote: "Simon Jenkins has written many sensible pieces on prisons; today on Pistorius is not one of them."
Historian and author Tim Stanley asked why "liberals" were attacking Jenkins, when they agree that sentencing should not be "retributory".
The article attracted more than 600 comments within three hours of being published.
While most were deeply critical of the article, calling it a "shambles" and "click-bait", one said: "Simon, you make a good point. But if prisons did their job properly, they would rehabilitate as well as they punish. Prison reform is long, long overdue."
Another wrote: "Prison, at least in their current form, are archaic institutions that in many cases simply entrench criminal lifestyles.
"We need a more enlightened approach.
"Something that rehabilitates offenders while also examining and trying to prevent crime taking place in the first instance."
One commentor responded specifically to the part of Mr Jenkins' article that said it would encourage debate to ask: "What sensible purpose comes from imprisonment?"
They replied: "The lesson that no amount of privilege, adoration, success, wealth or respect entitles one to treat other people as possessions, treat firearms in a public place as if they were toys, or to expect your actions to have no consequences.
Related