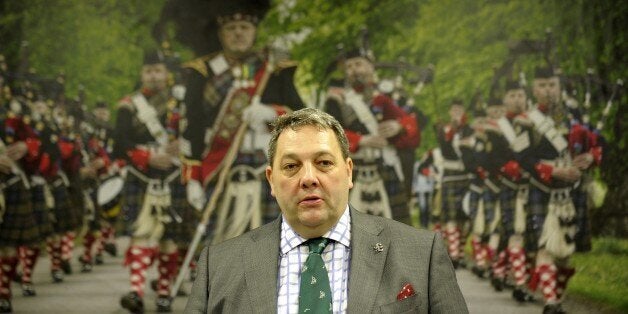 Gay marriage supporters are "equality Nazis" who helped push through something that only matters to "some queen who wants to dress up in a bridal frock and dance up the aisle to the Village People", a Ukip MEP has said.
In an wide-ranging interview with the Huffington Post UK, David Coburn, who is himself gay, said that same-sex marriage, which passed into law last year, was "false bollocks" that "makes a mockery of the holy sacrament of marriage".
"What you're doing with the gay marriage issue is you're rubbing people's noses in the dirt. Everyone had agreed and been quite happy with the idea of civil partnership, it was all bedded in and people were happy with it, they got used to the idea," he said.
"But when you go across the road to pick a fight with someone of faith, that's not got anything to do with it, that's the equality Nazis trying to give Christianity a jolly good kicking. You know it, I know it, we all know it - it's false bollocks, the lot of it."
He defended the party's decision to keep its grouping together in the European Parliament by teaming with a Polish politician Robert Iwaszkiewicz, who joked about wife-beating and praised Adolf Hitler's tax policy, explaining that it allowed party leader Nigel Farage more time to "have a pop at the Euro-aristocracy".
"We will use whatever means possible to get ourselves out of the EU," Coburn admitted, including "getting into bed with people who you might not want to take home to see Mum".
The Ukip MEP played down his new Polish ally's controversial "jolly-old-chaps-back-slapping" remarks, saying: "He was playing with the press, he didn't mean it."
Ukip was forced to sit with Iwaszkiewicz to keep its Europe of Freedom and Direct Democracy (EFDD) group after Latvian MEP Iveta Grigule left, blaming Farage's "rude" attitude.
Coburn denied Farage was a "rude" leader, but mischievously added: "Getting our country back is beyond politeness."
"Nigel is always polite, much more so than I would have been. If you sell your soul for an all-expenses paid trip to Kazakhstan, what does that say about her?"
Elected Ukip MEP for Scotland in May, Coburn also tore into rival Scottish politicians, mocking SNP deputy Nicola Sturgeon for her "mad scary eyes" and comparing Scottish Tory leader Ruth Davidson to porridge.
He denied calling Davidson a "fat lesbian" but insisted she was "rather boring", adding: "She could have been a ten pound gorilla or a rhinoceros, and they [the Tories] would still have clapped her [at the Tory conference]. She's the only thing they've got." Asked what word would best summarise her, Coburn chose "porridge".
Meanwhile, Coburn, who has been in a relationship for more than 30 years, said that the efforts of the "militant equality lobby" to see gay marriage passed into law have sparked more homophobia.
"For one word, 'marriage', it doesn't mean that much," he lamented. "It's just for some queen who wants to dress up in a bridal frock and in a big moustache and dance up the aisle to the Village People, quite frankly if that's the cost of upsetting a hell of a lot of people, then I don't think it's a price worth paying."
The Ukip MEP accused gay rights activists of wanting to "airbrush history", adding: "They want history changed. They don't want history to be as it is. They think we're all liberal minded, as if Oscar Wilde didn't go to jail, he went on a holiday! This is getting towards Comrade Stalin."
Coburn said that not all gay people are "raving communists" and "quite a lot" are opposed to gay marriage. "Now it's happened, it's happened - not much we can do about it," he added. "Is it wise to go around upsetting people?"
He accused the BBC of going "a bit far" in its efforts to represent gay people on television. "There's not a single programme on telly that doesn't have someone doing something homosexual to someone else," he said. "It becomes a joke. All the gays are laughing about it."
The Ukip MEP, who described himself as "spectacularly homosexual" and a "great big screaming poof", admitted that gay rights groups like the charity Stonewall were likely to "explode with outrage" in response to his remarks.
He added: "They explode about everything. They are professional bombs that are primed to go off. They are people looking for something to be upset about."
The Ukip MEP revealed that Stonewall had "very kindly" invited him to meet for lunch as "they understand that we may well be the government of the country in six months".
Asked if he thought the charity wanted to "butter him up", Coburn replied: "I'm sure they do, or take me to leather bars and give me lots of drinks".
Coburn insisted that Ukip was a "gay-friendly" party and that he had never felt "uncomfortable" about any controversial statements made by his party colleagues about homosexuality.
Fellow Ukip MEP Roger Helmer previously questioned the existence of "homophobia", comparing it to not liking Earl Grey tea, and once said that some people find same-sex relationships ''distasteful if not viscerally repugnant'.
Coburn said that his colleagues were "perfectly entitled" to views like these, adding: "I'm a big boy." Describing his relationship with the pair as "chummy", he went on: "Roger shares many of the views my father shared. I go out drinking many an evening with him.
"I'd say the same about Winston McKenzie. He and I are the best of chums. He has some religious views on homosexuality and he's entitled to them. I'm not offended by his views, more than he's offended by some of mine."
Coburn said that he supports civil partnerships and argued that gay adoption can be "good" if the couple "seem morally upstanding and decent and can give a good home to a child".
He also backed the repeal of the "totally crazy" Section 28, which banned the promotion of homosexuality in schools. "It didn't help at all, it was a stupid thing to do in the first place," he said.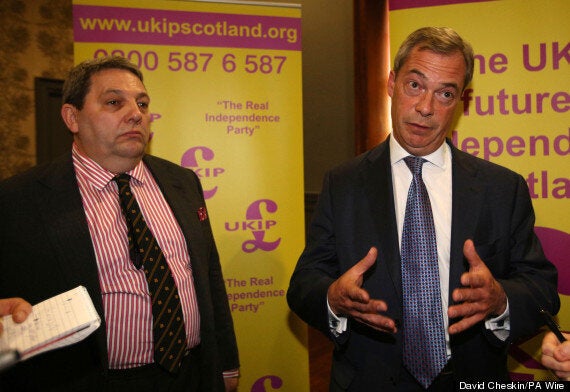 Coburn with Ukip leader Nigel Farage in Edinburgh
"People say we should be going for the Conservatives, but we don't need to, they're already falling apart by themselves, and now the Labour party is joining them," he added.
He reserved particular venom for the Scottish National Party's Nicola Sturgeon and her "mad scary eyes".
"She just talks at you. They all do that. They [the SNP] get people in a padded cell down to the basement in the SNP headquarters and beat the crap out of you until you get the blurb right."
Coburn lavished praise on his party leader Nigel Farage, saying that he would be remembered for "cocking a snook at the establishment".
"He will also have done something to liberate ordinary people and help them think for themselves and they don't have to obey the government. He will have done his bit to destroy political correctness, which is basically social Marxism," he said.
"If he gets us out of the European Union, they should put the man in Westminster Abbey, he'd deserve a 'Farage Corner'!"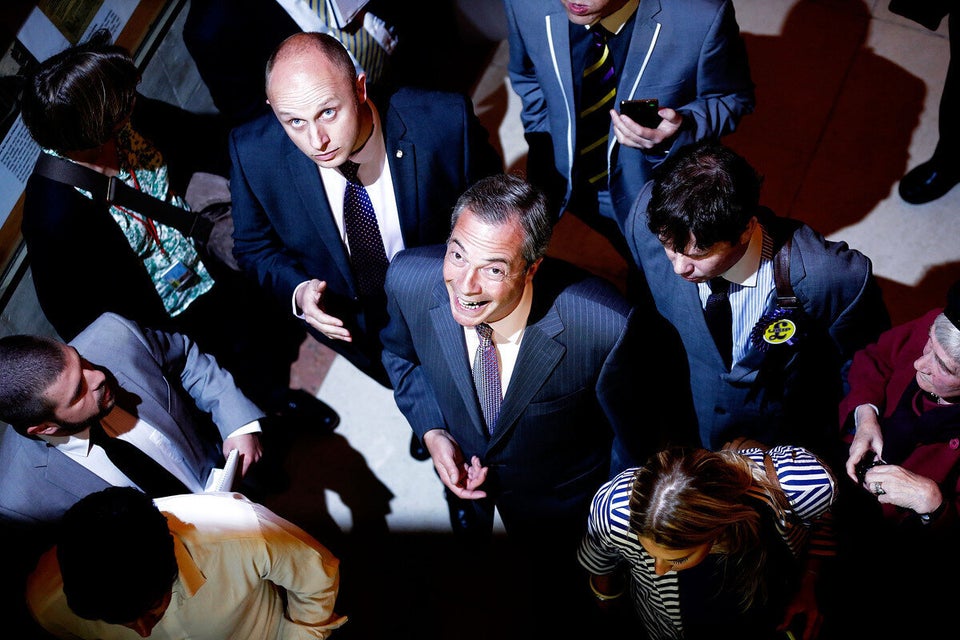 Ukip Celebrate European Election Win
Related