Alex Salmond avoided being set ablaze last night after a furious response to a bonfire night effigy prompted a police investigation - while Vladimir Putin, resplendent in a 'Borat-style' mankini, was burnt without a raised eyebrow.
It was thought the effigies of Scotland's First Minister would be burnt after being paraded through a town's streets as part of its annual bonfire celebrations.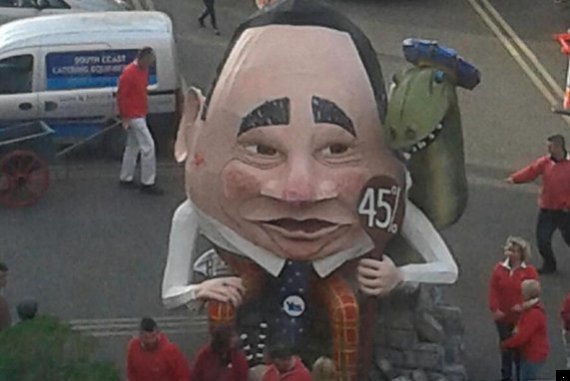 So, there there's two effigy's of Salmond at Lewes bonfire night. Here's the other one, front & rear. pic.twitter.com/UA9u8RLYIB

— Marty_Mc (@Marty_Mc) November 5, 2014
But it didn't go down very well with the 45% and now the models have been branded "racial hatred" by horrified Scottish nationalists.
Can it possibly be acceptable or even legal 2burn an effigy of a LIVING PERSON? Not part of my moral code. @EastSussexCC you are despicable!

— Anne McLaughlin (@AnneMcLaughlin) November 5, 2014
@EastSussexCC @DouglasDaniel What a complete bunch of cunts

— Col Wilson JFT96 (@wilsoncov) November 5, 2014
It all started after East Sussex County Council tweeted a picture of the model created by the Waterloo Bonfire Society for the Lewes Bonfire parade which attracts thousands of people to the East Sussex town every year.
However, they were quick to disassociate themselves of any involvement in creating the effigy following the fierce backlash against it.
Please note that the Alex Salmond and Nessie models were created by Waterloo Bonfire Society #LewesBonfire and have NO connection to ESCC

— East Sussex CC (@EastSussexCC) November 5, 2014
Sussex Police said last night it was aware of the portrayal of Salmond at the event and acknowledged that concerns had been raised.
It added: "Whilst we accept there is a long tradition of creating effigies of high-profile individuals in politics, sport, the media, etc, a complaint has nevertheless been received and will be investigated."
For those enquiring we have been advised that there won't be any burning of the Alex Salmond effigies this evening in Lewes.

— Sussex Police (@sussex_police) November 5, 2014
Television presenter and journalist Piers Morgan also tried to soften the blow.
Don't take this Lewes bonfire thing too personally @AlexSalmond - they burned me too.. > pic.twitter.com/MZml0ZWcxC

— Piers Morgan (@piersmorgan) November 5, 2014
The Russian President meanwhile, appears to have been set on fire without a second thought.
A jaw-dropping effigy of Putin sat astride the downed MH17 plane, shot down in Ukraine by what were commonly presumed to be pro-Russian forces, was paraded through the town - along with a second effigy of the ex-KGB agent in a green mankini.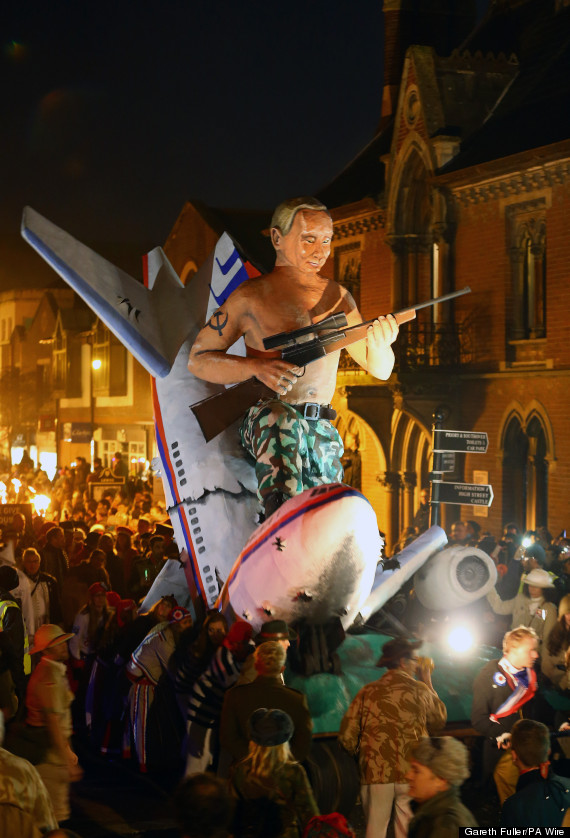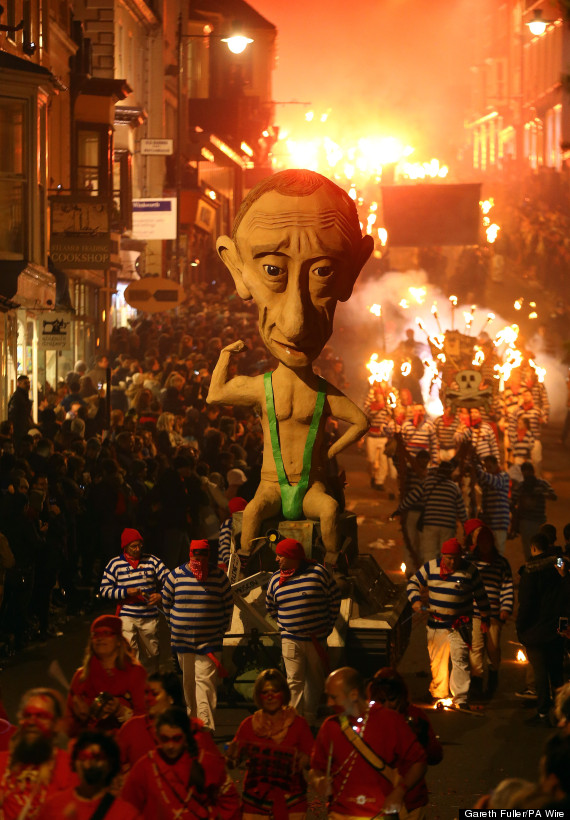 Many were quick to highlight the arguable lack of double-standards in outrage between the Putin and Salmond effigies:
Complaints from Scot Nats stopped Salmond effigy burning show; but didn't hear them complain about Blair, popes or Gypsies going up in smoke

— Joel Taylor (@JoelTaylorMetro) November 6, 2014
.@MrTimDunn @iainmartin1 I'm offended they won't burn him in effigy whilst going ahead with Putin & others. Is Salmond so important? Njet.

— Enough32 (@enough32) November 6, 2014
@shaunwalker7 Especially when they learn that @sussex_police saved Salmond but not Putin from the flames?

— Alasdair Smith (@AlasdairMSmith) November 6, 2014
@DavidCoburnUKip So ok to burn Putin and Barrosso but not Salmond ? it's a bit of fun - surely police have more important crimes 2 deal with

— Mikkil (@MikkiL) November 6, 2014
If you are offended enough about a bonfire effigy of Salmond to call the Police, call your doctor first.

— Old Holborn (@Holbornlolz) November 6, 2014
People are claiming the burning of Salmond effigy at #Lewes is a "Hate crime"? Good grief. What about the Putin one? pic.twitter.com/hCCoMIfgiN

— Jamie Stanton (@djamiestanton) November 6, 2014
Love the idea that its *racist* to burn Salmond but not Obama, Merkle, Cameron, Klegg, Putin etc etc etc #LewesBonfire

— Rolo Tamasi (@Rolo_Tamasi) November 5, 2014
Responding to the effigy, Salmond told BBC Scotland: "I'm in pretty good company - Angela Merkel got the burning treatment from the East Sussex Conservative council.
"I think their judgment is askew but if they think I'm a threat to the Westminster establishment like Guy Fawkes, they are right.
"I am used to insults from Tories in East Sussex and if they think that is a good thing to do it is up to them."
He added that he was more concerned about Nessie being burned and said it was "totally outrageous".
The controversy over the Salmond effigy follows the good people of Edenbridge also setting fire to a celebrity.
This year it was the turn of the outgoing president of the European commission, Jose Manuel Barroso, who was "exploded to pieces".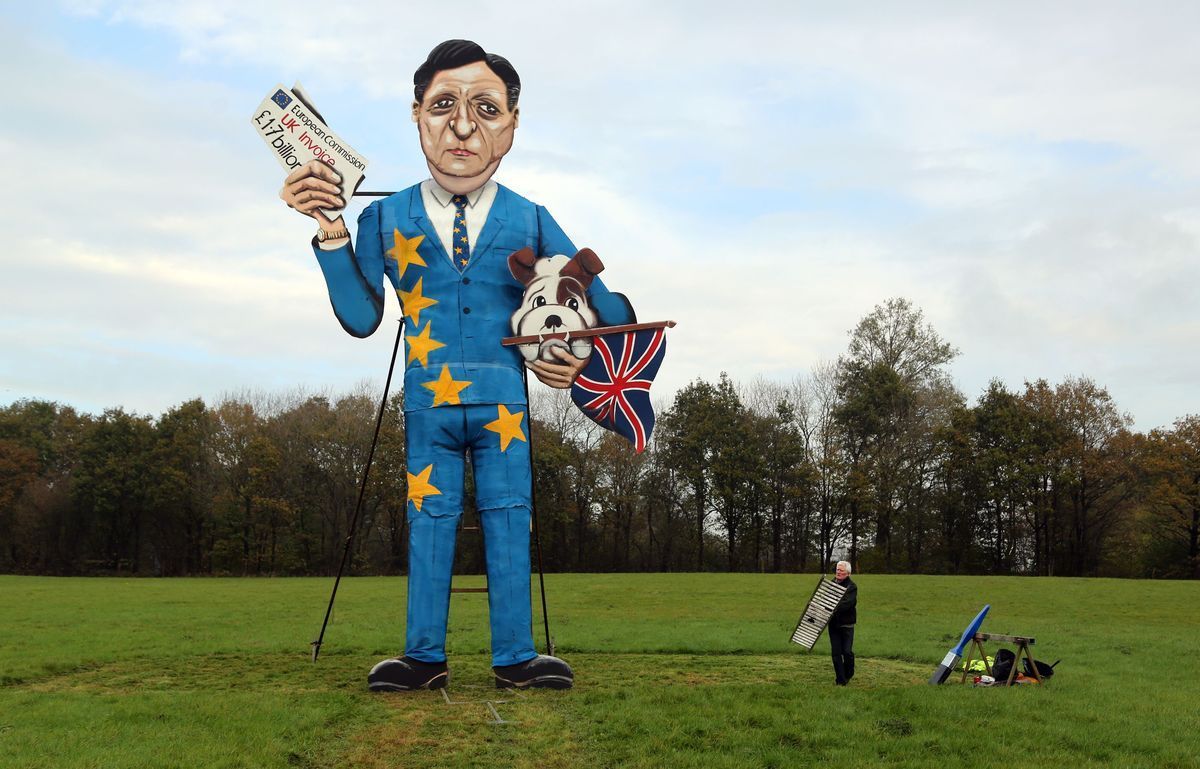 The town's bonfire society said the effigy is always a "newsworthy national or international figure". Standing around 30ft in height, Barroso "cunningly self-destruct in a breathtaking spectacular of explosions".
In 2013 the effigy was outspoken media personality and ex-Apprentice Katie Hopkins. In 2012 it was disgraced American cyclist Lance Armstrong. Tony Blair and Saddam Hussein have also made appearances.
READ MORE

Press Told To 'Shut Their Traps' Over Putin Cancer Rumours

Scottish Referendum Debate Rages On As Alex Salmond Threatens 'Revenge'