Stunning images of poppies were projected onto Elizabeth Tower, better known as Big Ben, last night to commemorate 100 years since the outbreak of World War One.
Millions across the UK fell silent yesterday in tribute to those lost in war, joining the crowds gathered in central London who stood in a moment of quiet contemplation as Big Ben struck 11am.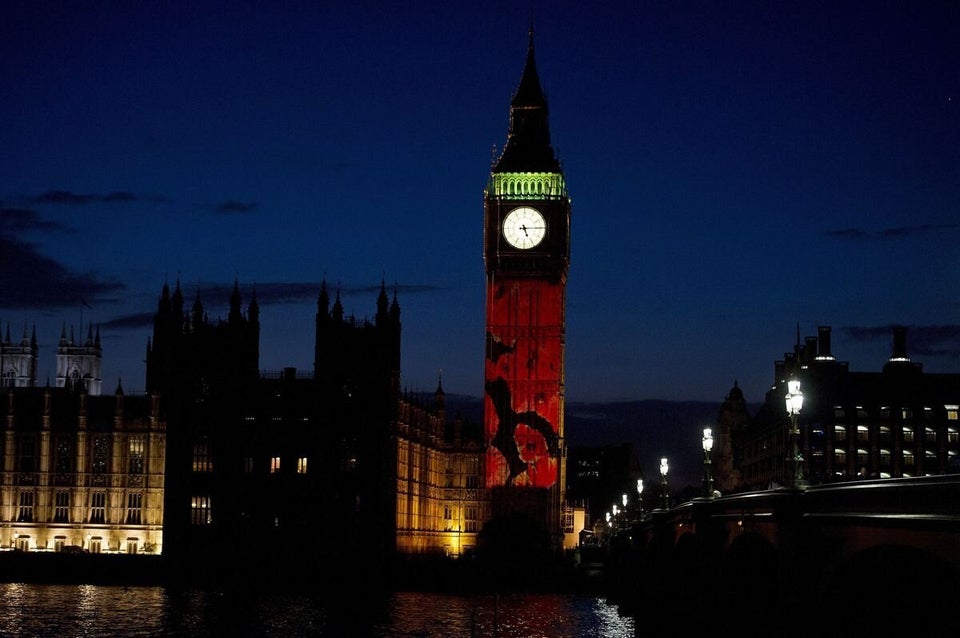 Poppies beamed onto Big Ben
Amid heightened fears of a terror attack, there was a large police presence at the Cenotaph in Whitehall, with armed officers on patrol and a helicopter hovering above the site before the ceremony.
Scotland Yard said it had an "appropriate and proportionate" policing plan in place for the event, after four men were arrested in connection with an alleged Islamist terror plot on British soil on Thursday.
At the heart of the service was a two-minute silence, marked at the beginning and end by the firing of a round by the King's Troop Royal Horse Artillery, using a 13-pounder First World War gun.
Buglers of the Royal Marines then sounded the Last Post at the end of the silence.
Prince Harry travelled to Afghanistan to pay an emotional tribute to fallen comrades in the country he last served in January 2013.
The prince left a personal wreath at Kandahar airfield inscribed with the handwritten note: "There is no greater love than to lay down one's life for one's friends. They will never be forgotten. Harry."
Back in England, the Queen laid the first wreath at the Cenotaph in London's Whitehall to commemorate those who have made the ultimate sacrifice in the decades since the First World War.
Senior royals, including Second World War veteran the Duke of Edinburgh, the Prince of Wales and the Duke of Cambridge joined politicians, military leaders, veterans and serving personnel in laying wreaths of poppies at the monument.
Elsewhere, thousands fell silent at the Tower of London, where the field of ceramic poppies has proved so popular that the Government announced a part of the artwork will go on display at the Imperial War Museum after a national tour.
Prime Minister David Cameron described this year's Remembrance Sunday as "particularly poignant" as 2014 marked the 100th anniversary of the start of the First World War, the 70th anniversary of the D-Day landings and the end of Britain's 13-year conflict in Afghanistan.