The sea of red poppies - each one symbolising a British or Commonwealth soldier killed in the First World War - is being taken down.
An army of volunteers has begun removing the field of 888,246 poppies that were gradually 'planted' over months to fill the moat at the Tower of London.
They braved heavy rain this morning to remove the hand-made ceramic flowers, each of which have been sold for £25 each to raise millions for military charities.
The first shift, wearing wet weather gear, began pulling up the flowers that make up the 'Blood Swept Lands And Seas Of Red' on Wednesday morning, despite heavy showers.
Around 1,000 volunteers a day, many of whom were among the 19,000 who placed them between July and Armistice Day, will take two weeks to remove and pack them all away. Around 8,000 people will take part in total.
Once removed, the flowers will go to a factory to be cleaned and packaged in commemorative boxes to be sent to hundreds of thousands of people who paid £25 for one.
Thousands visited the moat on Tuesday to see the last poppy put in place by 13-year-old army cadet Harry Hayes and hundreds still lined the public walkway on Wednesday as the dismantling work started.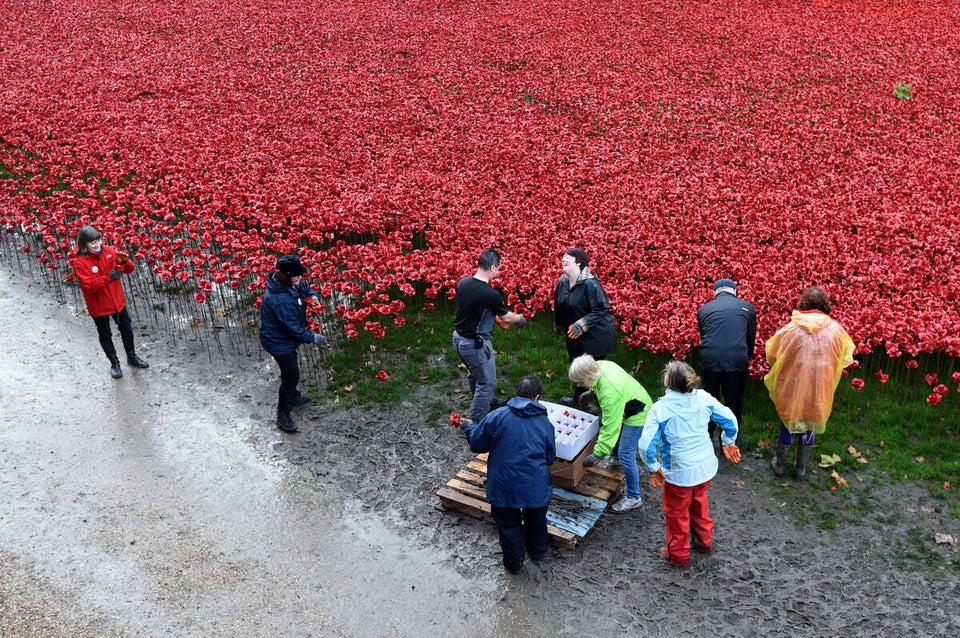 Tower Of London Poppies Removed
Only the heads of the poppies are sent to the buyers, with the stems, many of which have weathered in the rain, dismantled and taken away.
Parts of the installation will go on show after a public campaign to keep them on display for longer.
The Weeping Willow, a cascade of poppies which spills from a window of the castle, and the Wave, which swirls out of the moat to form an arch over the entrance to the Tower, are to go on tour around the country until 2018, when they will be gifted to the Imperial War Museums in London and Manchester.
Wave will remain in place at the Tower until the end of November, according to Historic Royal Palaces, which commissioned the work by ceramicist Paul Cummins.
John Brown, the deputy governor of the Tower of London, who is overseeing the removal of the poppies, said more than 600,000 people had paid for flowers and they had all been sold.
He said: "It is a nice compromise that the two (parts) can go on, but also actually I am quite of a strong view about the artistic intent of this, this was never intended to last, it reflected the young lives who were lost on a tragic scale.
"There is a bit of me that sort of says if you are going to miss it when it is gone, that's kind of what we were trying to achieve and actually it is good that it is going.
"The other point I would add to that is that actually a lot of people have taken this really personally, so people have bought poppies and associate this with a relative. They don't want them sitting out here in the cold during the winter.
They want them looked after and taken away and cared for, so the volunteers here are doing a really cracking job of getting them out and getting them across to people as soon as we can."
Weeds have also started growing under some of the earlier placed poppies, whose close proximity to each other makes ground maintenance difficult.
Mr Brown added that his team had received thousands of messages of thanks and support, including more than 5,000 people who discovered his personal work email to get in touch directly.