The head of the Football Association was left red-faced and floundering after a Newsnight grilling on whether convicted rapist Ched Evans should return to football, saying it is "not clear cut".
Sheffield United have been widely criticised for their decision to allow the sex offender, who continues to protest his innocence, to train with his former team following his release from prison after serving half of a five-year term.
While FA chairman Greg Dyke refused to give his own view on the issue, he said there is a "straightforward question" that needs to be answered.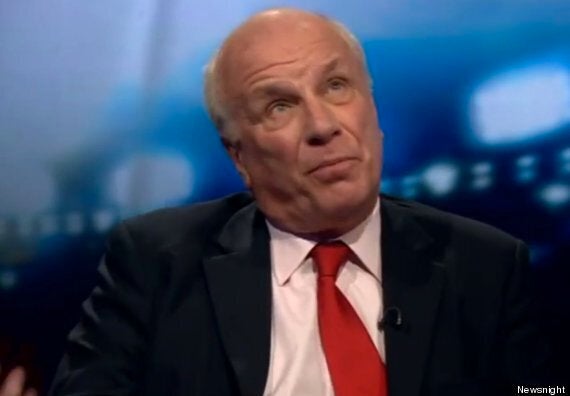 Greg Dyke, head of the Football Association
He told BBC2's Newsnight: "Here's the straightforward question - are people who go to prison entitled to come out of prison and to try and rebuild their lives or aren't they?
"Or is what they've done so bad and because they're in an industry where their image is important - and that's the dilemma and it's not clear cut."
Sheffield-born Ennis is the latest to wade into the row over the prospect of Evans's return to professional football.
Campaigners against sexual violence have criticised the club's decision to allow the 25-year-old to train with the team to regain fitness.
TV presenter Charlie Webster, Sixties pop star Dave Berry and Sheffield businesswoman Lindsay Graham have all resigned as patrons of the club since Evans returned to training.
Asked if Evans should be allowed to play for the club again, Dyke replied: "I don't want to get into that tonight. I don't think that's what I am here for.
"I'm quite happy to talk about this (Fifa's World Cup probe). I don't really want to talk about Ched Evans. I think it's a much more complicated story than having five minutes here."
Dyke had to quickly correct himself when it was suggested the Evans case is an important issue.
He said: "It's not an important issue, er, it is an important issue, but not in terms of what you asked me to come on and talk about."
Welsh international Evans was jailed in April 2012 for raping a 19-year-old woman in a hotel room in Rhyl, North Wales.
Related