Ukip's Mark Reckless has romped to victory in the Rochester and Strood by-election, beating the Tories by 2,920, having secured 16,867 votes, or 42% of the vote.
As the other parties have tried to stop "Farage and his gang" - as Ed Miliband put it - from getting their second MP, the tone, quality and content of political debate has sunk to a new low.
Here are just 7 utterly depressing things about the state of party politics that Rochester has taught us.
1. Ukip are happy to indulge in "BNP-lite" campaigning
UKIP=BNP RT @HuffPostUK: UKIP's Mark Reckless says migrants may be turfed out of UK http://t.co/gn0aHI6dUipic.twitter.com/PK75Y8rJFr#racism

— Jonathan (@bigfatfrog67) November 19, 2014
Ukip's new recruit Mark Reckless suggested that migrants who have lived in the UK for several years could be turfed out of the country after remaining for a "fixed period" if his party got into power.
Tory ex-immigration minister Damian Green said that Reckless' suggestion came "perilously close" to a policy of repatriation, while Labour's shadow home secretary Yvette Cooper said it was "a policy that comes straight out of the last BNP manifesto".
For all the furore, an ICM poll for British Future found that 25% of the public want to repatriate all immigrants.
2. The Tories are happy being "Ukip-lite" campaigners
"don't feel safe walking down the high street of our town" due to "uncontrolled immigration". Shameful @kellytolhurstpic.twitter.com/vV0R3uKDjx

— Lydia Smith (@smiffinch) November 18, 2014
The Tories' by-election candidate Kelly Tolhurst seemed to suggest migrants were responsible for crime when she wrote in a campaign leaflet: "We sometimes struggle to access some of the services we need because of uncontrolled immigration. Others don't feel safe walking down the high street of our town."
As one Ukip campaigner told HuffPostUK on the campaign trail: "Why go for Diet Coke when you can have the real thing?"
3. Labour don't want to "out-Ukip Ukip", but will try their best anyway
This is Labour refusing to out Ukip Ukip pic.twitter.com/t9cxiwy7SL

— Pukkah Punjabi (@PukkahPunjabi) November 18, 2014
Ed Miliband insisted earlier this month: "What we will never do is try to out-Ukip Ukip". Some of his shadow cabinet colleagues, however, seem to have taken that as a challenge.
If Nigel Farage was in power, Ukip say migrants would have to wait five years before they can claim benefits in Britain. And so Labour's shadow welfare secretary Rachel Reeves raised eyebrows with her promise to ban EU migrants claiming benefits for up to two years.
With impressive brass neck, Reeves used her announcement - in an article for the Mail Online - to mock the Tories for "desperately attempting to out-Ukip Ukip".
4. The Lib Dems have basically given up
Nick Clegg recently said the Lib Dems "must now come out fighting" against Nigel Farage and Ukip. However, the party leader was nowhere to be seen in Rochester.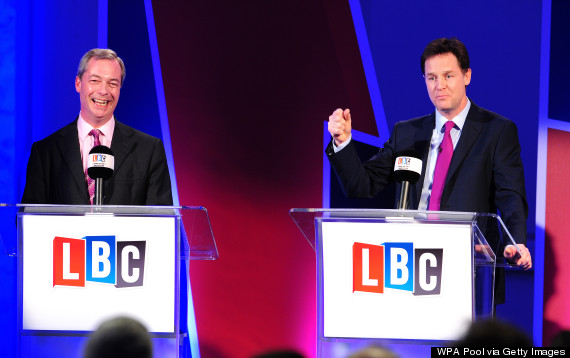 Nick was once so proud of taking the fight to Nigel...
The Lib Dems' candidate Geoff Juby explained that Clegg was "not really needed" for the by-election.
The party did not even try to put up a fight, with Clegg now suffering the humiliation of losing its electoral deposit for the 11th time during this Parliament.
5. The Greens are not getting a look in, yet could be much bigger than Ukip
Greens excluded from itv Rochester and Strood debate. Picketing the entrance #affronttodemocracypic.twitter.com/IdFsXK5jHw

— Stuart Jeffery (@stuartjeffery) November 17, 2014
The Green Party and their candidate Clive Gregory got barely any media attention, despite polls indicating that the party is more popular than the Liberal Democrats, and could be even bigger than Ukip.
Asked which party they would vote for if all candidates had a chance of winning in their constituency in a YouGov poll, 26% they would "likely" support the Greens, ahead of Ukip on 24%.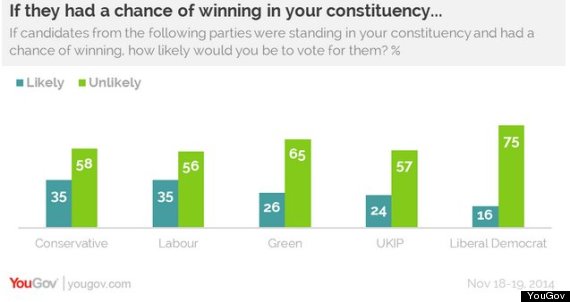 This means the Greens could be the third biggest party in Britain, if people thought they had a chance of winning.
6. Nigel 'straight talking' Farage is gone
For a party leader who prides himself as being "straight talking", Farage had to perform some tricksy moves to explain away why he was filmed suggesting the NHS should be run by private companies and organised under an insurance-based system.
dont trust Farage on the NHS. Changes his story every few months. pic.twitter.com/FBZ9UzMfOe

— Linda Oubridge (@LoppyLinda) November 17, 2014
Farage later insisted it was just an idea he "threw out for debate", with the party's policy on the NHS now "settled".
7. Rochester & Strood voted to shake up the system.. by re-electing its sitting (ex-Tory) MP
Reckless' promise to break up "that cosy cartel at Westminster" as part of Ukip's "agents of change" may seem difficult for someone who has been a Tory MP for four years and part of Tory HQ's policy unit before that.
As one keen, if slightly confused, Ukip voter said: "Mark Reckless will represent us better than what we've had here".
@IanJamesSeale@MarkReckless@UKIP "help change the face of British Politics". It's the same face #RochesterAndStroodpic.twitter.com/lr6NWopOY6

— KillingBritain (@killingbritain) November 20, 2014
See also:

'Our Maps Are Like Dad's Army': HuffPostUK Goes Out And About With Ukip's By-Election Insurgents

On the blog - Asa Bennett: "'No More Tory Defectors Please, They're Tainting Ukip's Brand!'"