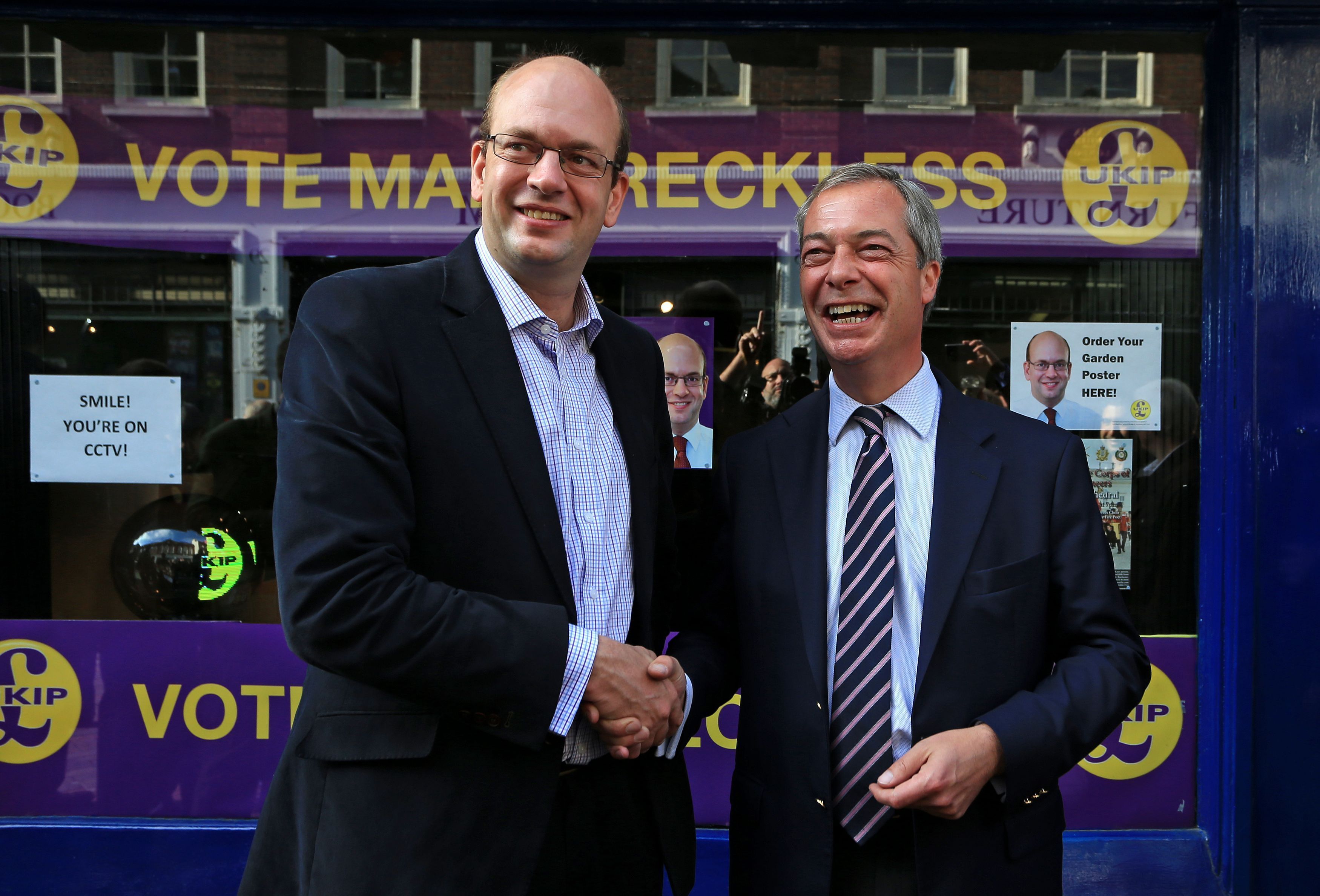 As Ukip prepare to send an unprecedented second MP to Westminster on Thursday, HuffPostUK's Asa Bennett embedded himself with the "People's Army" on the ground in Rochester and Strood.
"We don't think of him as a coloured chap - we think of him as Dave!" a Ukip campaigner, Tony, an ex-miner from Nuneaton, tells me as he passionately argues that his party is not racist.
I'm sat with him and two Ukip parliamentary hopefuls sheltering from the rain in a car in the town of Strood, the more deprived part of the Rochester and Strood constituency, as Tony, a grandfather, talks proudly about his niece's new husband "of mixed parentage" as a "smashing bloke".
The "racist" tag is just one of many Ukip is having to fend off as it woos voters in the Kent seat in its bid to get Tory defector Mark Reckless elected as its second MP. Tony's friend Alwyn, tells me that the party has "just about managed to get rid of that slur".
"People are happier to associate themselves with Ukip," she says. "There was this slur that we are racist, which is totally untrue, and I think we have emerged from that now. Even Ed Miliband has said that we're definitely not racist."
Ukip's campaigners have descended on Rochester and Strood, two estuary towns on opposing sides of the Medway river, with fevered enthusiasm as they are going all out to see Reckless elected as a Ukip MP on Thursday.
Success will be a new milestone for Ukip, as the insurgent party is keen to prove that its popularity is not just a flash in the pan, and that its appeal extends beyond Clacton, the Essex seat which Douglas Carswell overwhelmingly won as its first elected MP.
Some say Ukip is still the "Dad's Army" of politics, an amateurish bunch appealing to nostalgia of Britain's bygone era. Others say it has now become a "ruthlessly organised insurgency" that knows how to tap into voters' anger over the main three parties.
The party is still dogged by unsavoury labels, with nearly a third of voters saying in a YouGov poll that they thought Ukip was a party with "racist views" and "many racist members". How far has the party gone from David Cameron's infamous description of it in 2006 as being full of "fruitcakes, loonies and closet racists"?
As Ukip battles to get its second MP into Parliament, I spent weeks watching a party fighting to detoxify its image, with campaigners brushing off any questions of racism and sexism as "smears", as they tried to persuade voters that they can be trusted to change how politics is done for the better.
Wednesday October 29: 'We Need To Beat The Media At Their Own Game'
Late October, I took the train to Rochester as the first in a series of visits running up to the by-election to see the party's campaign machine at work, accompanying volunteers on the trail and seeing close up how constituents respond.
The party has set up its campaign headquarters in an old spiritual healing shop on the high street of genteel Rochester, with a colourful rotating orb telling those passing to vote for Reckless in purple and yellow letters.
Hypnotic Mark Reckless orb https://t.co/BPaSOOdo0F

— Asa Bennett (@asabenn) November 13, 2014
Unsurprisingly, Ukip is keen to play down suggestions that they have any sophisticated campaign tactics rather than the relying on the keenness of the so-called "people's army".
"We don't have a campaign 'machine', can you see it?" one of Reckless' aides tells me over coffee, gesturing to the party's campaign office. "We just have enthusiastic volunteers."
Ukip campaigners have been coming out in droves to help out in Rochester, with as many as 300 volunteers out in the constituency near the end of the week on their "action days". The trip hasn't be too hard for many as officials tell me they guess around half of the campaigners come from elsewhere in Kent, with the rest coming from further afield.
This has led to one of the first, if few, rocky moments in the campaign for Ukip, after campaigners were snapped posing with the far-right group Britain First's Rochester candidate Jayda Fransen at the weekend.

Ukip tried to distance itself from the BNP spin-off group, accusing Britain First of carrying out "a form of political photobomb to pretend that they have support elsewhere" with campaigners who did not "understand the nature of the group". However, Britain First went further, publicly endorsing Reckless and dismissing Farage's party's "bluster for the media's sake".
Bruised by the reports, Ukip volunteers were determined to move on that Wednesday afternoon and focus on campaigning and knocking on voters' doors. The local newspaper billboards on Rochester High Street have as their lead story: UKIP POLL SURGE.
"We've been getting a good response from locals," a campaigner cheerily tells me before admitting that that "occasionally a few people would pop up and say abuse."
The type of jibes are an uncomfortable reminder for the party about why reports of their campaigners being snapped with groups like Britain First are so unwelcome. As I stand outside Ukip's headquarters, a man in a black hoodie strides past, pauses at the door and hisses at those inside: "Fascist scum!"
One politically minded graffiti artist wrote under a bridge away from main high street in Rochester: "What if Ukip is just a foil to make us unite us against a common [foe]?" The slogan's placement alongside Sky's slogan - "Believe in Better" - just rams home its intended anti-Ukip message.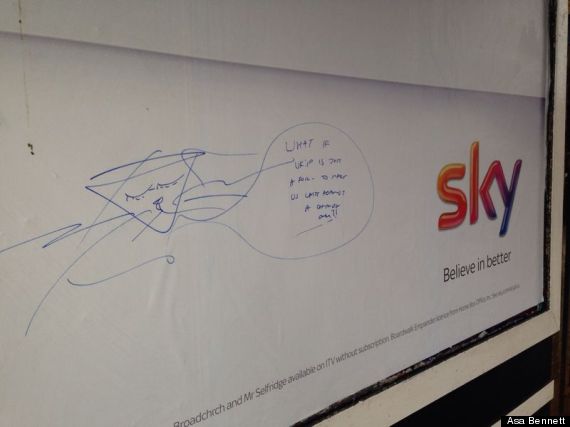 I'm told later about how a 16-year old boy visited Ukip's campaign office and suddenly pointed at every member he saw in turn, calling each and every one of the campaigners a racist.
"He had been told by his teacher that we were and asked loads of questions," a volunteer told me with a weary chuckle. "By the end of his visit though, he was almost ready to sign a membership form!"
Ukip campaigners cope with a dose of gallows humour and good cheer. I meet two campaigners, Malcolm, a lecturer, and Daniel, a student from London who has come up to campaign during his Reading Week.
Conversation drifts from topic to topic, with Malcolm at one point choosing a risky way to lavish praise on party's leader Nigel Farage's barnstorming speeches. "You find all great orators know how to hold an audience, even Hitler did that...".
"Ooh, careful now." Daniel interrupts, perhaps remembering how Ukip MEP Bill Etheridge faced a maelstrom of controversy after describing the Nazi dictator as a "magnetic and forceful public speaker" from whom young activists should "pick up little moments".
Malcolm is amiable and well-meaning, but he seems innocently unaware as he speaks so freely about how some comments he makes sound. He later veers towards the edge of controversy when discussion of immigration comes up. "This country has sadly become more racist over the last few years," he says, blaming it on the numbers of migrants coming and inflaming community tensions.
He goes on to suggest that the creed of Islam could be construed as racist - "just look at how they talk about the kafir" - and that young Muslims in Britain should "condemn more" the actions of extremist groups like the Islamic State.
The pair set off to go knock on doors, as campaigners rush in and out to collect and drop off their clipboards with details of the households they've been canvassing, Ukip's Steven Woolfe, MEP for the North West, arrives.
Woolfe, the party's media savvy immigration and financial affairs spokesman, spots a problem after catching up with colleagues. One of the party's campaigners, former MEP candidate Shneur Odze, is going to be on Newsnight but doesn't have a tie.
"You need a tie Shneur," he says. "We have to beat the media at their own game." Many activists look sheepish and start looking for spare neckwear, but one pipes up with an idea: "You could try Oxfam. It's a bit left-wing but they'll probably have one for a quid."
Odze departs on a hunt for a tie that, judging by his appearance on Newsnight, proved ultimately successful.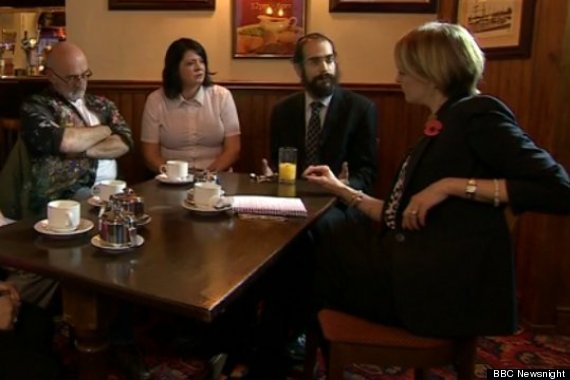 Woolfe's emphasis on beating the media "at its own game" is in a sign of Ukip sharpening up. "We need to avoid things that distract from our message," he explains to me. "They [the media] try to make us look silly."
Communities' spokeswoman Winston McKenzie's memorable appearance on Newsnight defending the Ukip Calypso arises as an example. "The producers told him he could wear sunglasses indoors," Woolfe says.
I end up accompanying the Ukip MEP as he leads a team of campaigners in two cars through the rain to knock on doors in Rochester. On the way there, a campaigner gives me the run-down of the constituency, explaining that Strood is Rochester's "poor cousin" while "the main language seems to be Polish on the high street" in the nearby village of Chatham.
Ukip's Marmite-like quality means it has not been a hard sell to voters, he suggests. "Most people have already made their minds up whether they are going to vote for us or not."
Rochester, where Ukip has set up its campaign headquarters, is palpably different to its neighbour Strood, with Ukip's base on a high street populated with antiques shops, bakeries, charity shops just a stone's throw away from Rochester's formidable Norman-era castle.
Strood, by contrast, is more deprived, with one Tory MP archly branding it "the Benefits Street of the South East".
We arrive at a part of Rochester which turns out to be ripe Ukip territory. Well over half of the voters who answer their doors said they would vote Ukip, with around half of them expressing concern about immigration.
However, those voters that don't like Ukip are really not afraid to show it. After knocking on eight doors and finding out four are Ukip voters, one campaigner finds that the ninth door is immediately slammed back in his face with a brisk: "Fuck off".
Others don't have quite such a blunt reception. Woolfe recounts with pride how a former Labour-voting family of Pakistani heritage told him they were now going to vote Ukip. "People are concerned about immigration," he says.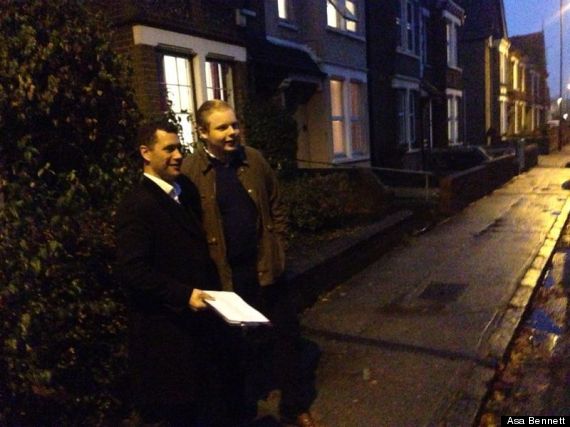 Woolfe stops for a picture on the campaign trail
Woolfe strikes a moderate tone on immigration, telling me that he thought Tory ministers' warnings about Britain being "swamped" by immigrants were "slightly offensive" as they allow people to "link in xenophobic, racist and other words into the debate".
Woolfe's measured tone, as a frontbench spokesman, gives the party an appealing message on immigration, especially as other parties like the Tories have clumsily attempted to catch up by using words like "swamped"
"The use of language is incredibly important to be able to maintain a balanced debate about it otherwise we end up in the line of extremism," he adds.
November 4: 'Mark Will Represent Us Better Than What We've Had Here Before'
Campaigners are trying to hide the spring in their step as voting day nears in Rochester and Strood, as polls consistently indicate that Reckless will successfully be elected under the Ukip banner, with many suggesting the lead could be over 10%.
It's only Tuesday morning, but activists are already rushing in and out to knock on doors when I arrive as the deadline for postal votes on that Friday nears. A cluster of activists have gathered around to pack letters off to voters, some of them wearing high-vis jackets with "Ukip At Work" on the back like they are builders.
The campaign headquarters is a hive of activity as volunteers are sent out to knock on doors or sort out reminder letters to voters to use their postal vote. Amid the frantic activity, one wry member of Ukip's campaign team has stuck something up near all the highlighted maps - the obituary of Günter Schwanhäußer, inventor of the highlighter pen.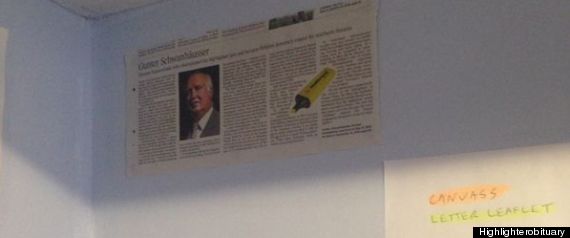 Some volunteers can't help expressing amazement at the party's campaigning tools. One man wearing his purple rosette - staring the maps of the constituency at the back of the office - says that the "nice" maps remind him of the TV show Dad's Army.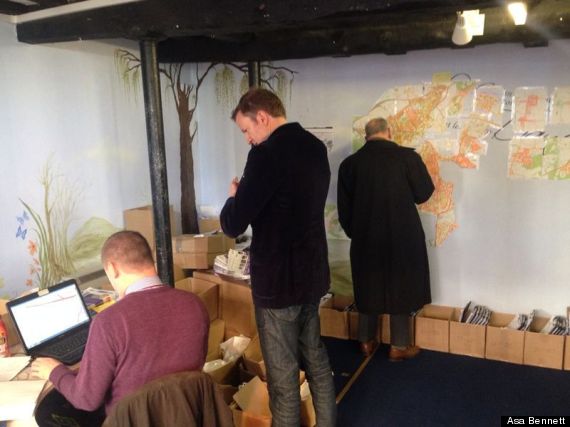 The official, who is wearing a purple jumper, takes his colleague through how the party gets its maps from the Ordnance Survey and are able to determine which area is "more Ukippy". Clearly Ukip is improving its campaigning tactics, and volunteers can't hide their excitement.
Ukip's HQ is itself a blaze of purple and yellow, with the walls decorated with Mark Reckless posters, banners and all sorts of memorabilia for sale including Ukip umbrellas and badges. A row of mugs display the message - "Keep Calm: Ukip are coming".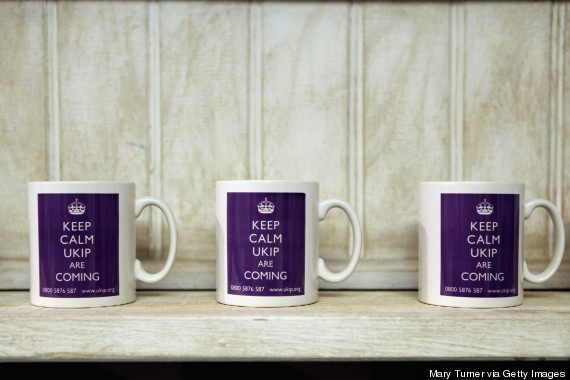 Sticking out in purple pinstripe, I meet Marietta King, Ukip's candidate up in the Lincolnshire constituency of Grantham and Stamford and join her team as they campaign in a part of Strood.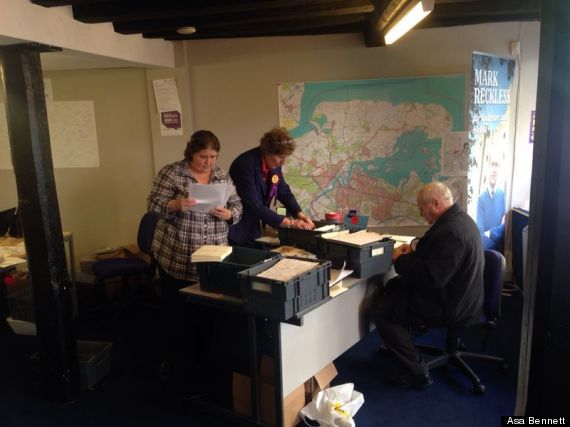 King is proud of her constituency's political heritage, as former Tory prime minister Margaret Thatcher was born in Grantham. Her local campaigners are undeniably keen, as they drove down to Rochester at 6am to knock on doors in the middle of the afternoon, when most people were out at work.
One enthusiastic, if slightly confused, Ukip voter delights King saying how she and her husband will vote Ukip as they are "fed up with the main parties" before adding that Mark Reckless "will represent us better than what we have had here before".
King's colleague Tony, an ex-RAF pilot, was on hand to record her day helping the Reckless campaign. A former Tory voter, Ron spent years regarding Russia as Britain's biggest danger during the Cold War, before realising that "the biggest danger to the country, if not the world, was the European Union".
She also expresses dismay at the "silly" comments made by former Ukip members like Godfrey Bloom, who infamously joked that women who do not clean behind the fridge were "sluts".
"I told my local chairman that I may have to resign as I don't clean behind the fridge and so I am a slut!" she joked.
The pair march down the streets with gusto, with Tony frequently offering wry asides, like joking that the "very complicated" code campaigners have to use to fill out how households are planning to vote is "worthy of GCHQ".
Voters who say they will vote for Ukip are marked with a "K" for Kipper, those who are considering get an "M" for Maybe, while those who are outright opposed get "H" for Hostile (or for 'hate', as Tony quips).
King meets one local Tory who is torn about Reckless' defection, as he had been on the selection panel that originally chose him as the Tory candidate.
"He didn't know what to do," she tells me. "He wanted to resign when David Cameron came in as leader".
What was King's advice? She fixes me with a steely glare: "He should put his country first, and his party second".
The Lincolnshire campaigners are especially excited as party leader Nigel Farage is going to host a public meeting with Reckless where they will take questions from voters.
Tony speaks of his party leader like a rock-star, admitting in hushed tones that he has only seen Farage's speeches on Youtube. This evening's event - like for many other campaigners - will be the first time they see him live.
Farage's presence in Rochester shows the priority Ukip places on winning. Analysis by Nottingham University's professor Matthew Goodwin and Manchester University's Rob Ford found that while Clacton was the most Ukip-friendly seat in Britain, a victory in Rochester and Strood, their 271st most friendly seat, would massively boost their political momentum.
Reckless, the party's softly-spoken candidate, was warmly applauded as he denounced the Tory "lie" that he had "flip-flopped" on a proposed controversial development on the nearby Lodge Hill, a fiercely debated local issue.
However, he could not avoid being overshadowed by Farage's flamboyance, who held the audience in the palm of his hand as he delivered a blistering speech branding Britain the "cheap labour economy" of the European Union.
The audience laugh faithfully at his jokes, as he mocks the fact that Australia's immigration system, which does not allow convicted criminals, is "odd when you think about it".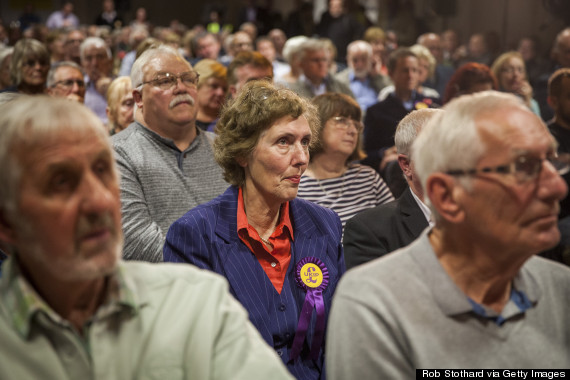 King watches the meeting
I caught up with Reckless after the hustings and asked him how he was feeling, as a candidate who is facing the brunt of the Tories' "kitchen sink" campaign approach.
"I'm not sure it's a good or effective way of campaigning," he says cautiously, stressing that it was "fair and appropriate for people to challenge me on things I've said in the past".
One Ukip campaigner told me earlier that the Tories "deliberately" put posters up for their candidate, Kelly Tolhurst, in a house opposite where Reckless lives "in order to psych him out". Meanwhile, David Cameron recently mocked Reckless as a "fat arse".
Despite this, the Ukip candidate refuses to return fire, telling me that such tactics "are not necessarily enjoyable, but I signed up for this".
13 November: "The Idea Of The EU Is From Trotsky And Hitler"
The polls continue to show that Ukip's Mark Reckless enjoys a substantial lead over the Tories, suggesting he is almost certain to be elected.
A second Ukip by-election win will be bitterly galling for the Tories, with it expected to shake David Cameron's leadership and see yet more defections.
The party is now keen to avoid any last minute slip-ups, so campaigners are keen to stay on message. I meet one exception, a Tory member, Hazel, who pops into Ukip's campaign office and is greeted like an old friend.
A self-described "professional rabble rouser", Hazel has come down from Surrey Heath, Tory chief whip Michael Gove's constituency. "Apart from voting in the EU elections, I've just turned up here," she tells me.
You could easily confuse her for a Ukip member though, as she faithfully echoes the party line when I ask why she is backing the party: "Because I put my country first".
As we talk, Hazel goes on to explain how the idea of the European Union came from Leon Trotsky and Adolf Hitler. "Look across to the Americas, north America followed the British system of having everything back to the Magna Carta, habeas corpus, our ideas of land, tenure and contract and now they go from strength to strength.
"South America copied the Code Napoleon, Roman law and they had a succession of mad dictators and revolutions. That's the evidence. That's why."
She rounds off with a flourish: "The only good thing that has come out of Brussels is sprouts!"
Supporters like Hazel are enthusiastic, but not ideal when Ukip is trying to sell itself as a serious, cohesive political force. Overhearing our conversation, Ukip member Alun Elder-Brown, a regular part of the party's campaign team, comes up to me to stress that Hazel "can say a lot of blather" and was not part of the party.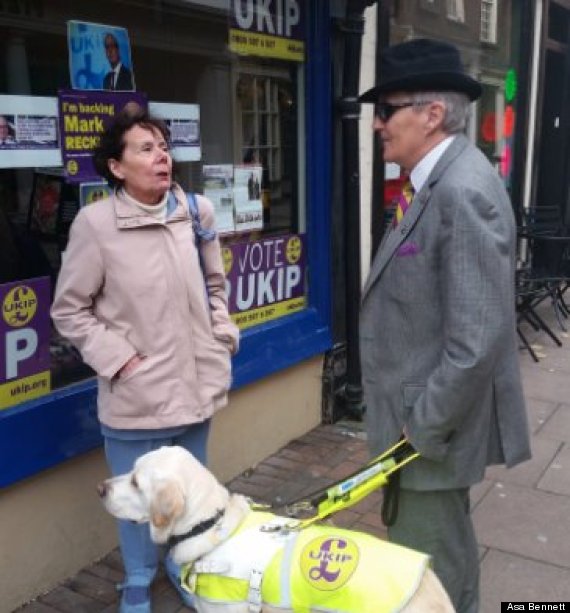 Hazel and Ukip member Alun Elder-Brown
Elder-Brown, a branch secretary and candidate in Tunbridge Wells, said that he joined Ukip in 2010, and has been delighted by the fact that members are "totally unwhipped". He explains: "You're allowed to make your personal opinion. You can't do that in the Tory party, Labour party or the Lib Dems."
Ukip has by now reached nearly every household in Rochester and Strood, in a major sign of how well their campaigning is doing. According to a poll by Lord Ashcroft, 84% of people had heard from Ukip, compared to 81% who'd been contacted by the Conservatives.
I follow two Ukip candidates on the campaign trail, 29 year old Catherine Anderson, who is standing for the parliamentary seat of Newbury in West Berkshire, and Edmund, a council candidate in Maidenhead.
Anderson certainly defies the Ukip stereotype as a young female candidate. She works in marketing, speaks German, Hindi, and has Romanian friends. She first bonded with her boyfriend, a Labour supporter, over "gin and Doctor Who". "I find it interesting to have different opinions," she tells me.
For someone with Romanian friends, I ask, was she not put off by the rhetoric from Ukip figures like Nigel Farage suggesting people should be concerned if a group of Romanians moved in next door?
After a pause, she suggests that some of her friends "don't know" the extent of her involvement in Ukip and adds: "I wouldn't be part of a party that was racist."
Formerly deputy chair of her university's Tory youth movement, she left the Tories this year for Ukip as she felt drawn by the party's "common sense policies".
Anderson is a well-spoken and fresh-faced candidate, but as someone who lives in Chelsea, she could easily fall foul of the "metropolitan elite" tag used by former Ukipper Godfrey Bloom. But as someone taking on Newbury MP Richard Benyon, Britain's richest MP, that may not be such a problem.
With darkness descending, Edmund and Catherine set out knocking on doors in the nearby Medway town of Chatham. After knocking on the first door, it becomes clear that some voters are pretty fed up with the by-election campaign.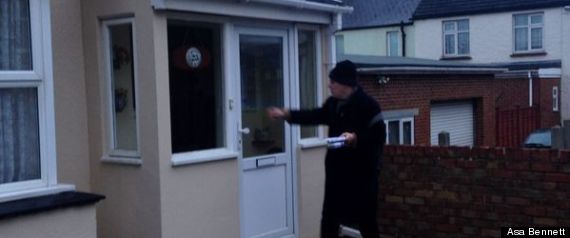 Edmund knocking on doors
"We have had two cards coming through here already," a voter tells them. After apologising for their fellow campaigners being "overenthusiastic", the pair end up having to clear up Ukip's policy on the National Health Service as the voter has read in the Sun newspaper "that Nigel wants to privatise it".
"The Sun is a Tory paper and they're spreading lies," Edmund says. The voter, duly appeased, promises to consider Ukip.
Going into a block of flats, one voter ends up engaging Edmund in a 30 minute discussion about what Ukip would do for Britain. "The media does muddle things up but you have the image of a racist party," he says.
"If it was a racist party, I wouldn't want to be in it," Edmund responds. "It's slanderous that papers do this."
The voter brings up research by University College London academics suggesting that European migrants contribute more than they take out of Britain, but Edmund insists it "depends on how you look at the data".
"Immigration is just one issue Nigel [Farage] uses so he can appeal to a wider majority," he adds.
Edmund, who works as a manager in the luxury hotel industry, later tells me that he joined Ukip as he "didn't like the sound of a United States of Europe". He admits to feeling a sense of "angst" as he knows that many hotels would benefit from migrants working there, even though his party may not approve of that.
After several roads, we shelter from the rain in a nearby pub - the General at Sea - but campaigning does not stop.
Two of those there break off from the pub quiz machine to quiz Catherine and Edmund, one asks: "Are you really going to take us out of the European Union?" On being told yes, the pub-goer cheered and sang to them: "Signed, sealed, delivered, I'm yours!"
Later in the evening, Farage, Reckless and Diane James MEP are in town to host the latest Ukip public meeting with Rochester voters in the town's Corn Exchange.
Waiting for the Eurosceptic party's top brass is 52 year old Andrew Osborne, who is hoping to stand as a Ukip parliamentary candidate next year. Director of an office equipment company near Tunbridge Wells, he tells me that he believes generous benefits are stopping young people finding work.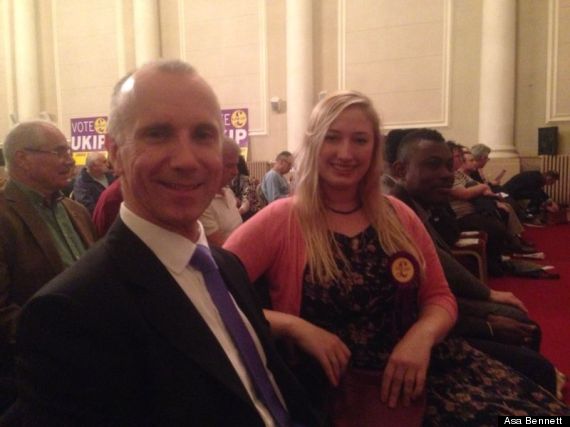 Osborne and Anderson
"Benefits are too high, if they were lower, people will come [onto an apprenticeship]," he says. "If they all did, you'd start low, earning a few pounds an hour, you actually get on the job experience, training and then you can go on from there."
A former member of the English Democrats, a right-wing nationalist party which critics say has "a history of racist rhetoric", Osborne unsurprisingly rubbishes any suggestion that Ukip is racist. "We take doctors and nurses out of Africa, do Africans die? Shouldn't we be sending our doctors there to train more doctors in Africa? Rwanda has 260 doctors left, they've all been poached by health services around the world."
At this moment, Anderson, who is sat in the front row with Osborne, comes up to us with the news that she has been asked to go on stage alongside Nigel Farage. Having only recorded her first campaign video - for Reckless' campaign - that afternoon, she's still a new candidate. But Ukip officials evidently want to push her to the front as a modern-looking Ukip candidate.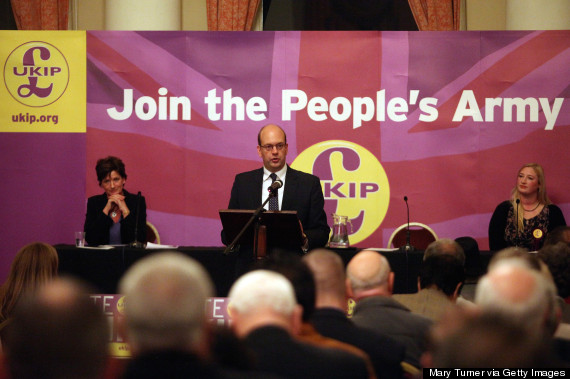 Anderson with Diane James and Mark Reckless
At the event, Reckless strikes a moderate tone on issues like immigration to warm applause as he tears into Britain's "harsh and inhumane" immigration laws.
Farage meanwhile gets just as warm a reception as he did last week, but seems keen to avoid slipping up, so gives largely the same speech as before, including the jokes about Australia's immigration system.
Hundreds of voters fill the hall to see Ukip, and with Farage's team facing not a single hostile question, it is clear voters are warming to the party.
14 November: "People Are Happier To Associate Themselves With Ukip"
On the next day, I accompany three Ukip campaigners from Nuneaton, Warwickshire, around more roads in Strood. Alwyn Waine, who is hoping to stand as a parliamentary candidate next year, Mick Gee, parliamentary candidate for Meriden in the West Midlands, and fellow campaigner Tony.
Alwyn's own candidacy caused controversy closer to home, as her husband John, a lifelong Tory, was expelled from the party for signing her nomination papers as a candidate at this year's local elections.
After being an active Tory member for "donkey's years", Waine felt that there were not enough Eurosceptics in the party "to make a significant difference".
Waine repeats the Ukip line that the party is only against "uncontrolled immigration", going on to say that things are "getting really out of hand". "The services, the infrastructure, it's just not coping any more. We have to say enough is enough. Give us a breathing space," she says.
Her insistence on giving public services some "breathing space" from the influx of immigrants seems over-dramatic when figures indicate that the percentage of migrants living in Rochester is markedly below the national average.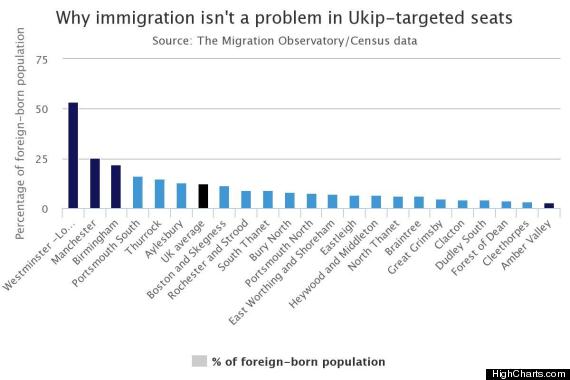 Waine fumes about the last Labour government's "separatist and isolationist" immigration policy, arguing: "We're looking to encompass everybody's faiths and we'd like everybody to be part of British culture."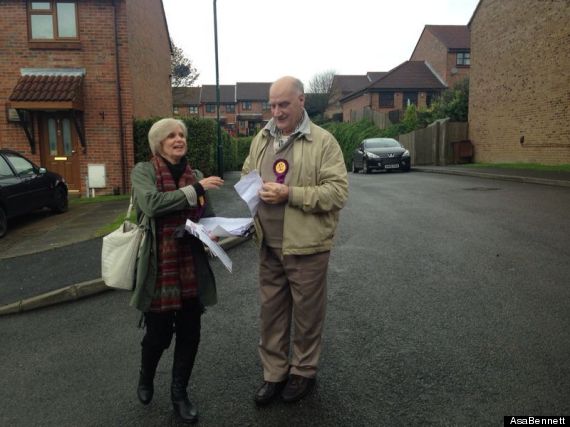 Alwyn and Tony
Her fellow ex-Tory voter Tony, a Ukip member for just over a year, rejects any suggestion of his party being racist, pointing out that a Sikh member recently joined his local branch.
Tony argues that Labour's multiculturalism policy "should never have happened", adding: "I don't think they they had an immigration policy, unless it was a malicious one.
"People say they did it on purpose. We've always had a shift, but we've always managed it."
Tony goes on to say that his niece is married to a "smashing bloke" of "a very mixed parentage", adding: "We don't think of him as a coloured chap - we think of him as 'Dave'!"
Would the campaigners not fear they were shutting out the "best and brightest" by curbing immigration levels? Tony has a quick answer: "They're not the best and brightest, are they? I'm sure they're nice enough folks..."
As they knock on doors, the Nuneaton trio find a lot of fervent Ukip supporters. A white van man stops and asks where to get a Ukip banner from, others say they want to give the main parties a "kicking" so will vote Ukip, and even the owner of the chip shop where we stop for lunch can't hide that he is a fan.
"Are we winning then?" he asks, spying the campaigners' purple rosettes. The manager then turns to his bemused colleague and explains the importance of the "independence party".
Gee, who is hoping to oust former Tory environment secretary Caroline Spelman next year, previously tried to be the party's candidate in Newark but lost out to Ukip MEP Roger Helmer.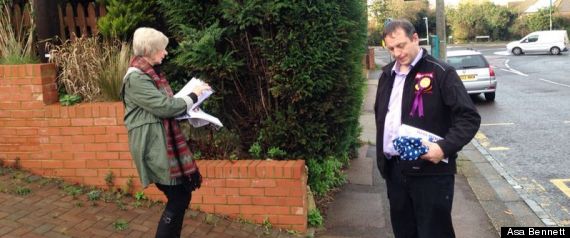 Mick Gee and Alwyn
Helmer's campaign got bogged down in accusations of homophobia as he had questioned the existence of "homophobia", comparing it to not liking Earl Grey tea, and once said that some people find same-sex relationships ''distasteful if not viscerally repugnant'.
Gee has complete sympathy for Helmer's position, telling me: "He's allowed to have his opinion. Is it a shock that not everyone likes homosexuality?"
Gee's frankness is remarkable. Helmer's campaign was overtaken by arguments about the candidate's "homophobia", something Gee must be well aware of. But having been chosen as the parliamentary candidate just a day before I met with him, Ukip HQ will undoubtedly be coaching him on how to tackle such issues.
'Keep Calm, Ukip Are Coming'
Ukip look almost certain to romp to victory on Thursday, but celebrations will not be too extreme. Mark Reckless is said to be a teetotaller after being found "too drunk to vote" in 2010 as a Tory MP.
Reckless' bid still looks safe, even after giving an interview to the Sunday Times, for which he posed in chainmail, with sword and shield for a bizarre photoshoot. The interviewer, Camilla Long, branded him "bonkers" and compared him to a "self-congratulatory suitcase". His former Tory colleagues piled in, like Peterborough MP Stewart Jackson, who called him a "complete wally".
Oh dear, what a complete wally @MarkReckless and his Sunday Times chainmail-crusader-with-briefcase photo shoot pic.twitter.com/Qxaml8wn6m"

— Stewart Jackson MP (@SJacksonMP) November 16, 2014
One senior Ukip figure expressed worry to me before it was published, saying: "I'd have vetoed it. I cannot believe the interview, Camilla must live on a very sad, angry, dissatisfied world."
"It turns out #MarkReckless should be called Mark Meek and Very Cautious" - @camillalong http://t.co/IX6fnV5NOL pic.twitter.com/NSToyaLcy9

— SundayTimesMagazine (@TheSTMagazine) November 16, 2014
However, seemingly disastrous interviews like this do not look likely to derail Reckless' return to parliament, as Tories are now hoping just to reduce the margin of his victory.
During my time in Rochester and Strood, I saw Ukip's campaign machine take its message to voters with an almost surgical precision, going street by street, knocking on doors. This has paid off as Ukip has ably tapped into a groundswell of support as voters are fed up with the main three parties and willing to give a new, insurgent party a shot.
The new breed of Ukip spokespeople, from ex-Tory MP Mark Reckless to media savvy immigration spokesman Steven Woolfe, offer a seemingly moderate and less provocative message. By contrast, other parties fall over themselves to imitate Ukip in an attempt to woo voters in vain. As one campaigner tells me: "Why go for Diet Coke when you can have the real thing?"
But what is the "real thing"? Despite the new message discipline, time and again I found some Ukip campaigners and activists on the ground veering into controversial territory with little prompting, until they remembered the key lines to hammer home on the doorstep that they had been given.
Ukip has honed its anti-establishment message to the point of perfection, but as its parliamentary presence grows after Thursday, its apparent "common sense" values are going to be tried and tested.
The big question for Ukip is will the Tonys and Alwyns and Catherines stick with the party till May and beyond, or will the "People's Army" melt away?