Several major retail stores including Currys, Argos, PC World, Boots and Tesco Direct had their websites crash over night because of what they claimed was such high demand.
Black Friday is traditionally an American sale, the first Friday after the Thanksgiving holiday, but retailers have begun to capitalise on the trend in the UK.
A series of Vines tweeted from an ASDA showed shoppers pinned across the doors of the store, before charging in and scuffling with each other.
There were even cheerleaders for some reason.
Scotland Yard said officers have been called to four stores in London overnight, in Willesden, Surrey Quays, Edmonton and Edgware after scuffles.
At least two people were arrested and a woman was hurt after being hit by a falling television, while officers were forced to shut some outlets to restore order.
Guardian journalist Rupert Neate said that Tesco had attempted to stop him filming the chaos in Edmonton.
Greater Manchester Police said it had visited seven stores in the area and two arrests had been made and South Wales police were called to a Tesco in Cardiff following reports of fight breaking out between shoppers.
Officers attended a store on Excelsior Road in Cardiff twice after midnight over concerns about "customer conduct", police said.
No arrests were made and police said they had advised management at the stores to prevent further issues.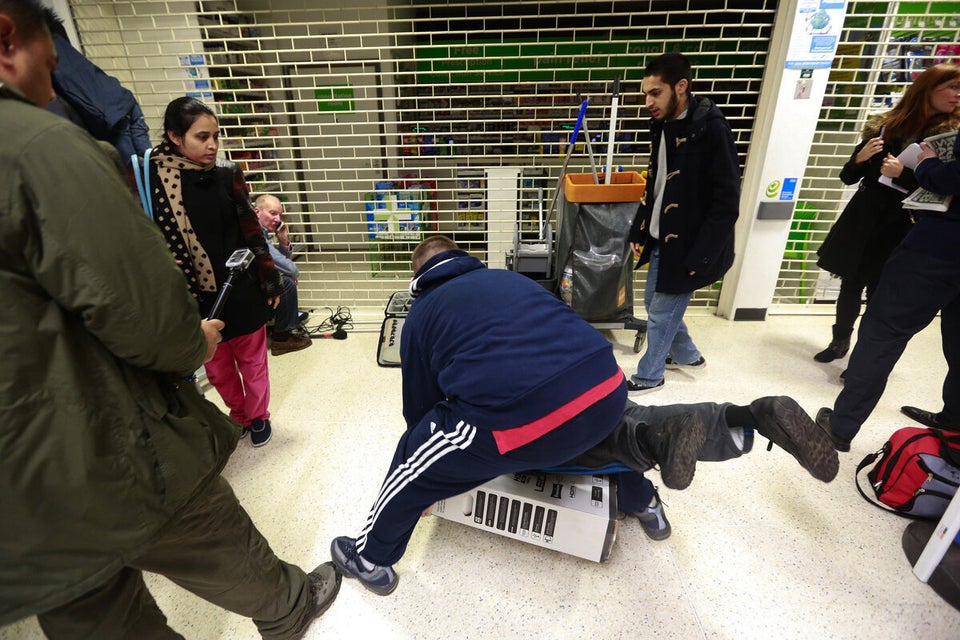 Black Friday Sales
Large Tesco stores opened at 00.01am with shoppers queuing up to enter the chain's Newcastle store, and later seen wrestling with flat screen TVs.
Shortly before midnight police were also called to Tesco Central Park in Wigan after reports of several hundred people trying to enter the store. Two men were ejected before control was regained.
The Tesco at Ellesmere Shopping Centre in Walkden was closed after a crowd of more than 500 people attended. The Tesco Extra in Stretford was closed after fights broke out between shoppers trying to get their hands on sale stock.
A GMP spokesman said: "A woman suffered minor injuries after being hit by a falling television and an ambulance was called. The store was closed at 12.36am, just over half an hour after the sales event started."
A man was arrested on suspicion of assault after he was challenged by staff at the Tesco on Woodrow Way in Salford. He had threatened to "smash" a store employee's face in, police said.
There were also disturbances in Scotland. Police were called to Tesco at Silverburn in Glasgow which was closed for a period as people clashed over discounted goods.
Sarah Coubrough wrote on Twitter: "Silverburn shut cos shoppers going mental with the sales. Think I'll stick to the online shopping today."
Emma Somers posted: "Police called to the Tesco at Silverburn cause folk are fighting over the bargains for Black Friday."
At another Tesco store in Dundee, police were called to similar scenes and a decision was taken by staff to shut the shop.
A statement from Police Scotland's Tayside division said: "For information the Tesco Extra, Kingsway West, Dundee has been closed at this time due to excessive numbers attending to purchase sale items.
"This decision was made by Tesco staff to ensure the safety of all their customers."
Scotland Yard said in a statement: "Officers have worked with store staff to ensure that sale-goers were able to enter and exit the stores safely.
"No persons have been injured at any of the locations as a result of the overcrowding."
British shoppers are expected to spend £363 million shopping online on Black Friday this year.
Last year visitors to physical shops increased 9% on the day.
Black Friday is immediately followed by Cyber Monday - this year on Monday 1st December - when further discounts will be offered and the frenzy is expected to continue.
Stores' websites were forcing shoppers to queue for up to 30 minutes to get the deals online. One person tweeted shortly after midnight: "There's a 37 minute wait to access Currys & a queue to enter Tesco Direct."
A message on the Tesco Direct homepage said: "Sorry for making you wait
"Lots of people are shopping with us at the moment and we need to ask you wait briefly. Don't worry, we'll redirect you to the website as quickly as we can."
Those trying to shop online with Currys were told they would have to wait 25 minutes for access. "We're really sorry that the huge demand for our deals means you're having to wait," the website said this morning.
"We really appreciate your patience and we'll have you on our site as soon as possible."
A message on the Argos homepage said it was limiting access because of "very high volume" and urged visitors to try again in a few minutes.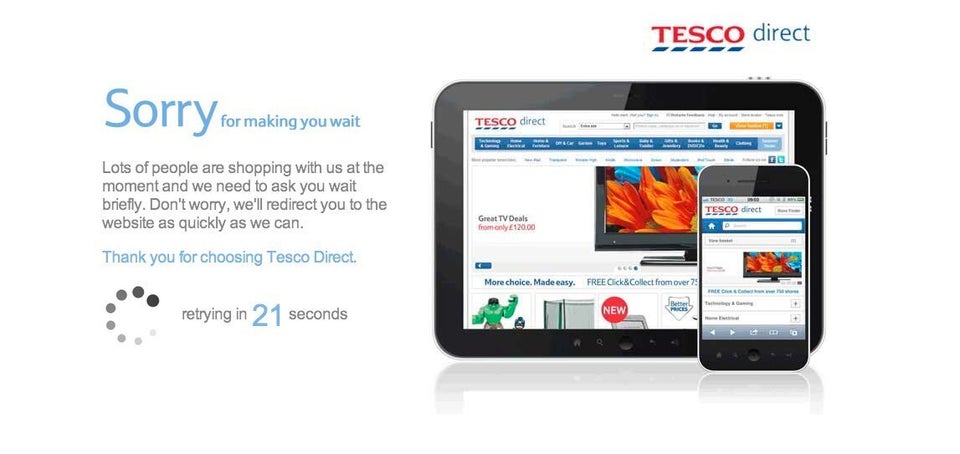 Crashed websites
Shoppers described scenes of "carnage" as people scrambled for the best deals. One person who bagged a coffee machine at a knock-down price tweeted: "After the absolute carnage that is black Friday in a tesco extra in the North of England, I walked away with a £100 coffee machine for £30."
Tesco's 24-hours shops began selling Black Friday deals a minute after midnight on 28th November. The supermarket says it is planning discounts of up to 70% this year.
2014 is the first year for a Sainsbury's Black Friday, after the retailer opted out in the last few years since the trend came to the UK. Its sales will start on Friday morning - some discounts are only in stores.
John Lewis shops opened earlier than usual, at 8am, to allow more shoppers in. The flagship store on London's Oxford Street has extended its business hours to 10pm.
Games retailer Game opened its doors at one minute to midnight on Thursday 27th November, but some deals are available online before this on its Black Friday page.
Another 8am start at PC World, which has claimed it will offer deals in store and online until "stock is gone".
Argos began its Black Friday offers at midnight on 28th November, and has revealed there will be deals on toys as well as the traditional tech and gadgets.
The home improvement retailer offered in-store-online deals from Friday morning
Amazon already started its discount frenzy, and has turned Black Friday into a whole week of deals which started on Monday. Last year, its busiest time was 1pm on Black Friday itself.
Discounts could be made on gadgets like iPhone and iPads in Apple's sales.
You can save up to 70% at some B&M shops, with 10% of everything on Friday and sales continuing all weekend, through to Cyber Monday. Closing times will vary depending on which shop you visit, so check your local information.