He has launched his much-expected bid to win a seat at Westminster in next year's general election later today.
He resigned as SNP leader and first minister last month, having announced he would do so just hours after the Yes campaign lost the independence referendum. Speculation over his political future has continued ever since.
Since a shock poll showed Labour faced annihilation in Scotland at next year's general election, the SNP has been expected to do very well in May's general election - and some speculate a second independence referendum could come sooner than expected.
Mr Salmond will stand in the Gordon constituency, a seat that shares some areas with his Aberdeenshire East constituency in the Scottish Parliament.
It is currently represented by Liberal Democrat Sir Malcolm Bruce, who is standing down.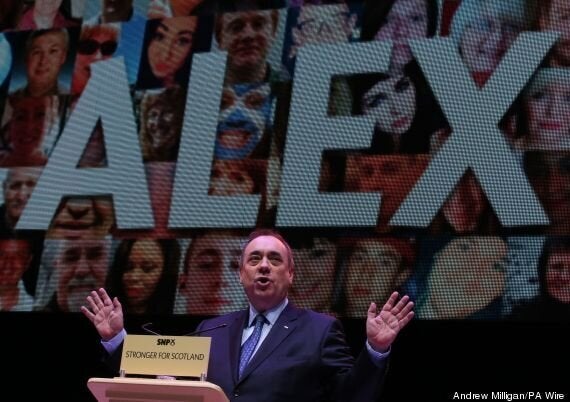 Alex Salmond addressing 12,000 SNP supporters when he stood down as leader
Mr Salmond was previously an MP for Banff and Buchan between 1987 and 2010 and set out his plans in a speech in Ellon, Aberdeenshire on Sunday.
He pledged to turn Westminster "upside down" if elected.
Since the referendum, the SNP's membership has grown from 25,000 to more than 92,000.
Mr Salmond, who remains an MSP, has regularly been asked about his future since stepping down as First Minister but has so far refused to confirm his plans.
Some noted the irony of the man who led the campaign to get Scotland out of the UK standing for the UK parliament.
When standing down as first minister last month, he described his seven-year tenure as the "privilege" of his life.
"In the last few months we have watched an electorate passionately engaged in the business of fashioning their own future," he said.
"I see little evidence that the people of Scotland resented the government pursuing that business with them and for them.
''Scotland has a new sense of political confidence and a new sense of economic confidence. That new sense of political confidence, or engagement, is the point on which I wish to end.''
The Gordon seat, which will now become one of the most-watched in next year's general election, was won by the Lib Dems with a majority of 6,748 over the SNP in 2010.
Incumbent MP Mr Bruce said: "People in Gordon rejected the First Minister's independence plans overwhelmingly at the referendum.
"I am sure that they would be delighted to have the chance to reject him again in May. Bring it on."
Lib Dem candidate Christine Jardine said the area had been "short changed" during Mr Salmond's time as first Minister.
"I'm delighted the former First Minister is set to put an end to the game-playing," she said.
"The people of Gordon deserve better, just as they deserve an MP who will stand up for what's important to them, not chase their personal political agenda at the cost of what's best for the people."