Google France has marked its home page with a small black ribbon as a tribute to the 12 people killed in the brutal shooting attack on the Paris offices of Charlie Hebdo magazine.
The simple symbol, with no text or link, reflects the shocked grief around the tragedy, for which the country is holding a national day of mourning today.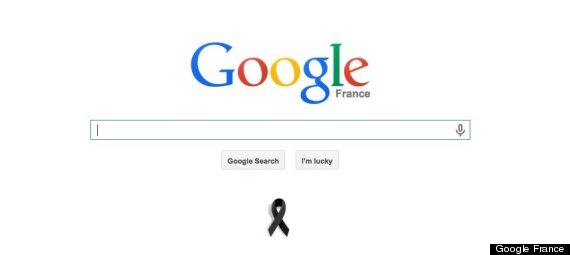 The website honoured the victims of the attack with a simple ribbon image
Thousands of people around the world attended mass vigils for the 10 journalists and two police officers who were shot dead as gunmen stormed the headquaters of the magazine, which had previously been firebombed for its satirical caricatures of the Islamic prophet Muhummad.
Google switched the home page soon after the attacks, as the hashtag #JeSuisCharlie or 'I am Charlie' swept the internet as as social media users posted the slogan to show their support for freedom of the press and the slain journalists.
Google's 'doodle' images often celebrate an anniversary or historic event, but usually link to more online information about the subject.
But by proving no link on the mournful black images, Google's French arm implied that the entire nation was united in grief at the shocking murders.
SEE ALSO:
LIVE BLOG OF PARIS ATTACKS