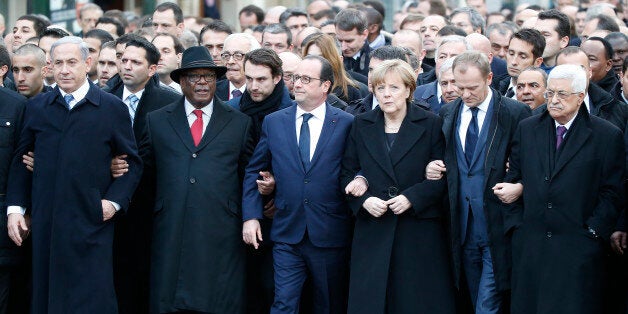 A photo has emerged which suggests the politicians were in a heavily guarded street which was closed to the public, prompting critics to accuse them of abusing the situation.
Politicians fought to be at the front of the picture, which many said showed them heroically "leading" the marches.
Critics suggest the government figures were misleading the public and it was all just a "photo op".
But it wasn't a secret that the road was closed for the politicians to march.
With 50 high profile political figures marching through a city where the terror threat level is at the highest possible, you'd expect at least some protection.
The historic demonstration was dubbed the largest France has ever seen, with a reported three million in attendance at marches across the country.
Some of the political big names who took part were British Prime Minister David Cameron, German Chancellor Angela Merkel, Spanish Prime Minister Mariano Rajoy, Malian President Ibrahim Boubacar Keïta, PLO Chairman Mahmoud Abbas and former French President Nicolas Sarkozy.
Popular in the Community