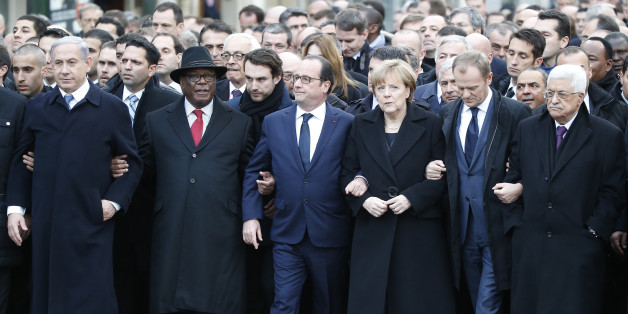 ASSOCIATED PRESS
Heads of state including David Cameron, Benjamin Netanyahu and François Hollande have been criticised for what some believe is a misleading photo opportunity.
The world leaders were pictured supposedly at the forefront of a march of one million people on the streets of Paris, protesting the actions of Islamist militants who slaughtered 20 in a spree lasting three days.
A photo has emerged which suggests the politicians were in a heavily guarded street which was closed to the public, prompting critics to accuse them of abusing the situation.
Seems world leaders didn't "lead" #CharlieHebdo marchers in Paris but conducted photo op on empty, guarded street pic.twitter.com/bhhXgAhqDR

— Borzou Daragahi (@borzou) January 12, 2015
Politicians fought to be at the front of the picture, which many said showed them heroically "leading" the marches.
Critics suggest the government figures were misleading the public and it was all just a "photo op".
@BrooklynJuggler @borzou I already thought it was a farce, but it's even worse than initially seemed

— Dr. Ed (@ICUDrEd) January 12, 2015
@borzou @jlouis666 This is also ironically purely symbolic, something CharlieHebdo always fought against.

— Loïc Hoguin (@lhoguin) January 12, 2015
But it wasn't a secret that the road was closed for the politicians to march.
Boulevard Voltaire is sealed of. The victims' families & the 50 govt. leaders will start the march here. #Paris pic.twitter.com/3ow3h2peLl

— Stefan de Vries (@stefandevries) January 11, 2015
With 50 high profile political figures marching through a city where the terror threat level is at the highest possible, you'd expect at least some protection.
The historic demonstration was dubbed the largest France has ever seen, with a reported three million in attendance at marches across the country.
Some of the political big names who took part were British Prime Minister David Cameron, German Chancellor Angela Merkel, Spanish Prime Minister Mariano Rajoy, Malian President Ibrahim Boubacar Keïta, PLO Chairman Mahmoud Abbas and former French President Nicolas Sarkozy.