British hopes have never been higher for Oscar glory, with screen favourites Eddie Redmayne, Benedict Cumberbatch, Rosamund Pike and Felicity Jones all nominated in the leading actors' categories.
MORE OSCARS:
But while fellow Brit David Oyelowo may have been overlooked for his tour de force as MLK in 'Selma', he can take comfort that the civil rights drama is scoring extremely high with film fans discussing Awards on social media.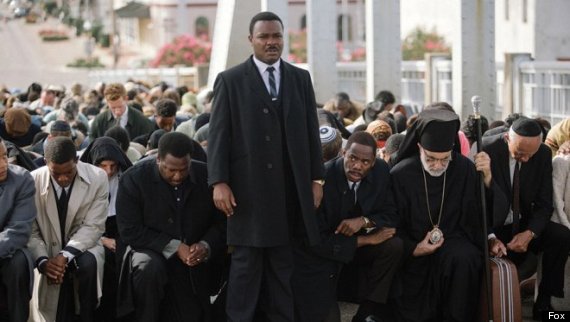 Civil rights drama 'Selma' starring David Oyelowo as Dr King is a firm fan favourite, ahead of Oscar night
It's not going to be easy for any of these nominees, though, with Michael Keaton and Julianne Moore emerging as firm favourites for those Academy Awards, for their performances in 'Birdman' and 'Still Alice' respectively.
'Boyhood', 12 years in the making and coming out much earlier in the year than your normal Award-worthy fare, has emerged as the leading contender for Best Picture, but director Richard Linklater will have to beat off the disparate rivals of 'American Sniper' - Clint Eastwood's war biopic that has broken US box office records this week - and, on the opposite end of the spectrum, Wes Anderson's 'Grand Budapest Hotel', a whimsical caper with a moustache-twirling Ralph Fiennes at its centre.
We won't know which way the cards are going to fall until the Awards are handed out in a month's time - Sunday 22 February - but that hasn't stopped the speculation amassing. Below is what THEY'RE all saying on social media, with plenty of opinions about who should be getting the gongs on the night, and, almost as importantly, who's been right royally snubbed. Whether or not the few thousand members of the Academy will be agreeing, or even paying any attention, we will have to wait and see.
Let us know if you agree with these opinions below..

Thanks to WaytoBlue for sharing this social data. And you can check out some of the films vying for Academy consideration here:
LIKE US ON FACEBOOK | FOLLOW US ON TWITTER
MORE OSCARS: