UPDATE:
A blistering row over a controversial Katie Hopkins article about migrants inThe Sun shows no sign of dying down more than a day after the piece was published.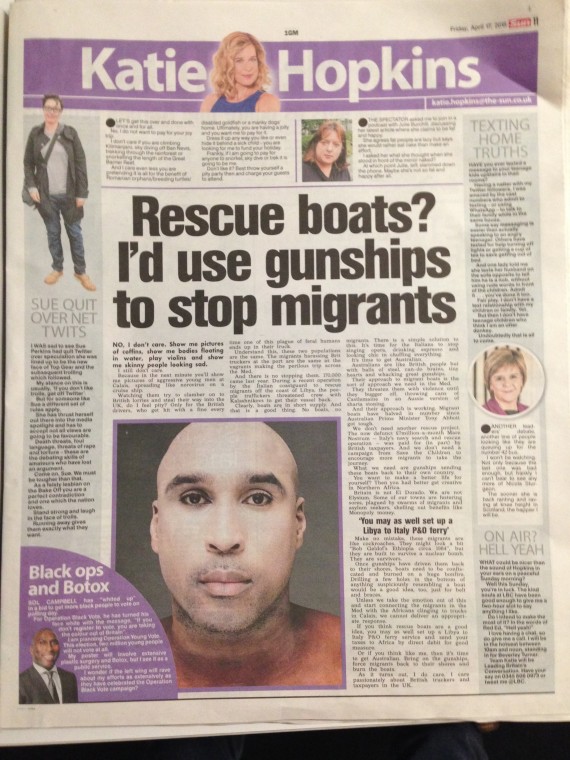 Katie Hopkins writing in Friday's Sun
Headlined 'Rescue boats? I'd use gunships to stop migrants' the comment piece includes lines such as:
NO, I don't care. Show me pictures of coffins, show me bodies floating in water, play violins and show me skinny people looking sad.

I still don't care.
Also:
Make no mistake, these migrants are like cockroaches. They might look a bit "Bob Geldof's Ethiopia circa 1984", but they are built to survive a nuclear bomb. They are survivors.
And:
It's time to get Australian. Bring on the gunships, force migrants back to their shores and burn the boats.
The list of people either unfollowing, attacking or just being generally outraged is truly impressive, even by Hopkins' high standards.
SEE ALSO
So far, they include Piers Morgan, Russell Brand and Matt Lucas and a range of Guardian writers, including Owen Jones, who seemingly can't decide whether to condemn or simply ignore Hopkins.
On balance, I'd prefer to turn a gunship on @KTHopkins.

April 18, 2015
Having read her latest article, it's hard to think of anything left for Katie Hopkins to do now, other than to just kill some people.

— Matt Lucas (@RealMattLucas) April 18, 2015
I know we're supposed to ignore Katie Hopkins. But The Sun have published what reads like a neo-Nazi rant pic.twitter.com/lbV7CQS8xP

— Owen Jones (@OwenJones84) April 18, 2015
Yes, we're responding how she wants us to. But we can't live in a country where a newspaper printing a Nazi-like rant is met with silence

— Owen Jones (@OwenJones84) April 18, 2015
Why do people rise to the Katie Hopkins debate. The more you froth about her, the better you drive her career. That's how it works. Doh

— Giles Dilnot (@reporterboy) April 18, 2015
.@KTHopkins to write about immigrants so hatefully you cannot love yourself. Come back to humanity, you must be shattered.

— Russell Brand (@rustyrockets) April 17, 2015
Re giving Katie Hopkins publicity: The "don't feed the troll" stance is irrelevant when the troll is being published by a national newspaper

— Jonathan Haynes (@JonathanHaynes) April 18, 2015
Getting wound up by Katie Hopkins latest attention seeking rant pointless. Want a better world? Focus on & share #RestartTheRescue tag!

— stellacreasy (@stellacreasy) April 18, 2015
Revolted that Katie Hopkins can find a platform for such hate? Petition to ask Sun to remove,via @izzysasa https://t.co/FRPFBXZXJh

— Natasha Walter (@Natasha_Walter) April 18, 2015
If you find what Katie Hopkins says evil - like I do - don't try to shut down her free speech. Use yours to show why she's wrong #FreeSpeech

— Johann Hari (@johannhari101) April 18, 2015
(Btw, every time someone sends an angry tweet about Katie Hopkins, she and the Sun GROW STRONGER. Ignore her, and she withers away.)

— Hadley Freeman (@HadleyFreeman) April 18, 2015
Please tell us @StigAbell how you justify Katie Hopkins Nazi article in your paper yesterday? Please.

— Denise Welch (@RealDeniseWelch) April 18, 2015
At this point it wouldn't surprise me if in Katie Hopkins' next column she demanded compulsory abortions for refugees she'd perform herself

— Eliot Higgins (@EliotHiggins) April 18, 2015
The way that I am responding to Katie Hopkins is superior to the way you are responding to Katie Hopkins.

— Keri (@kerihw) April 18, 2015
I'm usually pretty jaded but I genuinely found that Katie Hopkins piece in the Sun shocking.

— Mike Bird (@Birdyword) April 18, 2015
I've just done the most terrible thing it's possible to do to Katie Hopkins. I've unfollowed her.

— Dan Hodges (@DPJHodges) April 18, 2015
Katie Hopkins saying that she would use gunships to stop migrants is truly appalling... https://t.co/OIlLwz7oxn

— Diane Abbott (@HackneyAbbott) April 17, 2015
Katie Hopkins is how parties like the Golden Dawn come to be mainstream. Shameful stuff from the @TheSunNewspaper pic.twitter.com/k5ZAkIPXGS

— Yiannis Βaboulias (@YiannisBab) April 18, 2015
Then again, if you support not funding rescue efforts to discourage ppl from coming, you may as well support hunting them in the water too.

— Mike Bird (@Birdyword) April 18, 2015
Rather than getting wound up about Katie Hopkins, why not put that energy to better use and lobby the government to accept more refugees.

— James Bloodworth (@J_Bloodworth) April 18, 2015
Hello, might I request that we stop allowing this Katie Hopkins character to contribute in any way whatsoever to public discourse?

— Kate Leaver (@kateileaver) April 18, 2015
Leaving sunny Folkestone + not a sign of the 'plague of feral humans clambering onto lorries' that Katie Hopkins so despicably writes about

— Kate Robbins (@KateRobbins) April 18, 2015
Appalled by Katie Hopkins? Campaign to #RestartTheRescue, follow @Sarahatsave, take a friend to see Lampedusa at @sohotheatre / @_HighTide_

— KateMaltby (@KateMaltby) April 18, 2015
When Britain's most offensive social commentator Katie Hopkins endorses our treatment of migrants? Be ashamed. http://t.co/gS6cM1Bxe6

— Mia Freedman (@MiaFreedman) April 18, 2015
No word yet on any official action against The Sun over Hopkin's piece, but perhaps it's worth remembering it took a lot less reaction for her to be fired from this newspaper job:
Katie Hopkins lost her previous newspaper column (in the Exeter Express and Echo) following a poll of 341 readers. http://t.co/BPc9oKrEYc

— Jim Waterson (@jimwaterson) April 18, 2015
But as always, Katie was keen to have the last word:
I care about taxpayers Russell - something your 'champagne socialist humanity' neglects https://t.co/9zwg6pMzl5

— Katie Hopkins (@KTHopkins) April 17, 2015
Last time you offered to show me your weapon @piersmorgan , I told you I wasn't interested darling https://t.co/u6Bsr0gi3i

— Katie Hopkins (@KTHopkins) April 18, 2015
Not the most adult debate I have seen. She's behind you. oh no she isn't....oh yes she is ... https://t.co/d0tDu7NJbx

— Katie Hopkins (@KTHopkins) April 18, 2015
New followers, you missed the memo. I cannot be offended. It is what makes me a powerful woman. Try harder.

— Katie Hopkins (@KTHopkins) April 18, 2015
Writing for The Huffington Post UK earlier this week as part of the Beyond The Ballot series, Hopkins defended her right to speak freely on Twitter without being reported to the police.
Life is not a beauty pageant and you cannot demand the beauty pageant answer. I don't want to save the world or negotiate world peace. And I look crap in swim wear. Deal with it.

I just want to continue to have my basic human right to say what I think on Twitter.

If you disagree and your best comeback is that you are going to rape me with a machete - then that is indicative of your lack of intelligence.

But be reassured. I won't be reporting you to the police. I am holding on to the belief they have better things to do. I suspect you still live at home with your mum and floss your teeth with your toe nails.

If you can't handle the debate, stay away from Twitter. If you want to scream "Reported!", be sure to copy @metpoliceuk. You never know, it might make you feel powerful.
SEE ALSO