As well as maintaining a reputation for one of the country's most reviled public figures, Katie Hopkins has been working hard on a guide to help you decide just that.
The professional provocateur has simplified matters for us all by boiling everything down to a choice of accents and each party's approach to the treatment of badgers.
In part one of her hand-drawn guide, which is of course garnished with Hopkins' signature brand of venom and sarcasm, she asks: "Are regional accents really fucking annoying?"
A yes is likely to result in Labour or Conservative votes, while a reply in the negative raises important questions as to your belief in free unicorns for all and whether you are proficient in singing "close harmonies in a valley setting whilst suffering acute poverty" [ouch...]
Your subsequent answers will determine whether the Greens are for you, or if you are more of a Plaid Cymru or SNP supporter at heart.
Part two of her guide issues the pressing topic of badgers, or rather the various political parties' treatment of the furry mustelids.
Entitled "Let's Ask Badger!" the guide surmises that if you align yourself with the phrase: "Kill the furry bastard" you should vote Conservative.
Hopkins attributes "Kill the black furry bastard" to Ukip and "Free homes for badgers with central heating" is of course ascribed to the Green party.
Hopkins is suspiciously restrained with her assessment of Labour voters, particularly as she has vowed to leave the country should Ed Miliband become Prime Minister, offering simply: "He has the same hair as our leader… interesting."
"Fuck me Nicola, it's a zebra," is naturally credited to the SNP while Plaid Cymru is bestowed with the somewhat loaded utterance: "Since the witch closed the mines no one digs anymore."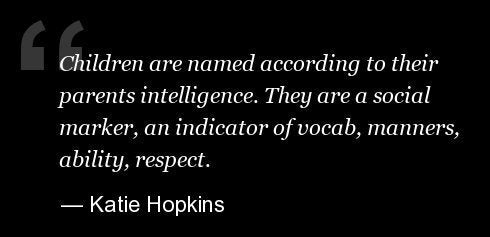 Katie Hopkins' Most Controversial Quotes