It's been a fairly shocking election, it's safe to say. But apart from three party leaders quitting within one hour and a lot of sleepy looking politicians looking sad, one thing has been overlooked - all the candidates who seemed to be standing just for th fun of it. Here's our favourites:
Prophet Zebadiah - Al-Zebabist Nation of Ooog - South Thanet
The colourful Al-Zebabist Nation of Ooog are also here in Thanet. 'Heroin-loving piss-takers' according to Vice. pic.twitter.com/9ZiUSV0rMa

— Ben Rossington (@benrossington) May 7, 2015
The Al-Zebabist Nation of Ooog, seemingly parodying Ukip in some way, looking to set up an Afro-Thanetian Zaliphate. They say: "It is our duty as servants of OOOG and His Prophet to cut through the hagiographic and self-aggrandizing narrative of British patriotism."
Jesse Rae - Independent - Berwickshire, Roxburgh, and Selkirk
Independent candidate Jesse Rae arrives at Springwood park - without his banned claymore pic.twitter.com/8ia7kjQACy

— Jenny Longden (@JenLongdenITV) May 8, 2015
Yes, that is a man in a full suit of armour. Yes, he did stand to be an MP. No, he didn't win.
Captain Beany - Independent - Aberavon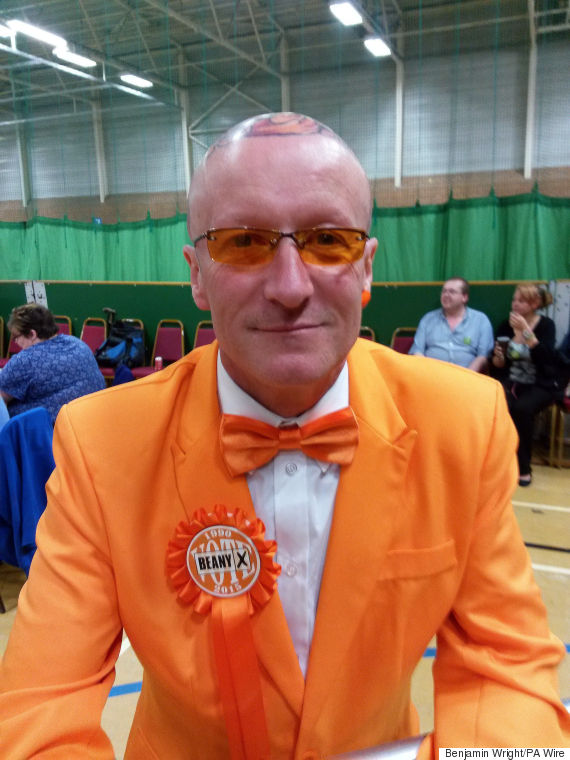 Self-proclaimed superhero Barry Kirk, aka Captain Beany, stood in the constituency won by Neil Kinnock's son Steven. His trademark orange suit is a reference to his only discernible policy - he likes baked beans. He even has a tattoo on his head of the top of a bean tin.
Joe Stead - World Peace Through Song Party - Calder Valley
Joe Stead from World Peace Through Song with an unusual speech! #CalderValley #GE2015 pic.twitter.com/WO4Xz0LuWL

— Larry Budd (@larrybudd1) May 8, 2015
Former professional folk musician Joe Stead used to support Labour, but then the Iraq war happened. Now he swans around Yorkshire campaigning. Entirely in song.
Howling Laud Hope - Monster Raving Loony Party - Uxbridge and South Ruislip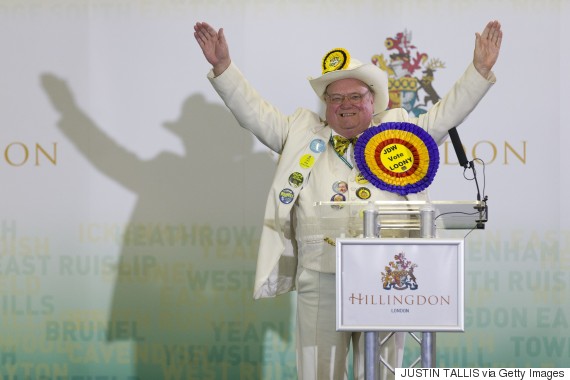 No introduction needed - the Loonies' party leader goes wherever he'll get the biggest TV audience and campaigns on a platform of totally raving loony policies that they promise not to stick to.
Lord Toby Jug - The Eccentric Party Of Great Britain - Uxbridge and South Ruislip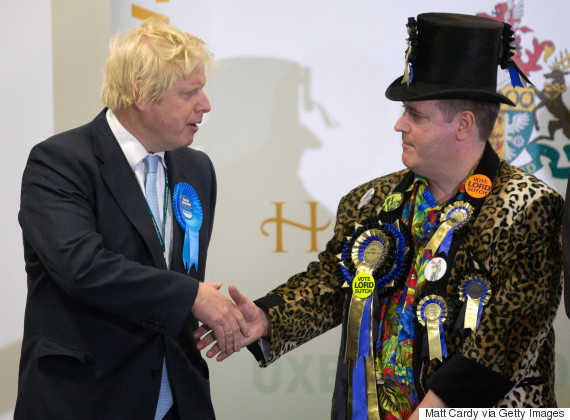 The Eccentric Party is an offshoot of the Monster Raving Loonies, and Lord Toby Jug once played guitar for the infamous Screaming Lord Sutch.
Nick The Flying Brick - Monster Raving Loony Party - Doncaster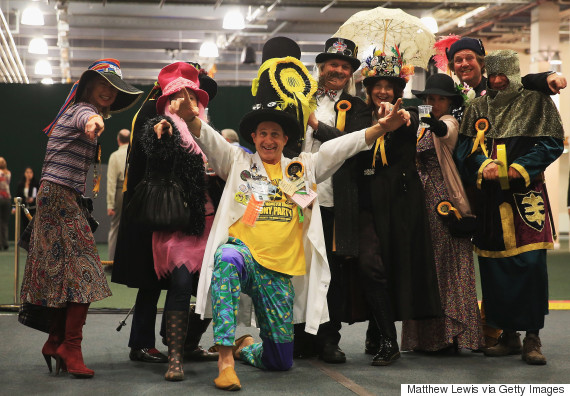 Nick stood against Miliband in typical Monster Raving Loony fashion, with his stand out policy stating: "All European trains in the future must be fuelled by gravy."
Bobby Smith - Give Me Back Elmo Party - Witney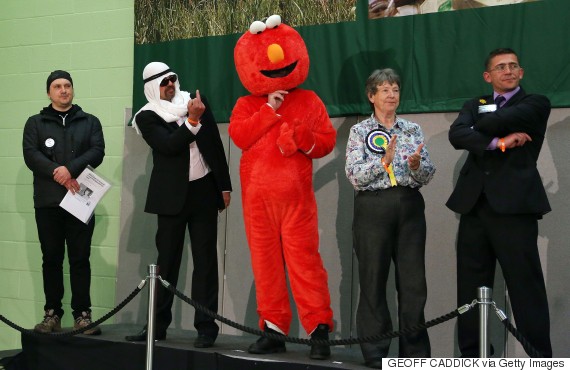 Bobby Smith's party had a serious message, campaigning for parents' rights, the abolition of secret courts and a few other key points - but also decided to dress up as Elmo and include a few oddball policies in his manifesto. He stood against David Cameron and didn't do very well.
Deek Jackson - The Landless Peasant Party - Witney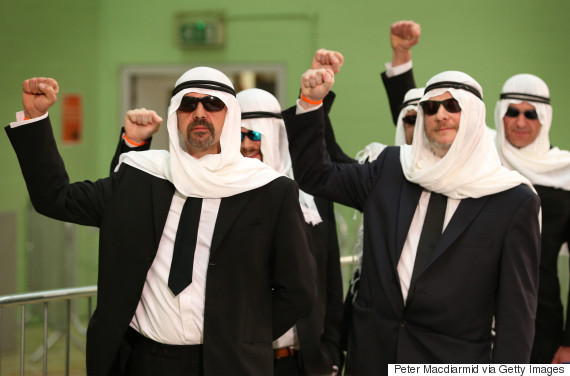 Deek Jackson is a bit of a strange one who has a history of standing against high profile candidates. He gave David Cameron the finger while the vote was being announced. His main running point is that everyone else is a tosser.
Adam Clifford - Class War Party - Cities of London and Westminster
Class War turning to a 'proper' Party maybe is disappointing for some but at least they take things seriously pic.twitter.com/txvwCvLsIm

— Electric Knife (@electric_knife) May 7, 2015
The Class War Party claim to be "the most dangerous party" in Britain. They don't believe in legislation or policies but want to abolish private schools and the monarchy.
Bez - We Are The Reality Party - Salford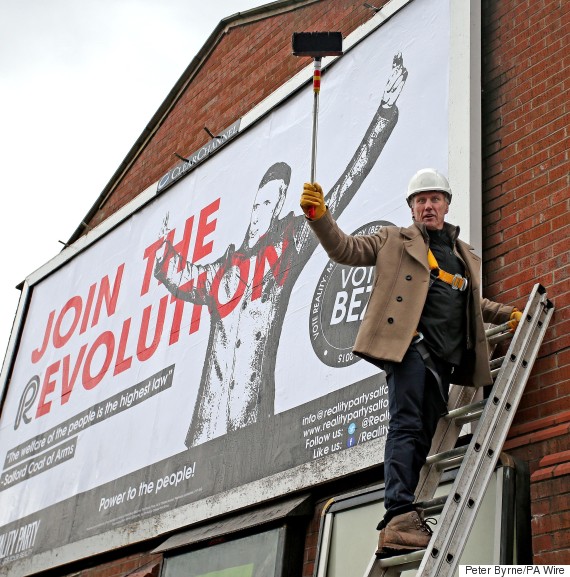 Former Happy Mondays hypeman Bez decided to form his party to fight against fracking when he thought the Greens wouldn't do well at the election - then forgot to send it the forms to register himself.
Stirling McDonald McNeillie - Children Of The Atom Party - Shrewsbury and Atcham
New party Children of the Atom looks to make a change in #Shrewsbury http://t.co/0WypjIQcxA #Shropshire pic.twitter.com/4SHi5CuvV9

— SHROPSHIRE (@DailySHROPSHIRE) April 22, 2015
This party is a bit of an enigma - very little information exists, but it appears to have been named after a religious cult in the post-apocalyptic dystopian video game Fallout 3. The policies seem to match, focusing on things like population control and a new money system called Seed.
Ray Hall - Beer, Baccy and Scratchings Party - Eastleigh
Hall's leading policy was a total reduction in tax on beer. Sadly he only picked up 133 votes and won't get his deposit back. That's £500 he could've spent on beer, baccy and scratchings.
GENERAL ELECTION 2015