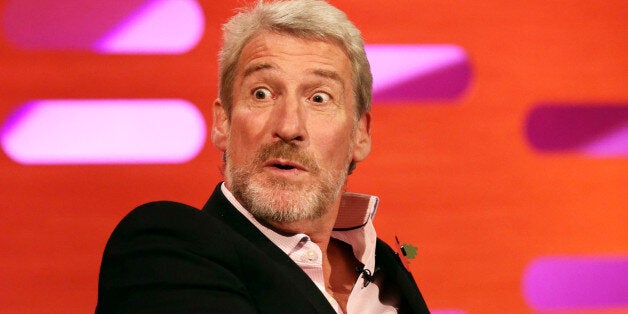 Channel 4's Alternative Election Night kicked off with Jeremy Paxman attempting some jokes.
But his scripted funnies went down badly, suggesting he should stick to the day job of being steely interrogator of politicians.
Paxman's jokes included that there was "early rumour is that the Conservatives have lost Kanye West," and "Not voting is like turning up to a restaurant, not looking at the menu and complaining that you didn't get chips".
He did have at least one fan.
And this one was a fan of the Kanye joke.
And this one was full of praise.
Others felt comedian David Mitchell, who is front the channel's election coverage with Paxman, needed Lauren Laverne and Charlie Brooker alongside him - his co-hosts of topical comedy show 10 O'Clock Live.
The channel's coverage is promising an "all-night feast of comedy and comment".
Journalists Gary Gibbon and Cathy Newman will provide serious commentary as the results come in, while there will be appearances by comedians Henning Wehn, Aisling Bea, Adam Hills and Romesh Ranganathan.
Paxman said: "Elections matter. But that doesn't mean the coverage has to be dull. I hope there'll be room for both insight and laughter."
Channel 4's election coverage will also feature special election-themed episodes of Gogglebox and The Last Leg.
Paxman kicked off his election season this year by cross-examining Ed Miliband and David Cameron o0n Sky News on March 30.
"Are you OK, Ed?" - he was overheard asking Miliband after interviewing the Labour leader and saying he was perceived as being a "north London geek".
The BBC's coverage, which normally wins the ratings battle, is being led by David Dimbleby with support from Nick Robinson, Emily Maitlis and Andrew Neil.
The broadcaster has promised he will "stay live on air" if no party secures an overall majority
Tom Bradby will be presenting his first election show for ITV, whose coverage will run without adverts.